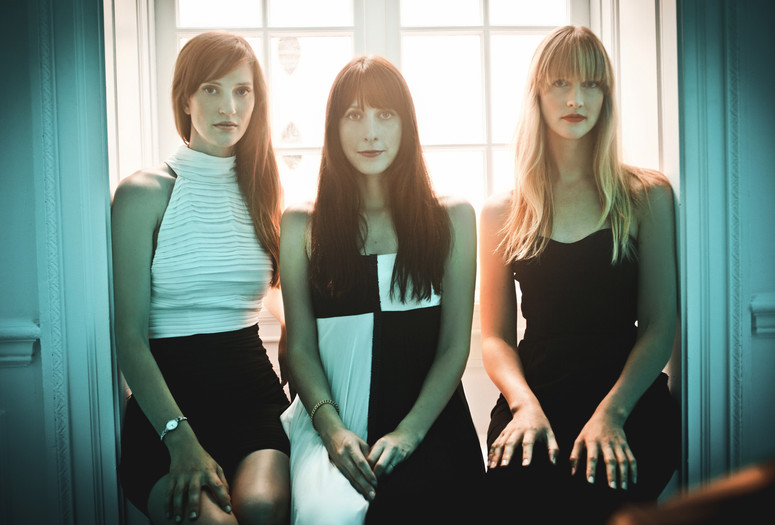 Musical acts for the 2014 series feature an array of vibrant, creative women who are making their mark on today's music scene. Veterans and up-and-coming artists perform a range of musical styles, including dream and synth pop, alt-folk, surf rock, neo-soul, and pop punk.
MoMA Nights with Au Revoir Simone
Erika Forster, vocals, keyboard; Heather D'Angelo, vocals, drum machine, keyboard; Annie Hart, vocals, keyboard
Brooklyn's seasoned dream-pop trio Au Revoir Simone blends vintage synths, drum samples, and lovely voices in a sound all its own. Last fall the band released its first record in four years, Move In Spectrums (produced by Jorge Elbrecht). Why the long pause? Formed in 2003, Au Revoir Simone achieved early success—the trio collaborated with the likes of French band Air and legendary singer/guitarist Johnny Marr, recorded three critically acclaimed albums, and become a favorite of the director David Lynch—and toured all over the world, filling music halls from Tokyo to Reykjavik, from Montreal to São Paulo. When touring came to an end, each musician took her own path— D'Angelo to finish a degree in environmental biology, Forster to record a solo album, and Hart to tour with other bands. Each also continued to collect vintage keyboards and write music. In time, they started sharing their creations with one another and playing together again—at which point they found themselves making a record, Move In Spectrums. Au Revoir Simone found a perfect label in Instant Records, which focuses on bringing innovative female artists to the forefront of the music scene.
Every Thursday in July and August, 5:30–8:00 p.m.
Live music begins at 6:30 p.m.
Regular Museum admission applies. Performances take place in the Sculpture Garden. In the event of rain, the Garden will close, and music will take place in Theater 1. Please note: Sculpture Garden and indoor seating are limited and on a first-come, first-served basis.
The musical component of Summer Thursdays 2018 celebrates musicians living and working in New York City. Organized in collaboration with PopRally, the series hosts a variety of sounds that explore the City's expansive musical landscape. Each evening, unique sonic flavors fill the Sculpture Garden with a range of blended genres such as dream punk, Afrofuturist soul, funk fusion, hip-hop, experimental, and lo-fi baroque pop.
The series was organized in collaboration with PopRally, MoMA's cross-departmental committee that programs events at MoMA and MoMA PS1.