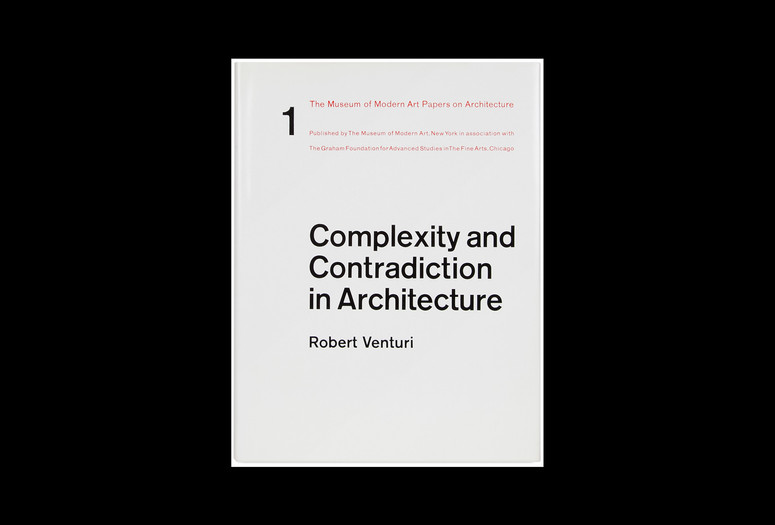 To mark the 50th anniversary of the publication of Robert Venturi's Complexity and Contradiction in Architecture (1966), The Museum of Modern Art and the University of Pennsylvania have co-organized a three-day symposium bringing together international scholars and architects to discuss the significance and enduring impact of this remarkable book, published by MoMA 50 years ago in association with the Graham Foundation for Advanced Studies in The Fine Arts.
It is generally agreed that Complexity and Contradiction, described by its author as a "gentle manifesto," has lived up to the prediction made by Vincent Scully in the book's preface: that it would be the most important architectural text written since Le Corbusier's 1923 manifesto Vers une architecture.
The symposium will take place in both New York and Philadelphia. Programs on November 10 and 11 will be held at The Museum of Modern Art. Programs on November 12 will be held at the Philadelphia Museum of Art and Architectural Archives of the University of Pennsylvania. See the full schedule below.
All programs are free and open to the public, with the exception of the bus tour [This program is now SOLD OUT], and the closing reception and conversation with Denise Scott Brown, for which seating is limited. To register for those two events, contact [email protected]. For the programs at The Museum of Modern Art on November 10 and 11, use the Cullman Education and Research Building entrance, at 4 West 54 Street. Seating is limited and cannot be guaranteed.

---
Thursday, November 10
Architects' Roundtable
6:30–8:30 p.m.
T3, Celeste Bartos Theater
David Brownlee and Martino Stierli: Welcome and Introduction
Sarah Herda, Graham Foundation (introductory remarks)

David De Long, University of Pennsylvania (moderator)

Kersten Geers, Office Kersten Geers David Van Severen, Brussels

Sam Jacob, Sam Jacob Studio, London

Momoyo Kaijima, Atelier Bow-Wow, Tokyo

Stephen Kieran, KieranTimberlake, Philadelphia

Michael Meredith, MOS Architects, New York

James Timberlake, KieranTimberlake, Philadelphia


---
Friday, November 11
Session 1: Post Modernism
9:00-10:00 a.m. coffee
10:00 a.m.–12:30 p.m.
T3, Celeste Bartos Theater
David Brownlee, University of Pennsylvania (moderator)

Stanislaus von Moos, University of Zurich: "Sharpening Perception"

Joan Ockman, University of Pennsylvania: "The Idea of Complexity circa 1966"

Andrew Leach, University of Sydney: "Dilemmas without Solutions"

Emmanuel Petit, independent scholar: "Complexity, Figure, Architecture"



Session 2: Creative Contexts
2:00–4:30 p.m.
T3, Celeste Bartos Theater
Alice Friedman, Wellesley College (moderator)

Martino Stierli, The Museum of Modern Art: "Robert Venturi and MoMA; Institutionalist and Outsider"

Mary McLeod, Columbia University: "Venturi's Acknowledgements: The Complexities of Influence"

Jean-Louis Cohen, Institute of Fine Arts, New York University: "Opus 2: Robert Venturi's Metamorphosis of Horace Trumbauer's Duke House"

Pier Paolo Tamburelli, Baukuh, Milan: "Book of Pictures, Book of Books. Gentle Manifesto, Rough Manifesto."


---
Saturday, November 12
Session 3: Making the Book
9:00–10:00 a.m. coffee and pastries
10:00 a.m.–12:30 p.m. session
Philadelphia Museum of Art, Van Pelt Auditorium
2600 Benjamin Franklin Parkway, Philadelphia
Kathryn Hiesinger, Philadelphia Museum of Art (moderator)

Lee Ann Custer, University of Pennsylvania: "Teaching Complexity and Contradiction: Robert Venturi's Lecture Course 'Theories of Architecture,' 1961–1965"

Christine Gorby, Pennsylvania State University: "Manuscripts into Manifesto: The Evolution of Robert Venturi's 1966 *Complexity and Contradiction in Architecture*"

Deborah Fausch, independent scholar: "Comparative Method in the Visual and Verbal Organization of *Complexity and Contradiction*"

Enrique Walker, Columbia University: "The 'Difficult Whole' [and the 'Decorated Shed']"



Bus Tour: The 'Philadelphia School'
1:00–4:00 p.m.
Tour departs from the Philadelphia Museum of Art
Includes Robert Venturi's Vanna Venturi House and Louis Kahn's Margaret Esherick House, with commentary by William Whitaker, University of Pennsylvania, and Alice Friedman, Wellesley College
[This program is now SOLD OUT]
(As a free alternative, self-guided walking tours of the 'Philadelphia School' on the Penn campus and in Center City will be available. Attendees may also visit the exhibition Back Matter: The Making of Robert Venturi's Complexity and Contradiction in Architecture, at the Architectural Archives of the University of Pennsylvania.)

Conversation with Denise Scott Brown, Exhibition Viewing of Back Matter: The Making of Robert Venturi's Complexity and Contradiction in Architecture," and Closing Reception
4:00–7:00 p.m.
Architectural Archives of the University of Pennsylvania
220 South 34th Street, Philadelphia
To register, contact [email protected]
Organized by Martino Stierli, the Philip Johnson Chief Curator of Architecture and Design, The Museum of Modern Art, and David Brownlee, the Shapiro-Weitzenhoffer Professor of the History of Art, University of Pennsylvania.

This event is made possible through the generous support of Elise Jaffe + Jeffrey Brown

Special thanks to the Keith L. and Katherine Sachs Program in Contemporary Art, University of Pennsylvania; Office of the Dean, School of Arts and Sciences, University of Pennsylvania; University Research Foundation, University of Pennsylvania; Office of the Dean, School of Design, University of Pennsylvania; Mellon Humanities+Urbanism+Design Initiative, University of Pennsylvania; and to Paul Savidge, Dan Macey, and David Lockard