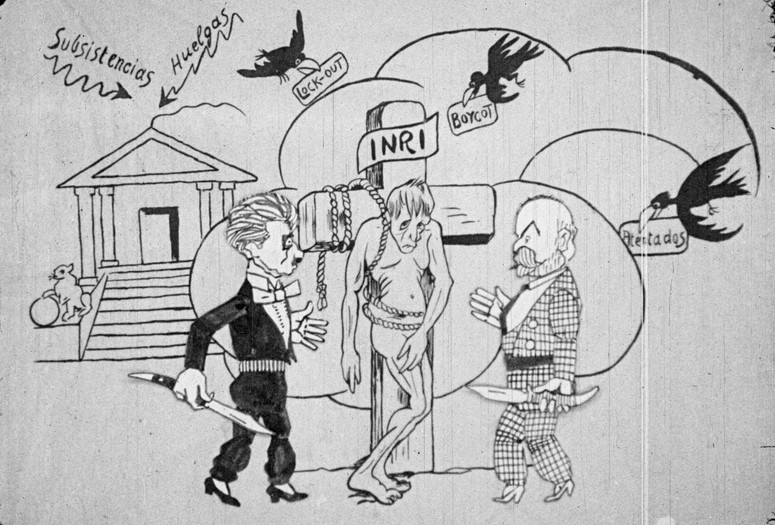 Program approx. 66 min.
La bronca (The Scolding). 1971. Director unknown. Silent. 1 min.
A political cartoon in which reformer Melquíades Álvarez faces off with monarchist Juan de la Cierva.
Cambó i l'autonomia (Cambó and self-government). 1918. Director unknown. Silent. 1 min.
A political cartoon on the issue of Catalonian independence.
La edad de piedra (The Stone Age). 1965. Directed by Gabriel Blanco. 11 min.
From the work of Spain's famed graphic humorist José Maria González Castrillo (Chumy Chúmez), an allegory of working-class life under the Franco regime.
Pasión Siega (Blind Passion). 1979. Directed by Jordi Amorós. 13 min.
This episode from Histories of Love and Carnage, the first adult-oriented animated feature in Spain, offers a scatological, decidedly unsentimental view of sexuality and old age.
Caracol, col, col (Snail Tale). 1995. Directed by Pablo Llorens. 12 min.
A psychotic killer with an affection for snails is welcomed by an abused wife in this gruesome comedy.
Cirugía (Surgery). 2006. Directed by Alberto González Vázquez. 2 min.
An amorous man imagines himself in increasingly intimate professions.
Vicenta. 2010. Directed by Sam. 22 min.
Riffing on the work of Tim Burton, this cynical clay-animation horror story, triggered by the greed and lust of an abusive husband, is punctuated with scatological humor.
Amor de mono (Monkey Love). 2015. Directed by Trimono. 4 min.
An irreverent goof on political repression, told in the wacky television-style animation that typifies this Madrid studio.