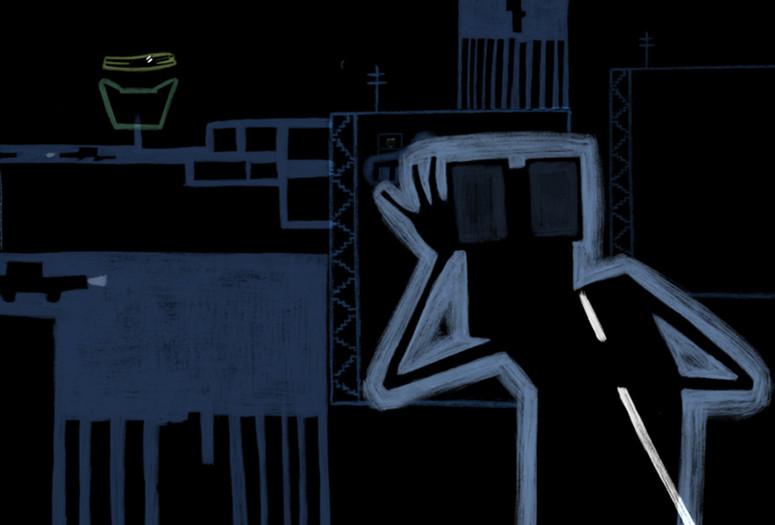 Program approx. 82 min.
Estudios Moro commercials. 1954–64. 16 min.
A cross-section of advertising films, from soap to light bulbs, employing the talent of the country's leading animation artists.
Vamos a la cama (Let's Go to Bed). 1965. Directed by José Luis Moro. 1 min.
A bedtime marching song for children's television.
El sombrero (The Hat). 1964. Directed by Robert Balser. 8 min.
An amusing search for self-identity by the famed American-born animator of Yellow Submarine (1968), with witty nods to animation history and the design style of New York's Hubley Studios.
La doncella guerrera (The Warrior Maiden). 1974. Directed by Julio Taltavull, Pepita Pardell. 12 min.
One in a series of European folk tales, in the style of a medieval tapestry—with a feminist twist.
William Wilson. 1999. Directed by Jorge Dayas. 10 min.
Edgar Allan Poe's ill-fated hero meets his double.
La gallina ciega (Blind Man's Bluff). 2005. Directed by Isabel Herguera. 7 min.
Against the hip abstraction of a hyperkinetic cityscape of blues and blacks, a blind man reunites with his distracted seeing-eye dog.
Las vidas ejemplares (The Exemplary Lives). 2008. Directed by Carles Porta. 11 min.
A child imagines whimsical fantasies about a secret family history from a most unlikely source.
El viaje de María (Maria's Journey). 2010. Directed by Miguel Gallardo. 6 min.
A joyfully animated public-service short on autism.
Vía Tango. 2013. Directed by Adriana Navarro. 3 min.
The romantic fantasy of a train conductor, told in lyrical drawn animation.
Onemoretime. 2014. Directed by José González, Tonet Calabuig, Elisa Martínez. 5 min.
The unhealthy life of the commercial animator.