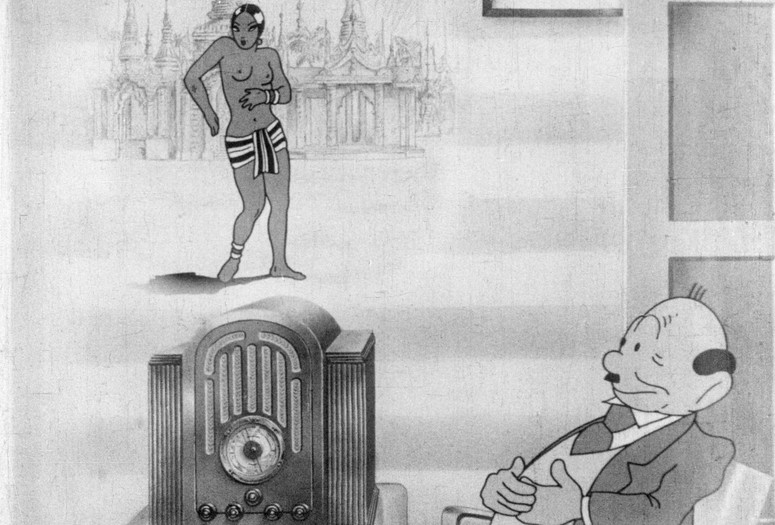 Program approx. 65 min.
L'Araignée d'or (The Gold Spider). 1908. France. Directed by Segundo de Chomón. 9 min.
In the stop-motion pioneer and Aragon native's "trick" film, a magic spider is stolen from a monkish society of gnomes. Courtesy of Lobster Films.
En los pasillos del congreso (Down the Hallways of the Congress). 1932. Directed by K-Hito (Ricardo García López). Silent. 2 min.
The famed caricaturist critiques the newly installed government of Spain's Second Republic.
Alimentos de régimen Santiveri (Santiveri Diet Food commercial). 1932–35. Directed by Josep Serra i Massana. 2 min.
Dana, colorete en polvo (Tabu Powder Blush commercial). 1933. Directed by Josep Serra i Massana. 1 min.
Radio RCA. c. 1935. Directed by Enrique Ferrán. Silent. 2 min.
Broadcast music evokes erotic and racial fantasies in this commercial.
El Fakir González buscador de oro (Fakir Gonzalez, the Gold Digger). 1942. Directed by Joaquim Muntañola. 8 min.
The eponymous hero of the Fakir Gonzalez series hunts for gold from New York to the Wild West.
El cascabel de Zapirón (A Bell for Zapirón). 1943. Directed by Josep Escobar. 8 min.
In the mold of cat-and-mouse cartoons from the US, this musical revenge comedy is based on a Spanish fable.
Garabatos: Manolete (Doodles: Manolete). 1943–44. Directed by Jaume Baguñà, Manuel Díaz. 8 min.
This "issue" of the screen's graphic humor magazine bears some stylistic influence of New York's Fleischer animation studio.
Los tambores de Fu-Aguarrás (The Drums of Fu-Aguarrás). 1945. Directed by Josep Escobar. 9 min.
From a leading creator of Spanish comic strips and cartoons comes his Andalusian main character, Civilón.
El bueno de Cuttlas (Good Old Cuttlas). 1991. Directed by Calpurnio Pisón. 9 min.
Stick-figure animation makes for a witty genre send-up of the Western.
Amarillo verano (Yellow Summer). 1999/2013. Directed by Javier Mariscal. 5 min.
This sunny pop-music piece by the multimedia artist and designer celebrates Mediterranean summers.