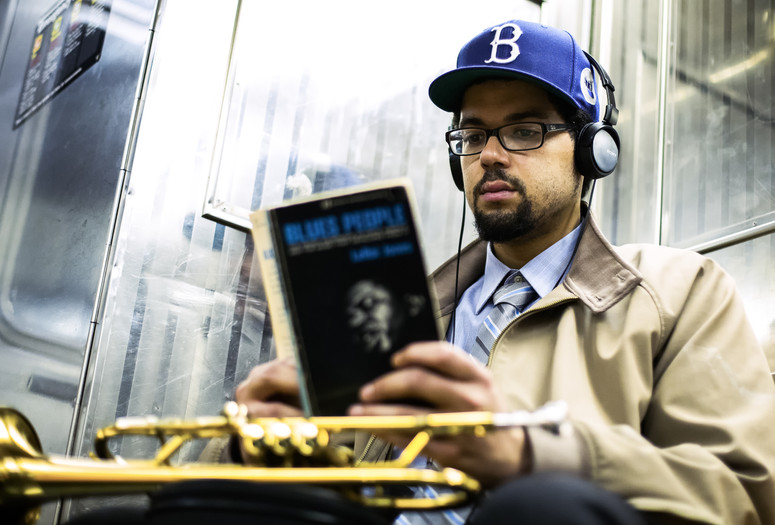 Josh Evans, trumpet and flute; Keith Loftis, tenor saxophone and flute; David Bryant, piano; Rahsaan Carter, bass; Kush Abadey, drums
Josh Evans will premiere Mansa Mali, an evening-length suite for quintet. It is inspired both by the Mali Empire, which sent a flotilla of 400 ships across the Atlantic some 180 years before Columbus, and by the Dogon people, who described complex astronomical phenomena. He learned of these cultures from his mentor, the renowned saxophonist Jackie McLean. The composer writes, "The music I composed for Mansa Mali does not simply imitate West African rhythms and melodies, but rather presents my jazz interpretation of the stories and history of the fascinating Mali Empire."
Mr. Evans was first drawn to jazz by Roy and Diz, the 1954 album by Roy Eldridge and Dizzy Gillespie. He studied with Mr. McLean throughout high school and performed with him around the Northeast. Another important mentor was the drummer Rashied Ali, with whose band he traveled throughout Europe and recorded the album Live in Europe. He has also toured and recorded with musicians such as Billy Harper, Charles Tolliver, Roy Hargrove, Grachan Moncur III, Rufus Reid, and Oliver Lake. He currently leads and writes for an 18-piece big band and has started writing for a 10-piece band that combines a jazz quintet and a string quintet.
The Museum of Modern Art established Summergarden in 1971. In keeping with MoMA's history of presenting jazz and classical music in the Sculpture Garden, this year's concert series once again welcomes the participation of The Juilliard School and Jazz at Lincoln Center. Titled New Music for New York, the series comprises four evenings of adventurous contemporary music, with premieres each night. Juilliard concerts are performed by members of the New Juilliard Ensemble and the Ansonia Quartet, under the artistic direction of Joel Sachs. Mr. Sachs has assembled two distinctive programs of recent compositions, which are enjoying their New York premieres. Jazz at Lincoln Center has selected two stylistically different jazz ensembles whose concerts emphasize original works, each with one world premiere.
Summergarden is free and seating is on a first-come, first-served basis. The Sculpture Garden may close if attendance reaches maximum capacity. Entrance to Summergarden is through the Sculpture Garden gate on West 54 Street between Fifth and Sixth avenues. The Sculpture Garden opens at 7:00 p.m., and concerts start at 8:00 p.m. and run approximately one hour to 90 minutes. The Sculpture Garden closes at 10:00 p.m. In the event of rain, concerts will be held in The Agnes Gund Garden Lobby, and the Museum's 54 Street entrance will open at 7:30 p.m. The exhibition galleries are closed during Summergarden. The Garden Bar, located on the northeast end of the Sculpture Garden, features a selection of homemade snacks, draft beer, wine, and nonalcoholic beverages. In the event of rain, the Garden Bar is closed.