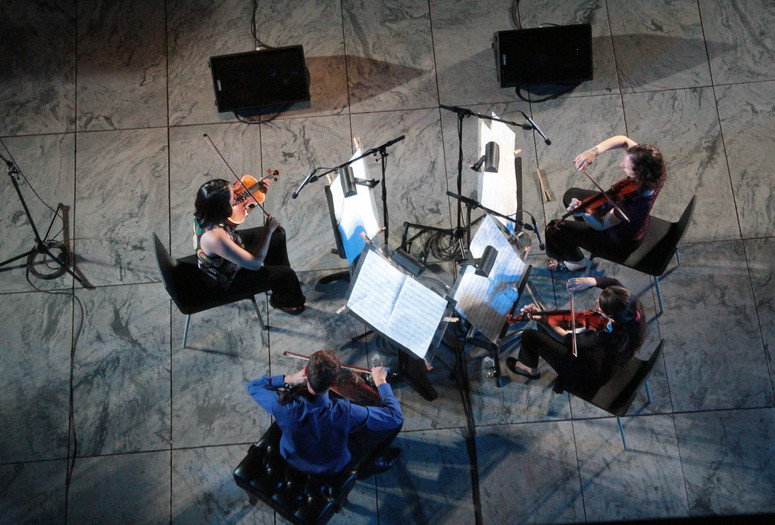 The Cavatina Quartet: Randall Goosby and Mariella Haubs, violins; Jameel Martin, viola; Jia Kim, cello
Akira Nishimura (Japan, b. 1953)
String Quartet no. 3, "Avian" (1997)
At the Tokyo National University of Fine Arts and Music, Akira Nishimura studied composition, Asian traditional music, religion, aesthetics, cosmology, and the concept of heterophony—all of which inform his musical language. Of this work, composed for the Arditti Quartet, he writes, "In the spring of 1997, while visiting the suburbs of Brisbane, Australia, the idea came to me when I was overwhelmed by bird songs, showering down on me in a torrent.… A quick glissando of harmonics on the open strings of the cello begins the piece. To make sure of its effect, I took my cello and tried playing the part again and again, with the result that the skin of my fingers peeled."
Justyna Kowalska-Lasoń (Poland, b. 1985)
String Quartet no. 3, "I Find My Song" (2013)
First performance outside Poland
The third string quartet of Justyna Kowalska-Lasoń unfolds in three movements played without pause. Each movement bears a poetic title relating to song. The composer is a flautist, pianist, and improviser, and plays electronic music as well. She has written for highly diverse ensembles, from mixed choir and the symphony orchestra to unusual combinations such as four tubas and tape, or six harps, three trumpets, and timpani. She received a doctorate in composition in 2015 at the Fryderyk Chopin Academy in Warsaw. She currently teaches at the Academy of Music in her native Katowice, Poland.
James Primosch (United States, b. 1956)
String Quartet no. 3 (1999)
New York premiere
James Primosch's principal teachers were Mario Davidovsky, George Crumb, and Richard Wernick. He teaches at the University of Pennsylvania. He writes that his String Quartet no. 3, commissioned by the Philadelphia Chamber Music Society, follows "a somewhat unusual formal scheme: a theme and variations is first interrupted by an anxious (ansioso) and expressionistic fantasia, then resumes for a single variation, infiltrated by gestures from the fantasia. A viola cadenza follows, introducing a rondo-like finale. This attempt to cap the piece in a playful spirit is surprised by a final reprise of the slow variation theme, this time in a simple unison statement."
The Museum of Modern Art established Summergarden in 1971. In keeping with MoMA's history of presenting jazz and classical music in the Sculpture Garden, this year's concert series once again welcomes the participation of The Juilliard School and Jazz at Lincoln Center. Titled New Music for New York, the series comprises four evenings of adventurous contemporary music, with premieres each night. Juilliard concerts are performed by members of the New Juilliard Ensemble and the Ansonia Quartet, under the artistic direction of Joel Sachs. Mr. Sachs has assembled two distinctive programs of recent compositions, which are enjoying their New York premieres. Jazz at Lincoln Center has selected two stylistically different jazz ensembles whose concerts emphasize original works, each with one world premiere.
Summergarden is free and seating is on a first-come, first-served basis. The Sculpture Garden may close if attendance reaches maximum capacity. Entrance to Summergarden is through the Sculpture Garden gate on West 54 Street between Fifth and Sixth avenues. The Sculpture Garden opens at 7:00 p.m., and concerts start at 8:00 p.m. and run approximately one hour to 90 minutes. The Sculpture Garden closes at 10:00 p.m. In the event of rain, concerts will be held in The Agnes Gund Garden Lobby, and the Museum's 54 Street entrance will open at 7:30 p.m. The exhibition galleries are closed during Summergarden. The Garden Bar, located on the northeast end of the Sculpture Garden, features a selection of homemade snacks, draft beer, wine, and nonalcoholic beverages. In the event of rain, the Garden Bar is closed.