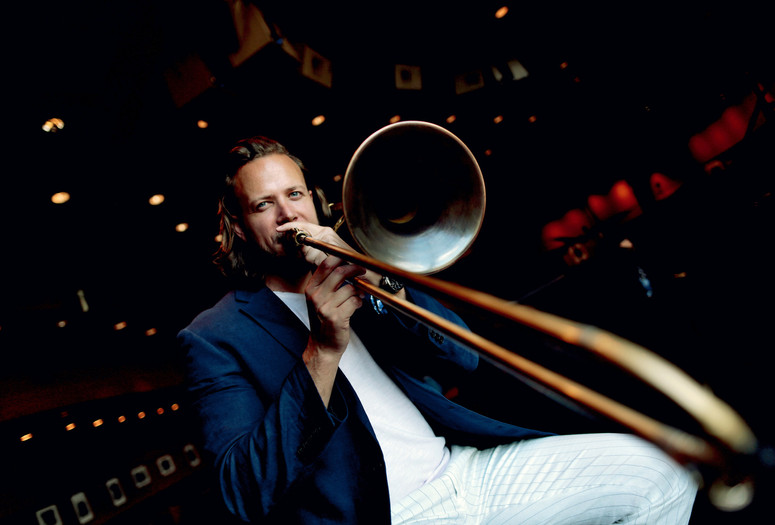 Elliot Mason, trombone; Brad Mason, trumpet; Sofija Knezevic, voice; Dave Kikoski, piano; Matt Penman, bass; Ali Jackson, drums
Born and raised in Norwich, England, the trombonist Elliot Mason was already a seasoned performer by the time he came to the Berklee College of Music in Boston, at age 16. He moved to New York after graduation, and in 2007 Wynton Marsalis invited him to join the Jazz at Lincoln Center Orchestra, with which he continues to play. He has also performed with the Count Basie Orchestra, Mingus Big Band, Maria Schneider Orchestra, Maynard Ferguson Big Bop Nouveau, Branford Marsalis, Chick Corea, Bobby Hutcherson, and Ahmad Jamal, among others, and he teaches in the jazz programs of Northwestern University and New York University.
At Summergarden, Mr. Mason will present two works for his ensemble Creation: the premiere of Before, Now, & After, and the recent Efflorescence. Of the new piece, the composer writes, "Appreciating those who innovated before us while staying true to one's own artistic voice is the inspiration for this piece. When composing Before, Now, & After, I envisioned a sonic journey, rich with traditional influences while traveling new and unexplored paths. These influences include jazz, flamenco, Brazilian, and classical genres, as well as artists like Antônio Carlos Jobim, John Coltrane, and Duke Ellington."
The Museum of Modern Art established Summergarden in 1971. In keeping with MoMA's history of presenting jazz and classical music in the Sculpture Garden, this year's concert series once again welcomes the participation of The Juilliard School and Jazz at Lincoln Center. Titled New Music for New York, the series comprises four evenings of adventurous contemporary music, with premieres each night. Juilliard concerts are performed by members of the New Juilliard Ensemble and the Ansonia Quartet, under the artistic direction of Joel Sachs. Mr. Sachs has assembled two distinctive programs of recent compositions, which are enjoying their New York premieres. Jazz at Lincoln Center has selected two stylistically different jazz ensembles whose concerts emphasize original works, each with one world premiere.
Summergarden is free and seating is on a first-come, first-served basis. The Sculpture Garden may close if attendance reaches maximum capacity. Entrance to Summergarden is through the Sculpture Garden gate on West 54 Street between Fifth and Sixth avenues. The Sculpture Garden opens at 7:00 p.m., and concerts start at 8:00 p.m. and run approximately one hour to 90 minutes. The Sculpture Garden closes at 10:00 p.m. In the event of rain, concerts will be held in The Agnes Gund Garden Lobby, and the Museum's 54 Street entrance will open at 7:30 p.m. The exhibition galleries are closed during Summergarden. The Garden Bar, located on the northeast end of the Sculpture Garden, features a selection of homemade snacks, draft beer, wine, and nonalcoholic beverages. In the event of rain, the Garden Bar is closed.