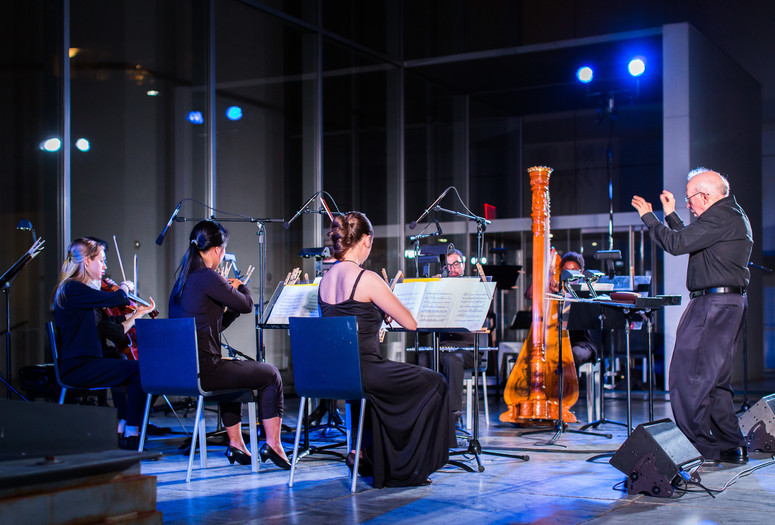 Members of the New Juilliard Ensemble: Joel Sachs, director and conductor; Melanie Williams, flutes; Shen Liu, clarinets; Allison Nicotera, bassoon; Greg LaRosa, percussion; Robert Fleitz, piano; Alexandrina Boyanova, violin; Anthony Bracewell, viola; Khari Joyner, cello
Luca Francesconi (Italy, b. 1956)
Da Capo II (2007)
First performance outside Europe
Luca Francesconi, who studied with Karlheinz Stockhausen and Luciano Berio, is one of Italy's leading composers. In coming years he will complete commissions for new operas from Opera Bastille in Paris; Royal Opera House, Covent Garden; and Zurich Opera. Da Capo II unfolds as a single large arc. The composer writes that it "starts from energy in a pure state, indeed, almost physiological: pulse, rhythm. This energy unfolds and evolves gradually from the indefinite to the definite, then exhausting itself and moving further and further away, in one big rallentando of space and time."
James Crowley (United States, b. 1962)
Circle in the Round (2009)
New York premiere
James Crowley, based in Milwaukee, is a professor at the University of Wisconsin–Parkside. His works have been performed in 35 U.S. states and on five continents. He wrote Circle in the Round for a "Pierrot-plus-percussion" ensemble of flute, clarinet, violin, cello, piano, and percussion. (Arnold Schoenberg used the first five instruments plus voice in his landmark Pierrot Lunaire.) Mr. Crowley writes that this "rhapsodic work consists largely of counterpoint arising from and swirling around a single melodic line—a germinal line that itself spirals perpetually throughout the work, even when not audibly perceptible.… The title is borrowed from Miles Davis, one of my many musical heroes, and a master of his own particular brand of counterpoint."
Paul Archbold (United Kingdom, b. 1964)
Traces (2003)
First performance outside Europe
The city of Munich commissioned Paul Archbold's Traces, and Ensemble TrioLog premiered it there in 2003. In it, the composer writes, "A single note becomes the launching point for a proliferation of new musical ideas. The two movements of Traces take complementary paths: in the first movement a long melodic line proceeds in canon, gradually accelerating until it transforms into a succession of chords; in the second movement a series of chords are teased into a proliferation of melodies which expand ever more wildly across the ensemble." Mr. Archbold teaches at Kingston University, London. His compositions have been performed by leading exponents of contemporary music in the UK, including the Arditti and Kreutzer quartets and the Royal Scottish National Orchesatra.
Hróðmar Ingi Sigurbjörnsson (Iceland, b. 1958)
Septet (1998)
First performance outside Iceland
Hróðmar Ingi Sigurbjörnsson lives and teaches in Reykjavík. He has composed for symphony orchestra, chamber orchestra, instrumental soloists, chorus, theater, film, and the operatic stage, but Septet was his first work for instruments after almost seven years of writing exclusively for voice. The four-movement piece shows traces of neoclassical idioms. He observes that "in many instances a clear tonality is established, though without functional harmonic motion in the classical/romantic sense." The work was commissioned and premiered by members of Caput, a chamber orchestra based in Reykjavík.
The Museum of Modern Art established Summergarden in 1971. In keeping with MoMA's history of presenting jazz and classical music in the Sculpture Garden, this year's concert series once again welcomes the participation of The Juilliard School and Jazz at Lincoln Center. Titled New Music for New York, the series comprises four evenings of adventurous contemporary music, with premieres each night. Juilliard concerts are performed by members of the New Juilliard Ensemble and the Ansonia Quartet, under the artistic direction of Joel Sachs. Mr. Sachs has assembled two distinctive programs of recent compositions, which are enjoying their New York premieres. Jazz at Lincoln Center has selected two stylistically different jazz ensembles whose concerts emphasize original works, each with one world premiere.
Summergarden is free and seating is on a first-come, first-served basis. The Sculpture Garden may close if attendance reaches maximum capacity. Entrance to Summergarden is through the Sculpture Garden gate on West 54 Street between Fifth and Sixth avenues. The Sculpture Garden opens at 7:00 p.m., and concerts start at 8:00 p.m. and run approximately one hour to 90 minutes. The Sculpture Garden closes at 10:00 p.m. In the event of rain, concerts will be held in The Agnes Gund Garden Lobby, and the Museum's 54 Street entrance will open at 7:30 p.m. The exhibition galleries are closed during Summergarden. The Garden Bar, located on the northeast end of the Sculpture Garden, features a selection of homemade snacks, draft beer, wine, and nonalcoholic beverages. In the event of rain, the Garden Bar is closed.