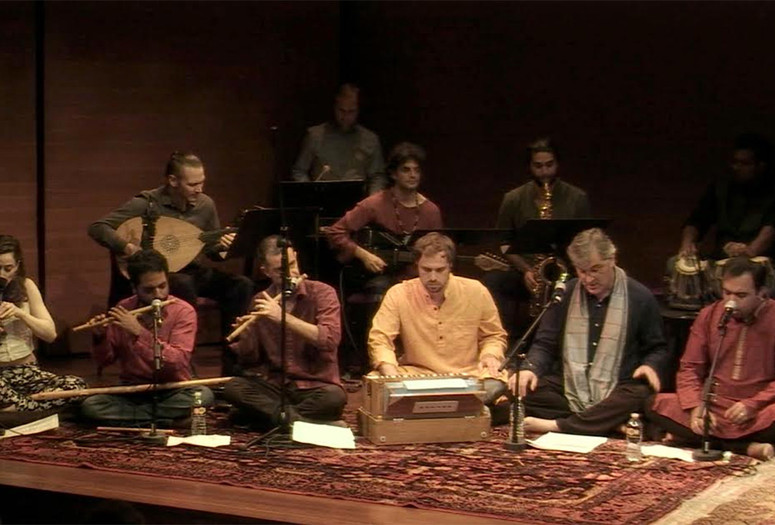 Abhik Mukherjee and Neel Murgai, sitar; Camila Celin, sarod; Priya Darshini and Andrew Shantz, voice; Tali Rubinstein, recorder; Eric Fraser, bansuri; Aaron Shragge, trumpet; Sameer Gupta, Ehren Hanson, and Roshni Thompson, tabla; Michael Gam, dilruba; Trina Basu, Arun Ramamurthy, Ken Shoji, and Anjna Swaminathan, violin; Adam Malouf, cello; David Ellenbogen, guitar; Kane Mathis, oud; Vin Scialla, percussion
Terry Riley's 1964 composition In C, a seminal work of musical minimalism, was inspired by the rhythmic patterns, drones, and immersive nature of raga. Under the leadership of the sitarist Neel Murgai, Brooklyn Raga Massive brings the music full circle, as the first ensemble to perform the piece with an orchestra of raga musicians. Riley himself, who has studied and performed in Hindustani vocal traditions for decades, suggested that BRM open the composition to improvisation, and the ensemble's performances have gained a new spontaneity, beauty, and excitement. No two performances of In C are the same; listening to it can be a transcendent and moving experience. A globally recognized collective of forward-thinking musicians, Brooklyn Raga Massive brings together artists and audiences of diverse backgrounds. In four years and more than 200 concerts, the ensemble has been at the forefront of bringing new listeners to the deep tradition of classical raga and the creation of new musical forms.
Every Thursday in July and August, 5:30–8:00 p.m.
Live music begins at 6:30 p.m.
Regular Museum admission applies. Performances take place in the Sculpture Garden. In the event of rain, the Garden will close, and music will take place in Theater 1. Please note: Sculpture Garden and indoor seating are limited and on a first-come, first-served basis.
The musical component of Summer Thursdays 2018 celebrates musicians living and working in New York City. Organized in collaboration with PopRally, the series hosts a variety of sounds that explore the City's expansive musical landscape. Each evening, unique sonic flavors fill the Sculpture Garden with a range of blended genres such as dream punk, Afrofuturist soul, funk fusion, hip-hop, experimental, and lo-fi baroque pop.