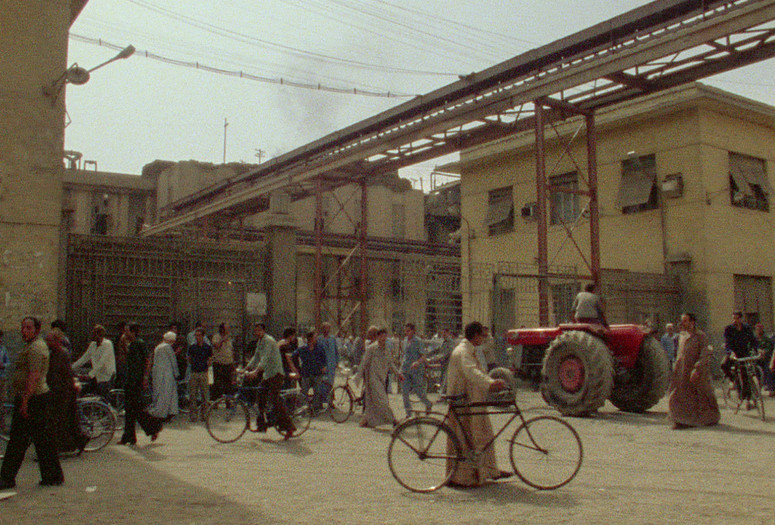 Too Early/Too Late. 1980-81. France/Egypt. Written and directed by Jean-Marie Straub, Danièle Huillet. Based on a letter by Friedrich Engels and Class Struggles in Egypt, 1945–1970, by Mahmoud Hussein. With Danièle Huillet, Bahgat el Nadi. 100 min.
Inspired by a letter by Friedrich Engels and a 1974 account of two militant Marxist writers who had been imprisoned by the Nasser regime, Straub-Huillet filmed Too Early/Too Late in France and Egypt during the anxious months of 1980 that followed the Camp David Accords and culminated in Anwar Sadat's assassination the following year. They reflect on Egypt's history of peasant struggle and liberation from Western colonization, and link it to class tensions in France shortly before the Revolution of 1789, quoting texts by Friedrich Engels as well as the pioneering nonfiction film Workers Leaving the Lumière Factory (1895). The film was a major influence on contemporary filmmakers like Harun Farocki, Yervant Gianikian and Angela Ricci Lucci, and John Gianvito.
Europa 2005, 27 Octobre (Europa 2005, 27 October). 2006. france. Written and directed by Jean-Marie Straub, Danièle Huillet. In French; English subtitles. 10 min.
On October 27, 2005, in the Parisian suburb of Clichy-sous-Bois, two teenage boys of Mauritanian and Tunisian origin were electrocuted as they fled the police. Their deaths sparked nearly three weeks of riots across France. In five camera pans, amid birdsong and a dog's menacing bark, Straub-Huillet document the dead-end location of this tragedy. Commissioned for Italian television on the centenary of Roberto Rossellini's birth, the couple's final collaboration is their imaginative response to the neorealist filmmaker's Europa '51 (1952).
Joachim Gatti. 2009. France. Written and directed by Jean-Marie Straub. Based on Discourse on the Origin and Foundations of Inequality Among Men, by Jean-Jacques Rousseau. Narration by Jean-Marie Straub. 2 min.
Straub responds fiercely to the senseless blinding of a French activist filmmaker during a peaceful protest. More generally, Straub, quoting Jean-Jacques Rousseau, assails the capitalist state, abusive police forces, and philosophers who turn a blind eye to injustice, all while applauding the courageous women of the markets who fight for the poor and the marginalized.