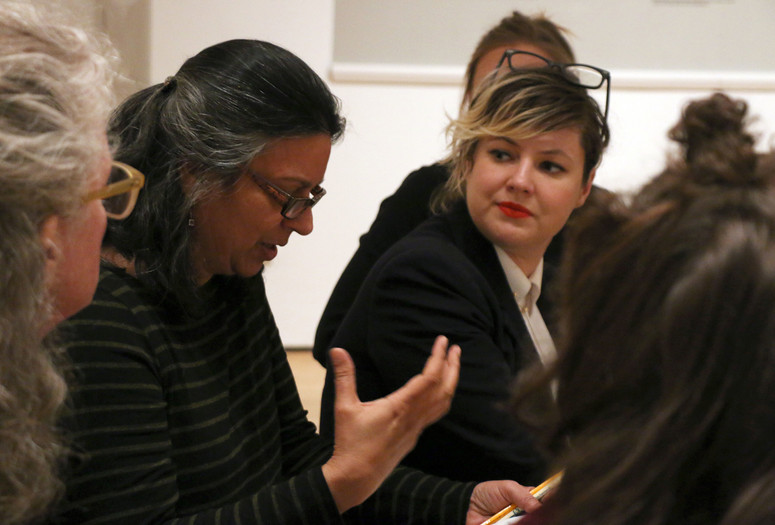 Art and Practice is a series of discussion-based seminars aimed at creating a space where emerging and experienced artists can explore challenges and possibilities in building and sustaining a creative practice. Following each session, refreshments will be served from 8:30 to 9:00 p.m.
What does it mean to be self-taught as an artist? What can self-teaching offer one's work that an institution might not be able to? This session explores the role that being self-taught plays in one's work as an artist, from the influence that institutional education can have to how artists, as creative practitioners, employ self-teaching in their larger processes over time.
This program is free but requires the submission of a response form (below). Due to limited capacity, those who complete this form for multiple sessions will be confirmed for only one session by April 15. For more information, please contact [email protected].
Best known for his large-scale, baroque, and polemically charged installations, Pepón Osorio uses the exhibition space as an intermediary between the social architecture of communities and the mainstream art world. These installations are based on the experiences of communities he works with across the globe. By presenting installations in unconventional places, Osorio also explores how the meaning of art depends on its location. His work has been included in multiple international exhibitions and received numerous distinctions.
Education at MoMA is made possible by a partnership with Volkswagen of America.

Major support for Adult and Academic Programs is provided by the Estate of Susan Sabel.

Generous funding is provided by endowments established by Agnes Gund and Daniel Shapiro, The Junior Associates of The Museum of Modern Art, Walter and Jeanne Thayer, and by the gifts of Alan Kanzer. Additional support is provided by the Annual Education Fund.