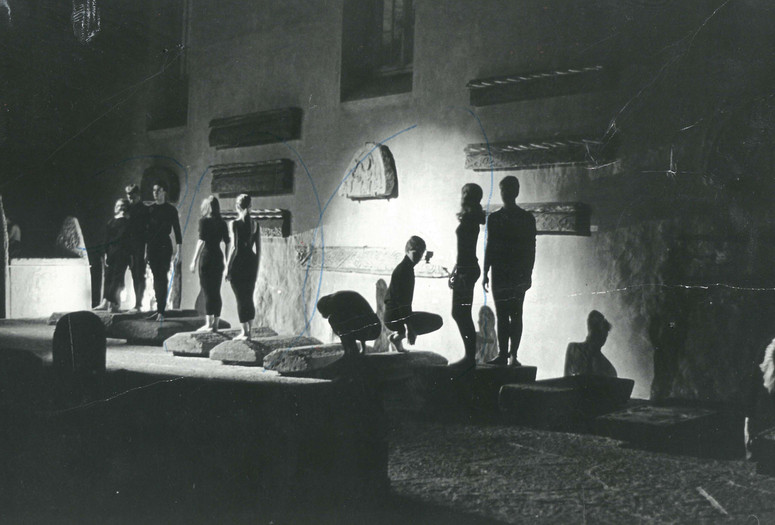 Ett spel om föremål och människor (A Play for Objects and Chorus). 1967. Sweden. 27 min.
Music by Ulf Björlin. With Karin Thulin, Juliet Fisher, Lillemor Lundberg, Mats Ek, and others. Made for Swedish television, this film documents a dance piece originally performed at the Historical Museum of Stockholm and designed specifically for a gallery of ancient rune stones. The dance company includes Mats Ek and other young performers who were under Feuer's tutelage as she introduced modern dance to Sweden in the mid-1960s. Courtesy Sveriges Television
The Nijinsky Films: A Life and Requiem for a Dancer. 1975. Sweden. 55 min.
Requiem for a Dancer is a fictionalized look at Vaslav Nijinsky, the premier dancer of the Ballet Russes, in which the centerpiece is the dancer's training warm-up. Montage and the sounds produced by the body during performance (by James de Bolt) contribute to the film's tactile and aural qualities. A Life, a companion piece, is Feuer's rare film interview with Romola de Pulszky, Vaslav's wife and biographer. Courtesy NRK and The National Library of Norway
Martha Graham at 100: A Personal Birthday Message from Donya Feuer. 1994. Sweden. 10 min.
Donya Feuer's tribute to Martha Graham, featuring an interview with company dancer Robert Cohan, was intended for broadcast on Graham's 100th birthday. Courtesy Sveriges Television