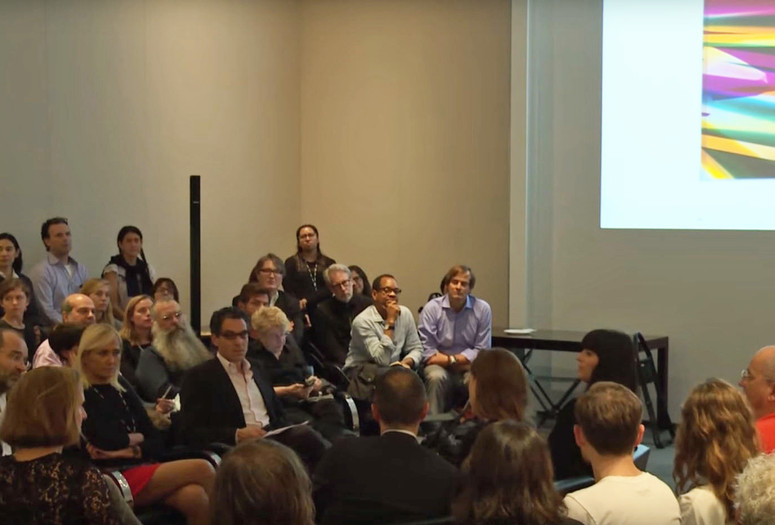 For the upcoming session we have a surprise: the launch of Photography at MoMA: 1960 to Now, a new history of photography. The Museum of Modern Art has drawn upon the exceptional depth of its collection to present the first in a three-volume history of photography. Eight chapters, arranged by theme, present work by more than 250 artists. From the mise-en-scène to the performative, from documentary photographs to documentation of Conceptual art, the works in this volume represent the diversity of photo-based practices and their influential role in contemporary art.
This forum includes the contributors to Photography at MoMA: 1960 to Now as lead speakers: Quentin Bajac, The Joel and Anne Ehrenkranz Chief Curator of Photography, MoMA; David Campany, Reader in Photography, University of Westminster, London, artist, and writer; Noam M. Elcott, Associate Professor, Department of Art History and Archaeology, Columbia University; Lucy Gallun, Assistant Curator, Department of Photography, MoMA; Roxana Marcoci, Senior Curator, Department of Photography, MoMA; Sarah Hermanson Meister, Curator, Department of Photography, MoMA; Eva Respini, Barbara Lee Chief Curator, Institute of Contemporary Art, Boston; and Robert Slifkin, Associate Professor of Fine Arts, Institute of Fine Arts, New York University.
This event is invitation only, but we are very pleased to present a live stream of the forum, which will allow remote friends and colleagues to participate in the conversation.
Cofounded by curators Roxana Marcoci and Eva Respini on February 16, 2010, and conceived as an experimental platform for free-form critical discussions, MoMA's forums on contemporary photography are designed to encourage debate about the perspectives and scope of still and moving images and other forms of picture-making among leading artists, curators, and theorists in the field. The creative process of today is not solitary but dynamic, evolving from countless partnerships. These forums offer an intellectual milieu that values the scholarly reassessment of pivotal ideas in art, innovative practices, and complex and competing visions of modern and contemporary art.
Roxana Marcoci, The David Dechman Senior Curator, The Robert B. Menschel Department of Photography, MoMA, begins each session with an introduction to the topic, providing context for the conversation. Four to seven featured speakers then present for five to 10 minutes each. The presentations are followed by a probing, critical Q&A session and a moderated discussion with all the guests.
Read an article about the Forums from Art in America.
Organized by Roxana Marcoci, Senior Curator, Department of Photography, MoMA
Speakers: Quentin Bajac, The Joel and Anne Ehrenkranz Chief Curator of Photography, MoMA
David Campany, Reader in Photography, University of Westminster, London, artist, and writer
Noam M. Elcott, Associate Professor, Department of Art History and Archaeology, Columbia University
Lucy Gallun, Assistant Curator, Department of Photography, MoMA
Roxana Marcoci, Senior Curator, Department of Photography, MoMA
Sarah Hermanson Meister, Curator in the Department of Photography, MoMA
Eva Respini, The Barbara Lee Chief Curator, Institute of Contemporary Art, Boston
Robert Slifkin, Associate Professor of Fine Arts, Institute of Fine Arts, New York University