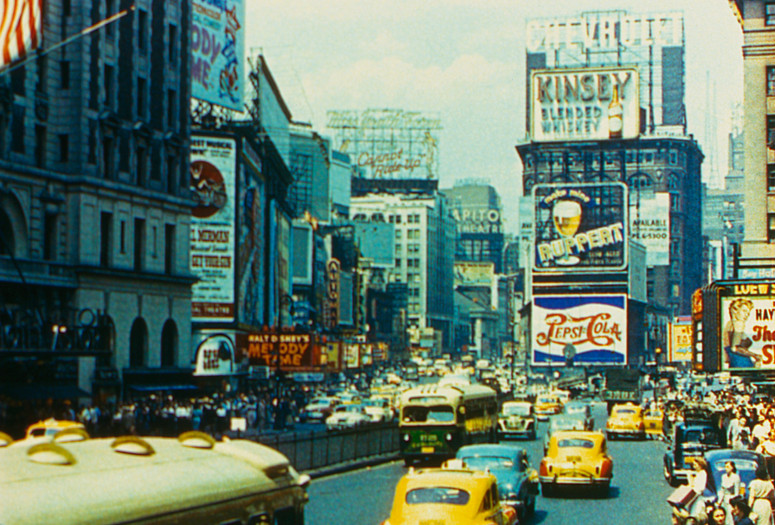 The Gang's All Here. 1943. USA. Directed by Busby Berkeley. 103 min.
Screenplay by Walter Bullock. With Alice Faye, Carmen Miranda, Phil Baker, Benny Goodman and His Orchestra. Carmen Miranda sings "The Lady in the Tutti-Frutti Hat" and 60 chorines straddle insistently probing, overgrown bananas: once seen, these images are never forgotten. Arguably the greatest—and most insanely ludicrous—of Busby Berkeley's later efforts, The Gang's All Here features the Brazilian Bombshell at her most overripe, her malapropisms offering flashes of comic mistranslation. Alice Faye stars as a sad-eyed showgirl being courted by a furloughed soldier who's already spoken for, and their rocky romance provides the narrative backdrop for Berkeley's visionary song-and-dance numbers, a series of abstract kaleidoscopic spectacles whose riotous clash of strawberry reds, banana yellows, and florescent purples and pinks are 1940s Technicolor at its most deliriously erotic (or what the critic Melissa Anderson would call "the apotheosis of fruitiness"). 35mm print; courtesy Twentieth Century Fox.
Mighty Manhattan, New York's Wonder City. 1949. USA. Directed by James H. Smith. 20 min.
With Ann Miller, Xavier Cugat, Mrs. Nicolas M. Schenck. Narrated by James A. FitzPatrick. A Technicolor walkabout through mid-century Manhattan, this short subject takes the viewer from flophouse-era Bowery to a nostalgia-inducing Times Square; there's even a glimpse of the United Nations under construction. 35mm print courtesy George Eastman House.