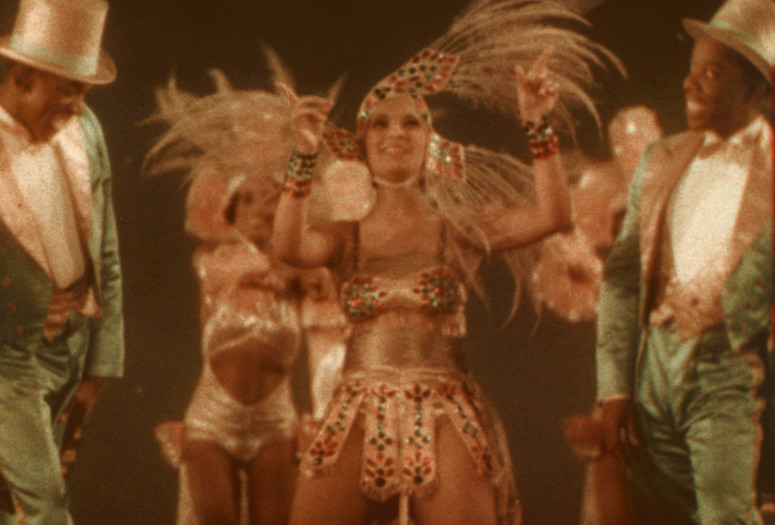 The I Don't Care Girl. 1953. USA. Directed by Lloyd Bacon. 78 min.
Screenplay by Walter Bullock. Choreography by Jack Cole, Seymour Felix. With Mitzi Gaynor, David Wayne, Oscar Levant. A celebrity beyond all measure in vaudeville America, Eva Tanguay commanded salaries equal only to Houdini, Caruso, and Jolson, and left screaming crowds and lovers in her wake. Memorably described by the English aesthete Aleister Crowley as "starry chaste…in her colossal corruption," Tanguay is the subject of this Hollywood biopic musical. Though the strands of her devil-may-care career are more chaste than corrupt in the telling, the film succeeds brilliantly on the dance floor, with abstract, jazzy numbers choreographed by Jack Cole and Seymour Felix. (Look for an uncredited Gwen Verdon and Julie Newmar backing Mitzi Gaynor in the "Beale Street Blues" routine.) Fox studio head Darryl F. Zanuck reportedly cut some of the dance sequences, but thankfully preserved Gaynor's feathery conflagration in "I Don't Care." 35mm print courtesy Twentieth Century Fox.
A Josephine McLean Dance Classic. 1929. USA. Directed by McLean. 9 min.
With Carmen De Lara, Rose Marie Bedford, Robin Fautine. A rare illustration of modern dance in Deco-era California, this short features McLean's company of female performers, the "Dance Rhapsodies," on a series of abstractly decorated stages. 35mm print courtesy George Eastman House.
Manhattan Serenade. 1929. USA. Directed by Sammy Lee. 20 min.
Music by Louis Alter. With Nina Mae McKinney, Ann Dvorak, Raymond Hackett, Mary Doran, the Brox Sisters. MGM pulled out all the stops for their Colortone Revues, and this delightful example features two-strip Technicolor musical numbers performed by sensational newcomer Nina Mae McKinney ("The Black Garbo") and the Brox Sisters, a Tennessee-born singing trio. Louis Alter's breakthrough hit song "Manhattan Serenade," now a popular standard, was the inspiration for this exuberant paean to the island's sybaritic charms. 35mm print courtesy George Eastman House.