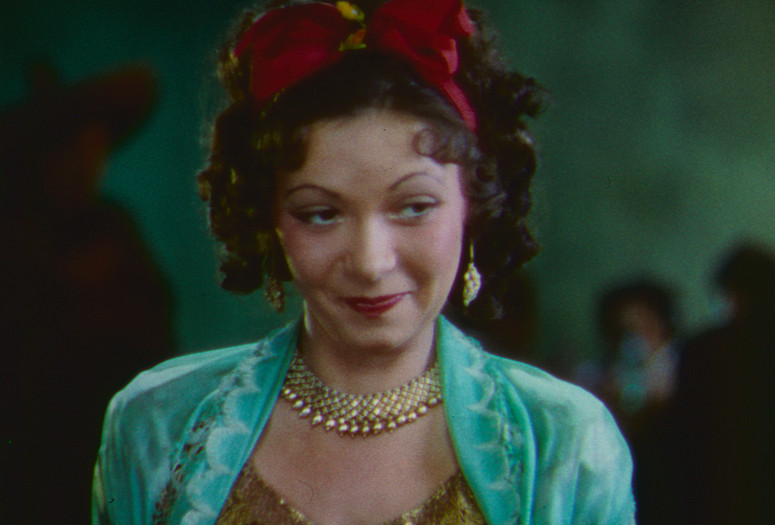 The Garden of Allah. 1936. USA. Directed by Richard Boleslawski. 75 min.
Screenplay by W. P. Lipscomb, Lynn Riggs, based on the novel by Robert Hichens. With Marlene Dietrich, Charles Boyer, Basil Rathbone, Joseph Schildkraut. Dietrich, a disillusioned heiress with a seemingly endless supply of chiffon gowns, and Boyer, a fallen Trappist monk, are star-crossed, soul-weary lovers making their way across the Sahara. With its earnest eroticism and use of color for dramatic emotional effect, The Garden of Allah was a breakthrough critical success for Technicolor's three-strip color process and for John Hay Whitney and David O. Selznick's newly incorporated Selznick International Pictures. The film's cinematographers, W. Howard Greene and Harold Rosson, received a special Academy Award for their refined color work in the bleached sand dunes of Buttercup Valley, Arizona, and on Sternberg-inspired Orientalist sets. Dietrich later maintained that "Selznick was the greatest perfectionist I have ever known, and The Garden of Allah was the most beautiful color film ever made." Selznick and "Jock" Whitney, a Technicolor stakeholder and the President of MoMA's Film Library, would go on to produce Nothing Sacred, The Adventures of Tom Sawyer, Gone with the Wind, and Duel in the Sun (all shown in this exhibition). 35mm restoration by The Museum of Modern Art, with support from the Celeste Bartos Fund for Film Preservation; courtesy Walt Disney Studios.
La Cucaracha. 1934. USA. Directed by Lloyd Corrigan. 20 min.
With Steffi Duna, Don Alvarado, Paul Porcasi, Eduardo Durant's Rhumba Band. A Hollywood calling card to flaunt Technicolor's new and more versatile three-strip color process, La Cucaracha won an Academy Award for Best Short Subject (Comedy) and was a collaboration among several remarkable talents: Merian C. Cooper, the director of King Kong and producer of Grass and The Four Feathers; John Hay Whitney, a financier and horse fancier who joined Cooper to form Pioneer Pictures in 1933; Robert Edmond Jones, who almost singlehandedly revolutionized Broadway stage design in the 1920s with his bold, expressionist use of colored lighting and costuming for Theatre Guild and Eugene O'Neill productions; and Kenneth Macgowan, who ran Provincetown Players with Jones and O'Neill. The success of this spicy, Latin-themed musical short emboldened the executives at Pioneer Pictures to produce Rouben Mamoulian's Becky Sharp, the first Hollywood feature in three-strip Technicolor (also screening in this exhibition). 35mm dye-transfer print courtesy George Eastman House on June 5 and Restored 35mm print from UCLA Film & Television Archive on July 21
[John Barrymore Technicolor Test for Hamlet]. 1933. USA. 5 min.
Pioneer Pictures. 35mm print from The Museum of Modern Art