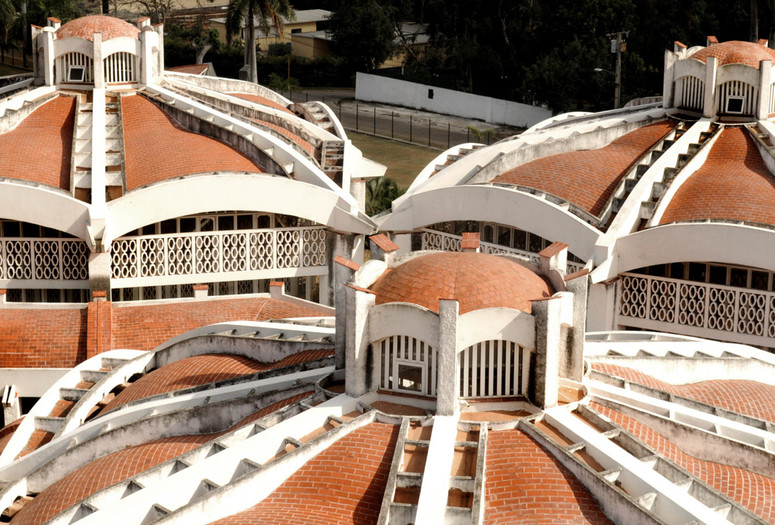 Latin American Modernism at Risk explores the preservation challenges, including changing economies, modernization, and development, being faced by modern buildings and sites in Latin America today.
Using a selection of World Monuments Watch sites in Latin America featured in MoMA's exhibition Latin America in Construction: Architecture 1955–1980, scholars and experts who know the sites best will examine their significance and the threats to their survival. This event is hosted by the World Monuments Fund.
Program: 6:00–7:30 p.m.
Reception: 7:30–8:30 p.m.
Program
Introductory Remarks
Barry Bergdoll, Curator, Department of Architecture and Design, The Museum of Modern Art
Lisa Ackerman, Executive Vice President, World Monuments Fund
Speakers
Claudio Vekstein, Professor, Arizona State University
Casa Sobre el Arroyo (Argentina)
Eduardo Luis Rodriguez, author, The Havana Guide: Modern Architecture 1925–1965
National Art Schools (Cuba)
Javier Ramirez Campuzano, Vice President, Patronato Ruta de la Amistad
Ruta de la Amistad (Mexico)
Enrique Vivoni, author, Klumb: An Architecture of Social Concern
Henry Klumb House (Puerto Rico)
Paulina Villanueva, Director, Fundacion Villanueva
Ciudad Universitaria de Caracas (Venezuela)
Panel Q&A
Moderator: Barry Bergdoll
Closing Remarks
Lisa Ackerman
Reception
Includes a book signing with John Loomis, San Jose State University, and author, Revolution of Forms (Spanish edition)
Seating is limited and advance registration is required.