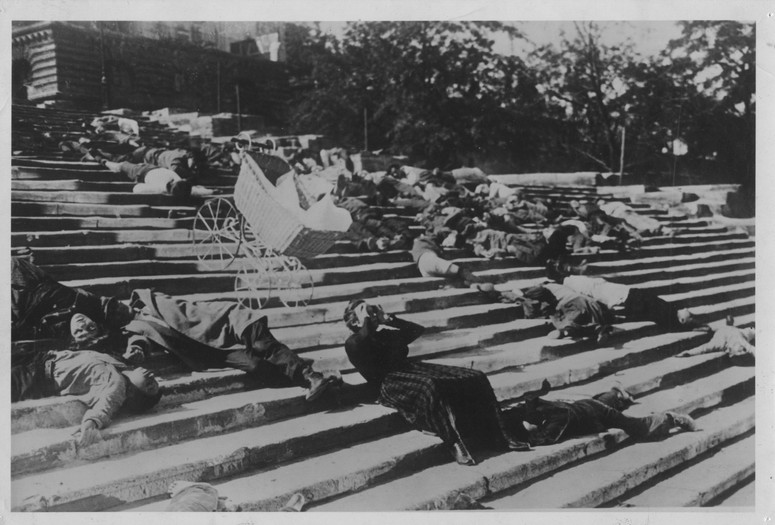 On June 12, MoMA curator Leah Dickerman, the co-organizer of One-Way Ticket: Jacob Lawrence's Migration Series and Other Visions of the Great Movement North, discusses Lawrence's relationship with MoMA film curator Jay Leyda, The Harmon Foundation, and the cinematic aspects of his Great Migration panels. Program silent, with piano accompaniment by Donald Sosin. Program approx. 96 min.
A Study of Negro Artists. 1936. USA. 13 min.
Produced by The Harmon Foundation. Founded in 1922, The Harmon Foundation supported numerous African American artists and writers, including Jacob Lawrence, Countee Cullen, and Langston Hughes, through awards and grants, and promoted their work through groundbreaking traveling art exhibitions and reading tours. This Harmon Foundation–produced documentary offers a unique perspective on the lives and work of painters and sculptors from the Harlem Renaissance. Courtesy National Archives.
A Bronx Morning. 1931. USA. Directed by Jay Leyda. 11 min.
His sole film, A Bronx Morning is Jay Leyda's city symphony of 1930s New York street-and-tenement life. Leyda, a film curator at The Museum of Modern Art, met Jacob Lawrence at the Works Progress Administration (WPA) offices and became a lifelong champion of his work. In addition to introducing Lawrence to the history of cinema, Leyda also introduced him to the Mexican muralist José Clemente Orozco (and, it is believed, the author Richard Wright), as well as MoMA director Alfred Barr, who eventually acquired half of Lawrence's Migration Series panels for the Museum.
Bronenosets Potemkin (Potemkin/The Battleship Potemkin). 1925. USSR. Directed by Sergei Eisenstein. Approx. 72 min.
Through Soviet silent cinema, Jacob Lawrence gained a new appreciation of film's unique language and its power to awaken political consciousness. Montage was based on the notion that the context and meaning of a film could be created through editing alone—more specifically, through the juxtaposition of disparate images to produce an emotional or intellectual association—and it was Eisenstein's anti-illusionary use of repetition and synecdoche, his sense of the inexorable march of time, and his collision of images for their shock value (most famously in the Odessa Steps sequence), that perhaps resonates most strongly in Lawrence's own Migration Series. Russian intertitles; English subtitles.