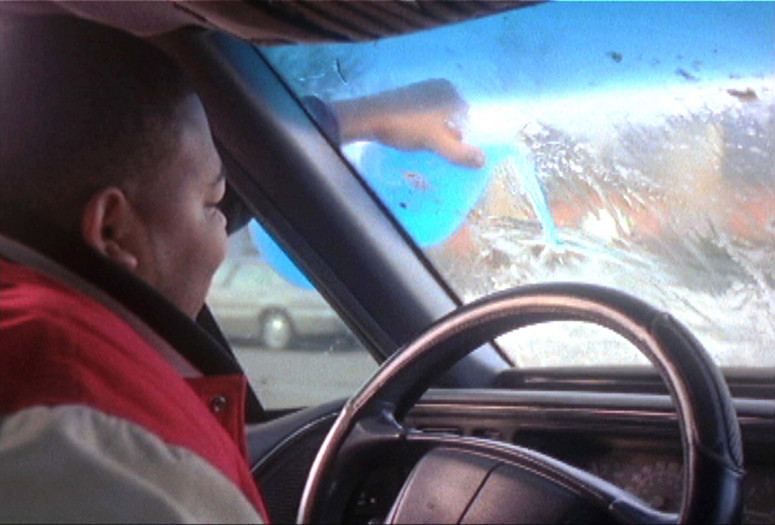 Program 72 min.
Company Line. 2009. USA. Directed by Kevin Jerome Everson. 30 min.
A film about one of the first predominantly black neighborhoods in Mansfield, Ohio, narrated by city workers and former residents, Company Line considers the history and promise of northern migration from a contemporary perspective, with a mind to the stark realities of gentrification and the collapse of the manufacturing industry. 30 min.
American Motor Company. 2010. USA. Directed by Kevin Jerome Everson. 12 min.
In collaboration with Carmen Higginbotham. In this short film, two men install a billboard for Volkswagen. The ad features a beret-capped African American standing astride the tagline "there's a bit of the cool in every bug," recalling mid-century advertisements that trumpeted employment opportunities for southern black workers in northern car factories. Like many of Everson's films, American Motor Company possesses the feel of a documentary yet is subtly staged, conflating history with the present, fact with fiction, and the archive with the imagination.
Home Movies from the Charles "Teenie" Harris Collection. 1935–55. USA. Directed by Charles "Teenie" Harris. Silent. 10 min.
These home movies extend the already epic documentary project of Charles "Teenie" Harris, who photographed African American communities in Pittsburgh from the 1930s through the 1970s, leaving behind an archive of nearly 80,000 images. Jacob Lawrence acknowledged Pittsburgh as "one of the great industrial centers of the North" in Panel 45 of his Migration Series. Courtesy Carnegie Museum of Art.
Home Movies from the Ernest Beane Collection. 1935–46. USA. Directed by Ernest Beane. Silent. 10 min.
These remarkable African American home movies were made by a Pullman porter and dedicated amateur filmmaker who chronicled his Bay Area community and his travels across the country to places like Salt Like City and New York. Courtesy African American Library & Museum at Oakland.
Solomon Sir Jones Films. 1924–28. USA. Directed by Solomon Sir Jones. Silent. 10 min.
The son of former slaves, in 1889 Solomon Sir Jones moved from the South to Oklahoma, where he found great success as a businessman and religious leader. His home movies document his extensive travels around the world, including Grand Tours of Europe and the Middle East, as well as members of his local congregation, providing a unique and fascinating perspective on African American life in the early 20th century. Courtesy Beinecke Rare Book & Manuscript Library, Yale University.