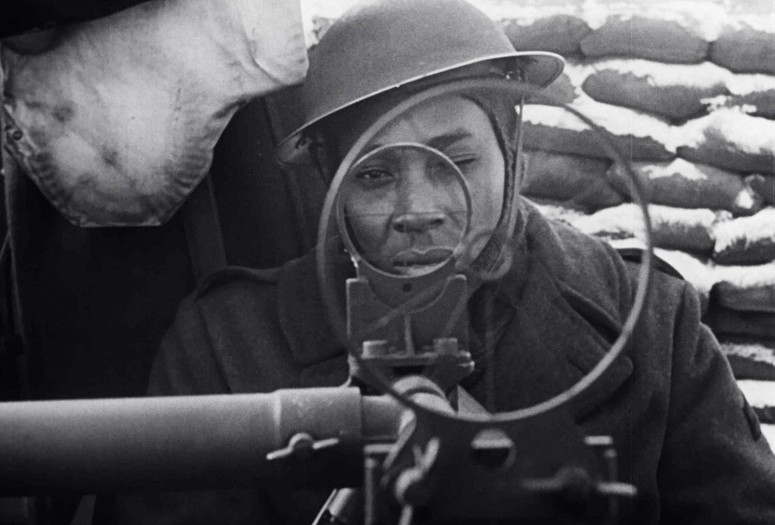 Program 117 min.
Henry Browne, Farmer. 1942. USA. Directed by Roger Barlow. 11 min.
Narrated by Canada Lee. Produced by the U.S. Department of Agriculture as a propaganda film, Henry Browne is the story of a 38-year-old African American father of three who does his part for the war effort by growing peanuts rather than his usual crops on his modest Georgia farm, and who looks on in pride at his son, a Tuskegee Airman. Courtesy National Archives.
The Negro Soldier. 1944. USA. Directed by Stuart Heisler. 43 min.
Produced by Frank Capra. Screenplay by Carlton Moss. Jacob Lawrence made his 60-panel Migration Series in 1941, a watershed moment in the African American experience as millions of Southerners travelled northward and westward to escape poverty and violence, seeking economic opportunity and social advancement. The war, too, was a vital catalyst for change. This documentary, produced by Frank Capra for the U.S. Army following on the tremendous success of his Why We Fight series (and written by African American screenwriter Carlton Moss, a key figure of the Federal Theater), encouraged young black men to do their part for the American cause by enlisting in the armed forces; though segregation and prejudice remained a stark reality for many soldiers on the ground, the images they saw of themselves on screen marked a significant turning point in the history of racial representation in cinema, far more ennobling than the Hollywood stereotypes that preceded it and a shocking revelation to black and white audiences alike.
We Work Again. 1937. USA. 15 min.
Produced by the Works Progress Administration. This Depression-era WPA film promoted New Deal employment opportunities for African Americans, and features the only known footage of Orson Welles's legendary "voodoo" Macbeth, which transposed Shakespeare's play to 19th-century Haiti and was staged in 1936 at the Lafayette Theater, the home base for the New York Negro Unit of the Federal Theater Project. Courtesy National Archives.
A Study of Educational Inequalities in South Carolina. 1938. USA. Directed by Charles Hamilton Houston. 33 min.
A call to action produced by the NAACP and filmed by the influential civil rights attorney Charles Hamilton Houston, this sociological study sought to bring attention to the unjust distribution of resources within segregated school systems, arguing that "separate but equal" was anything but just. The film is also a richly evocative documentary record of African American life in the Deep South during the 1930s. Courtesy National Archives.
Let My People Live. 1938. USA. Directed by Edgar Ulmer. 15 min.
Though known for visionary Poverty Row films like Detour, Ulmer also produced sponsored short subjects like this educational film, shot at Tuskegee University in Alabama and intended for young African American audiences, about the prevention and treatment of tuberculosis. The widespread outbreak of TB-related illness and death in overcrowded black urban neighborhoods was a major concern, and Jacob Lawrence depicted the grim fate of one victim in Panel 55 of his Migration Series.