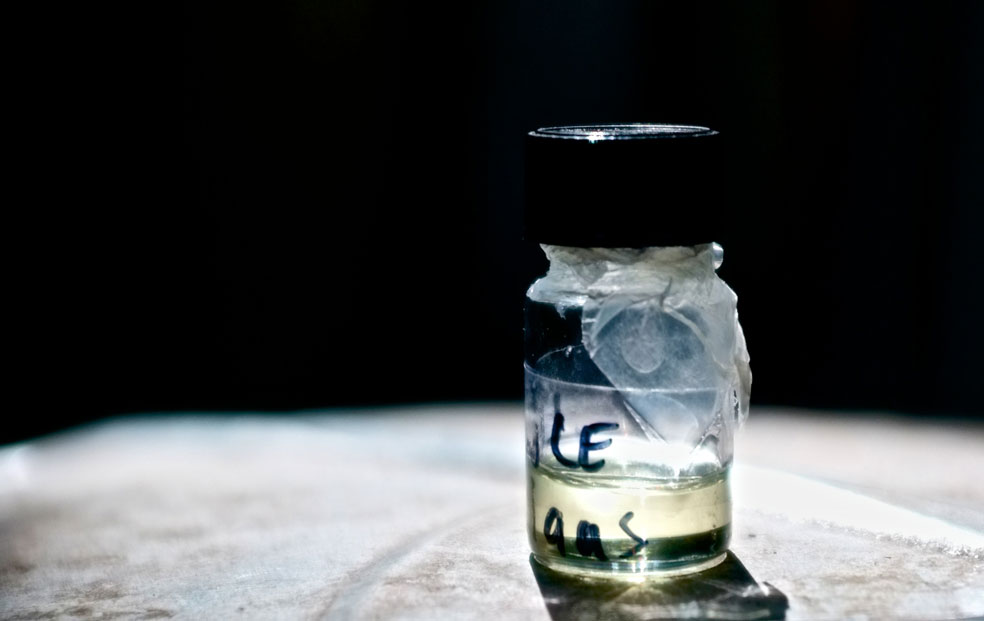 Violence (Sissel Tolaas and Nick Knight)
From the curators: Scent designer Sissel Tolaas and photographer Nick Knight teamed up to explore a fragrance that charts the emotional landscape of violence. Collecting sweat samples at cage fighting matches and analyzing the chemicals by means of gas chromatography, Tolaas and Knight evoke a provocative portrayal of aggressive dominance and sexual behavior, captured in the throes of violent action itself.
After reading about the production of the smell inside the vial of Violence and looking at the accompanying photographs, I did not want to open it. It appears that I shy away from violence even as a smell: sweat, body odor, the dankness and rankness of gyms and locker rooms, the certainty that it will make me wrinkle my nose like a packed summer subway or a urine-soaked stairwell. The thought of a smell wrung from the sweat-soaked t-shirts of cage fighters creates a ripple of distaste and even fear at the imminent prospect of inhaling, a sensory reaction before the sense in question is even engaged.
The vial is incongruously clear and white and sterile-seeming; I imagined a blood-red glass rose, with twisted petals and a black heart. The smell seems to hit me even before I uncap it—old socks? No, it is far, far stronger—too strong to hold to my nose for more than a second or two. It is rank, but rank like musk, and held at a distance it summons images of stags or musk oxen or elk fighting—horns locking, hoofs pawing, the raw pushing of strength against strength. The violence of sex.
Would those images come to mind without the context of cage-fighting? I cannot know. But once the initial disgust at the smell inhaled deeply and close has worn off, and I smell it again and again, a transformation takes place. The smell itself separates from its context and becomes a spectrum of different scents, as if it is flattening and elongating under my nose. I think, for an instant, that I catch a whiff of rose, surely suggested by the pictures of torn petals but also reminding me that roses have many different scents blending into one. Again and again I smell it, until it begins to become denatured—an essence, yes, but of what?
Surely not of man. As I kiss my sons goodnight and press myself against my husband's back in bed, I think about how we know each other by scent just as we recognize voices—instantly and individually. Lovers know each other years later by the deep smell of skin; parents inhale their children's hair and neck and chubby folds. So perhaps the violence here is the transformation of the individuality of all men into the hormones that define them as male; the testosterone that creates the characteristics we identify with men rather than women. That is the transformation of design, the claimed search for an essence that is in fact a brute reduction and destruction of infinite variation: the distinctive features and feelings even of the two men fighting in a particular cage on a particular night with a particular set of instructions, much less of all the men who fight and love and work and care and create.
But by distilling something to an essence—not the essence but an essence—we also create building blocks for something new. We reduce complexity to simplicity to build a different complexity. If that is the violence of creative destruction, it feels far gentler than grappling for a death-grip in a cage. But I may never again look at a vial of perfume without thinking of torn petals and crushed calyces, a violence at the heart of beauty.