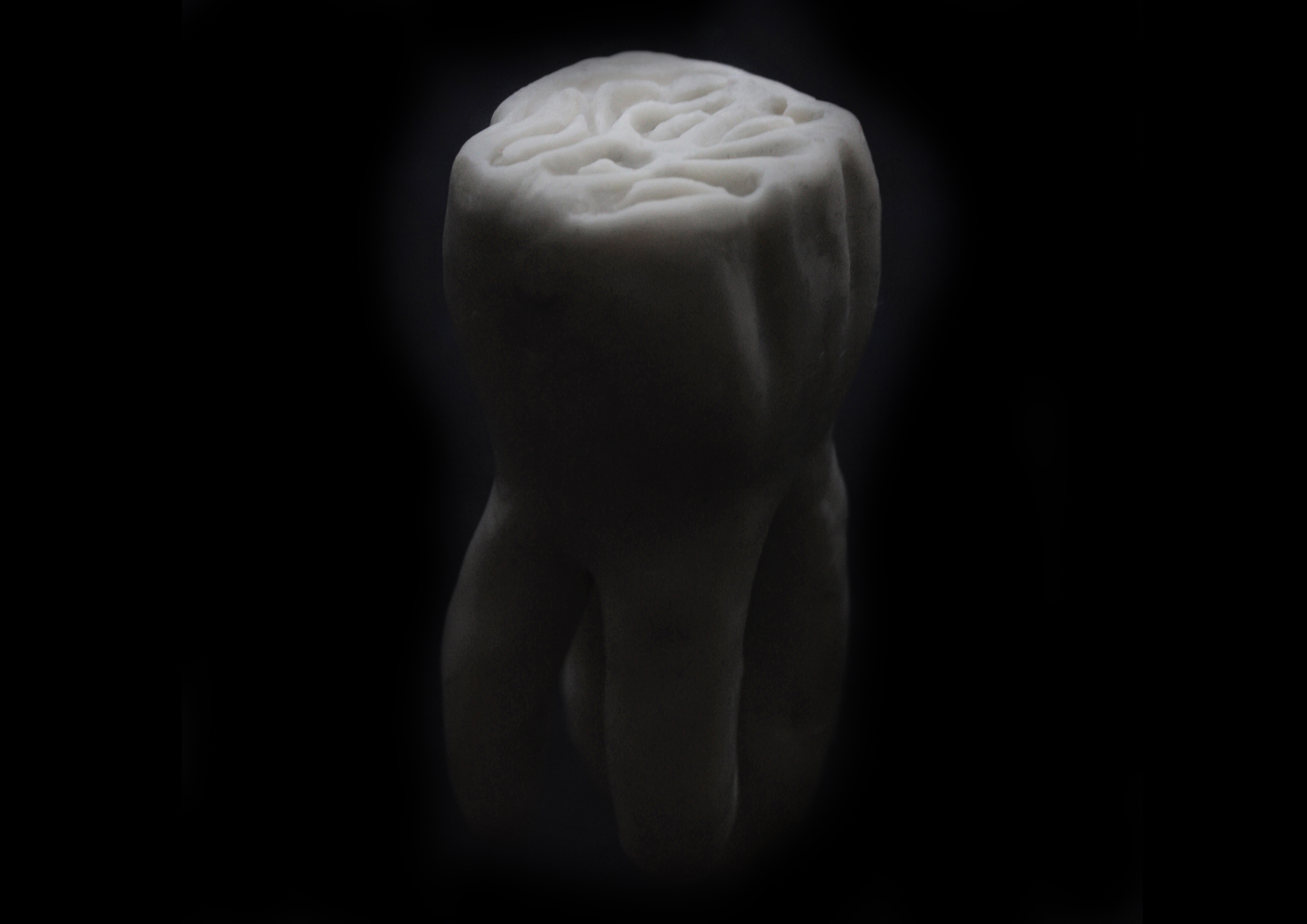 Vegetarian Tooth (Susana Soares)
From the curators: Susana Soares created the Vegetarian Tooth in response to the environmental violence of intensive animal farming for meat consumption. Using stem cell theories developed to rebuild decaying teeth in elderly people, this prototype tooth is designed to be implanted and fully functional within two months. The cap of the design is reflective of the patterns found on an herbivore's tooth structure, which have evolved in such a way that they easily grind plant material. Soares's work provokes awareness around contemporary concerns over the links between global food resources, climate change, and the politics of resource distribution. Could future trips to the dentist shift from a focus on our own discomfort or beauty to the well-being of our planet? Artist Maira Kalman has responded to Soares'a provocation with work of her own: an autobiographical poem and illustration.
My ancient aunt Tilleh, with the pince-nez, mustache and hairy wart, was a dentist.
She invited us to her apartment for dinner and served meatloaf festively sprinkled with colored cookie crumbs.
(That is reason enough to stop eating meat, but that did not stop us. We devoured brisket and hamburgers and hot dogs like nobody's business.)
Anyway, her apartment was vast and dark. In one section was her dentist's office, which looked more like a torture chamber to me.
The prickly mustache would get closer and closer. I would go into a panic. A tooth pulled. Darkness. Despair. Pain.
Who else had their teeth pulled? My poor father, who had dementia.
His teeth were pulled in order to get a set of false teeth. But he never got them.
No no no, I can't bear it.
Perhaps if I promise to eat fewer hamburgers, that might help.
But pulling my teeth will not save the world.