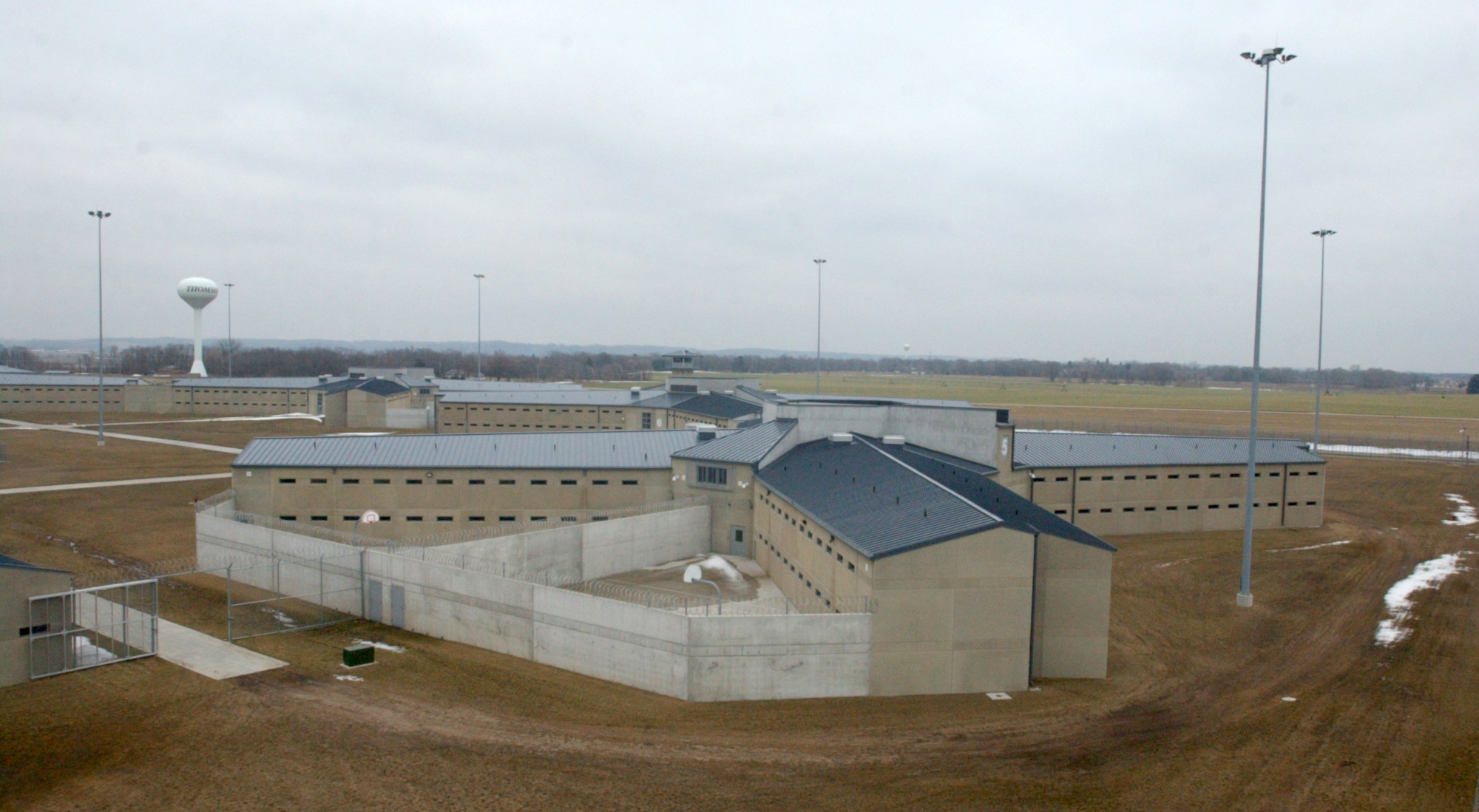 Thomson Correctional Center (Illinois Department of Corrections)
From the curators: From Jeremy Bentham's seminal investigation of the Panopticon (1791) to Michel Foucault's Discipline and Punish (1975) and, more recently, the specter of Guantanamo, prisons and their design have long been a source of public discussion at all levels. The relationship between prison design and violence is central to this fascination; prisons are meant to protect us from those who violate the law, but we know they are overcrowded spaces where danger and criminality become even more ingrained. Thomson Correctional Center (TCC) is a "supermax" maximum-security prison located just north of the village of Thomson, Illinois. Nicknamed the "Melon Capital of the World" for the prodigious amount of watermelons produced there, the village population of 590 lives in the shadow of TCC's 15-foot-high electric fence, rolls of razor-wire, and 1,600 prison cells. The facility was built between May 1999 and November 2001 at a cost of $140 million. Due to political and public controversy over its high operating costs, it lay inactive until 2006, has never operated at intended capacity, and has an uncertain future.
Violence swirls around Thomson Correctional Center in all its iterations, from its initial (but never implemented) intention of housing violent prisoners, to the notorious (and also unimplemented) proposal to transfer Guantanamo Bay's terrorism detainees there, to the current (and not yet implemented) Federal plan to place "administrative maximum security" prisoners there. Thomson is an exemplar of the double-edged nature of American incarceration: the dual goals of punishment and rehabilitation that defeat each other at every turn, reflecting a society scared of violence but unsure of how to protect itself except through further retribution. Its concretization of violence denies the possibility of any other outcome.
Thomson's site planning and architecture demonstrate the intentional barrenness of prison life: vegetation might allow for concealment of contraband or provide material for weapons and so is removed; recreation is reduced to one basketball hoop per 50 men in an otherwise vacant concrete walled yard; the central chow hall, library, and perhaps a few classrooms are accessed by unshielded concrete walks in all seasons. Surveillance is the immediately apparent design principle in the geometry of hallways, yards, and guard towers; small apertures in otherwise fully circumscribed security-level boundaries convert lines of sight into potential lines of fire emanating from specified control points. Despite the prominence of violence in prison life, guards do not carry weapons in prisoner areas to prevent the possibility of a hostile takeover.
Thomson's planned conversion into a Federal supermaximum security prison raises the prospect of extended solitary confinement for hundreds of men, as at the infamous ADX Florence. There, the response to the putatively most violent prisoners—but more often the most despised, for whatever reason—takes the form of sensory deprivation and social isolation. The outcome is frequent mental breakdowns, psychosis, and suicide. The ability to withstand isolation varies among individuals, but the effects are ultimately just as violent as other internationally condemned human rights violations (which is why I am leading a campaign to prohibit the design of spaces intended for prolonged solitary confinement). To reach the level of isolation of ADX, Thomson's barren yards would be subdivided according to a formula where each prisoner can receive the legal minimum of five hours of out-of-cell time per week: roughly eight outdoor spaces per 50 men. Showers of vandal-resistant specification could be added to the cells to eliminate the twice-weekly possibility of momentary hallway interactions.
One of the ironies of being "tough on crime" best understood by prison guards is that more restrictive prisons are harder to manage. Prisoners engaged with jobs and classes have less time to make trouble and more reasons to cooperate. Stripped of spaces for cooperation, Thomson manages the potential for violence through separation: its 1,600 beds are divided among eight housing blocks, each of which is subdivided into four yards, and prisoners are provided individual cells (a modicum of privacy ironically denied at lower security levels; more compliant prisoners are housed in dormitories). Individual violence can be locked down inside a cell; group riots can be limited to units of 50 or 200 prisoners: a platoon or a company's worth, but not the whole brigade.
The never-arrived Guantanamo prisoners demonstrate the guiding logic of segregation at an even higher level. The fear of defiling the homeland arises less from the presence of foreign terrorists (many of whom are in fact innocent) than of home-grown torturers and executioners (a class once forced to live outside medieval European city walls). Some of the violence authorized toward Guantanamo detainees is also enacted on American soil, albeit at the remote perimeter of most states. Thomson, California's Pelican Bay, New York's Upstate, and the nation's other supermax prisons are all located on sites peripheral to dense populations. Guantanamo's legal limbo of non-terrorists cleared for release but still detained echoes the broader status of many prisoners in the state and federal prisons, where their invisibility cloaks the injustice of decades-long sentences for those who pose no public safety risk. The contained and subdivided violence of Thomson prison and its relatives fails to end cycles of crime, mirroring a broader social failure to rehabilitate entire communities abused by the drug war, starved by lack of investment, and hobbled by decaying social and physical infrastructure. We push this violence to the perimeter, but we cannot stop it there.