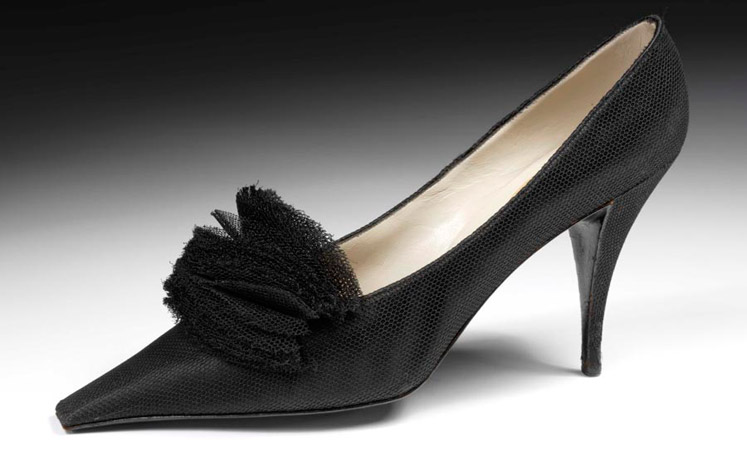 From the curators: The stiletto heel—named after the slender Italian dagger of the Renaissance—first appeared in the 1930s. The inventor of this long, often steel-spiked, thin heel remains in dispute, but today many attribute its rise in fame to Roger Vivier's work for Christian Dior in the early 1950s. The stiletto has woven its way in and out of fashion history, but remains a highly charged symbol of sexuality, aggressiveness, and fetishism.
The stiletto high heel is modern woman's most lethal social weapon. First imagined in the 1930s but not realized until postwar technology made it possible in the early 1950s, the stiletto is a visual slash born to puncture and pierce.
While platform shoes increased stature for both men and women, from Greco-Roman actors to Venetian sophisticates on flooded walkways, the slanted structure of current high heels descends from the boots of early medieval horsemen seeking traction in the stirrup. Hence high heels have a masculine lineage, latent in their use by emancipated women eager to rise to men's level.
But this quest for equality, dominance, or merely assertive presence at work and play is contradicted by a crippling construction: no item of female dress since the tight-laced Victorian corset is so mutilating. Pain and deformation are the price of high-heeled beauty. The high heel creates the illusion of a lengthened leg by shortening the calf muscle, arching the foot, and crushing the toes, forcing breasts and buttocks out in a classic hominid posture of sexual invitation.
The eroticization of high heels (still at medium height) was sped along in the 1920s by the rising hemlines of flappers showing off their legs in scandalously hyperkinetic dances like the Charleston. Alfred Hitchcock's fetishistic focus on high heels can be seen throughout his murder mysteries, from his early silent films in London to his Technicolor Hollywood classics like Vertigo and The Birds, where Tippi Hedren (a former fashion model) demonstrates the exquisite artifice of high-heel wearing as well as its masochistic vulnerability, chronicled in a thousand low-budget horror movies. A woman in high heels, unable to run, is a titillating target for attack.
But the high heel as an instrument of sex war can be witnessed in action in a stunning face-off in Butterfield 8 (1960), where Elizabeth Taylor as a glossy call-girl, her wrist painfully gripped by Laurence Harvey at a chic Manhattan bar, implacably grinds her phallic spike heel into his finely leathered foot. This was at a time when stiletto heels, which concentrate enormous pressure in a tiny space, were banned from buildings with susceptible linoleum or hardwood floors.
It was already being rumored in those pre-Stonewall days that drag queens, harassed on the street, would whip off their high heels and ferociously wield them against assailants. In 2006, noted New York drag queen Flotilla DeBarge was jailed after a bar-room fracas where she swung her black high-heels (impounded by the police as evidence) to inflict wounds requiring stitches upon an insulting straight man and his date (an online headline: "Meatpacking District Drag Queen High-Heel Beatdown").
Reports of high-heeled crime were on the increase in 2013. In Washington, D.C., a man complained to the police that a petite woman had hit him in the head with her shoe outside the Ibiza nightclub. After a fight at a Washington 7-Eleven, three women were arrested for stabbing their opponents; one wielded a knife, but the other two used their shoes, leading to the charge, "Assault with a dangerous weapon." In Houston, Texas, a 44-year-old woman was charged with murder after a bloody clash in a condominium tower during which her professor boyfriend died after being struck in the head, face, and neck by 30 blows from her stiletto heels.
The dagger later called a stiletto began as a needle-like medieval tool to finish off a fallen knight by a thrust through chain mail or between plate armor. During the Renaissance, the stiletto became the favorite weapon of Italian assassins, jabbing from behind through heavy fabric or leather and killing invisibly while barely leaving a drop of blood. The stiletto's historic association with deception and treachery thus gives an aura of sadistic glamor to the modern high heel, whose stem contains a concealed shaft of steel. Woman as seducer or seduced can also lance and castrate.
Helmut Newton, whose superb fashion photography was suffused with the perverse world view of his native Weimar Berlin, captured the disturbing complexities of the high heel in Shoe, a picture taken in Monte Carlo in 1983. Here we see the fashionable shoe in all its florid delicacy and dynamic aggression. The stance, with shifted ankle, seems mannish. Is this a dominatrix poised to trample her delirious victim? Or is it a streetwalker defiantly defending her turf? Or a drag queen scornfully pissing in an alley? The shoe, shot from the ground, seems colossal, a pitiless totem of pagan sex cult.
The luxury high heel as status marker is directed not toward men but toward other women—both intimate confidantes and bitter rivals. The high heel in its dazzlingly heraldic permutations (as dramatized in Sex and the City) is beyond the comprehension of most men: only women and gay men can tell the difference between a Manolo Blahnik and a Jimmy Choo. In full disclosure, I never wear these shoes and indeed deplore their horrifying cost at a time of urgent social needs. Nevertheless, I acknowledge and admire the high heel as a contemporary icon and perhaps our canonical objet d'art.
At the Neiman Marcus department store at the King of Prussia Mall in suburban Philadelphia, a visitor ascending the escalator to the second floor is greeted by a vast horizon of welcoming tables, laden with designer shoes of ravishing allure but staggering price tags (now hovering between $500 and $900 a pair but soaring to $6000 for candy-colored, crystal-studded Daffodile pumps by Christian Louboutin). Despite my detestation of its decadence, this theatrical shoe array has for years provided me with far more intense aesthetic surprise and pleasure than any gallery of contemporary art, with its derivative gestures, rote ironies, and exhausted ideology.
Designer shoes represent the slow but steady triumph of the crafts over the fine arts during the past century. They are streamlined works of modern sculpture, wasteful and frivolous yet elegantly expressive of pure form, a geometric reshaping of soft and yielding nature. An upscale shoe department is a gun show for urban fashionistas, a site of ritual display where danger lurks beneath the mask of beauty.