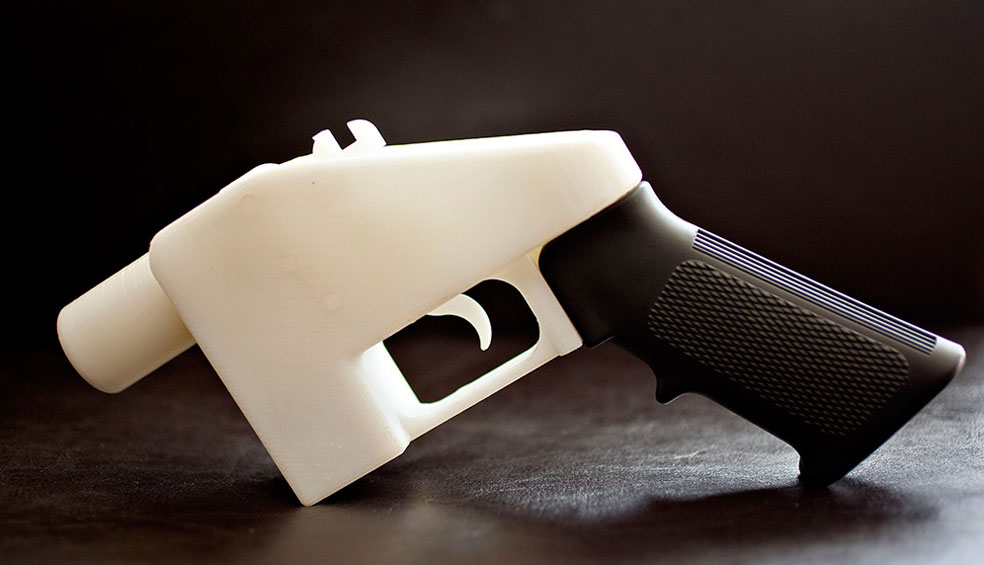 The Liberator (Defense Distributed)
From the curators: Defense Distributed, a Texas-based non-profit group, was formed with the goal of creating a firearm that anyone could fabricate using a 3-D printer. Invoking civil liberties and challenging notions of gun control and perceptions of information censorship, they created a block-like polymer .380 caliber gun printed in 16 pieces, now known as 'The Liberator.' The 3-D weapon's fabrication files were immediately made available online and have been downloaded over 100,000 times.
Cody Wilson first demonstrated "The Liberator" for the masses on May 5, 2013, by way of a YouTube video and a barrage of media coverage. It was a curious-looking pistol, cream-colored and blocky, but it appeared to work. This was remarkable, because this deadly object was built almost entirely from plastic parts produced by a 3-D printer. ("Almost" because its design included a common nail that served as the firing pin.)
The implications were clear enough. We'd already been hearing, for years, how 3-D printers could enter our lives as an efficient, humane, empowering alternative to mass manufacturing. Now Wilson's video suggested that the very same techno-magic that produced fun toys and handy housewares could also be used to whip up a functioning firearm. The design plans were made available online, and downloaded 100,000 times before the government intervened (and the plans, of course, resurfaced via unofficial channels).
It's possible that, as an actual weapon, The Liberator is overrated. It still requires traditional ammunition, not to mention a rather expensive 3-D printer. And at least one set of police tests found it had a tendency to essentially blow up on discharge. But if we concede that it still appears capable of the core task of inflicting violent damage, then I think we can only conclude that it is a highly successful design.
That's because the real function of The Liberator has very little to do with making an excellent weapon, and everything to do with making a point. Wilson, whose Liberator work competed with law school studies, is a strident Libertarian. He might choose a different label, but clearly his project means to express a point of view about the individual's relationship to the state in general, and gun regulation specifically. Thus the Liberator has—consistent with that self-important name—been promoted with bombastic, sometimes bellicose, and essentially propagandistic rhetoric and aesthetics. Wilson and his associates, for instance, operate under the name Defense Distributed. They are freedom-loving rebels, you see.
This is why it's almost more useful to think of the Liberator not as an object but as an example of "design fiction"—the practice of devising plans for or prototypes of objects and systems that, while impractical, express some critique of the present or vision of the future. It's a trendy strategy these days, but I'm guessing almost no one associated with it shares Wilson's politics. Similarly, tech enthusiasts who have rhapsodized about the "disruptive" possibilities of 3-D printing frequently strike quasi-libertarian notes, but they have largely recoiled from Wilson and his Liberator.
But really, he has done nothing more than call their bluff. He didn't subvert the dream of a future where we can all manufacture whatever we want, whenever we like. He's hijacked it. And in doing so, he's made plain the full stakes of that dream—something that should probably happen more often in our global discourse about how to reckon with technology's powers.
I don't share Wilson's politics, so I'm somewhat sympathetic to technologists who look at the Liberator and complain it's mucking up their project, setting back their progress, spoiling their utopia. But I wish they could recognize that there's something more important going on here. Wilson is not out to thwart utopia; he is pursuing it. And with the Liberator, he's made his vision so clear that it deserves, demands, a considered, thoughtful, reasoned response that accounts for the full implications of the system he has so brilliantly exploited.
For a design provocation, there's no higher goal.