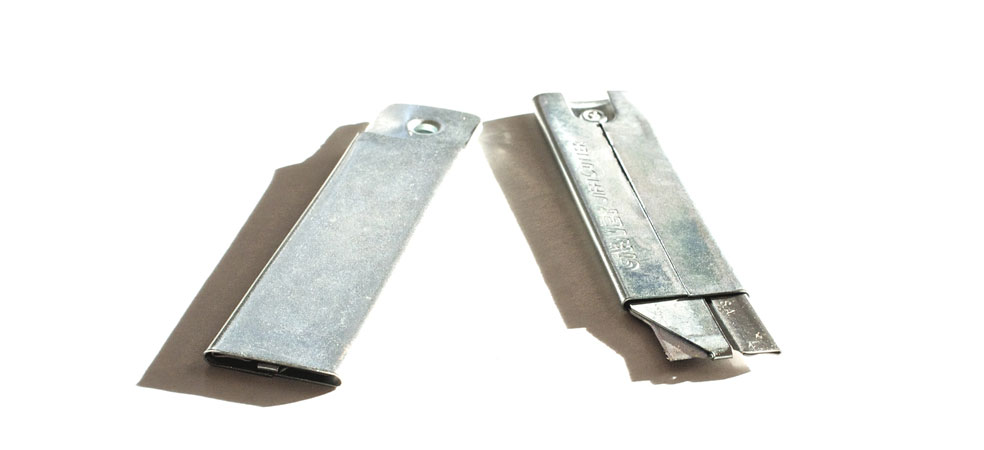 The Box Cutter (slash) Utility Knife
From the curators: The protective handle for a single-edged razor blade, now known colloquially as a box cutter, is believed to have originated in the 1920s as a hand tool, derived from much earlier utility knives and straight razor blades. The model pictured above was first patented in the 1950s in the U.S.; a slightly different model is referred to as a Stanley Knife in the U.K., named for the company that began manufacturing them in the 1920s. This multipurpose tool continues to be redesigned and iterated upon by many companies and manufacturers. These types of blades became notorious in the early 21st century, when it was revealed that they may have been used by the hijackers in the September 11, 2001, terrorist attacks in the United States, as stated by the 9/11 Commission Report. The exact design of the alleged blades was never verified.
A box cutter is the perfect tool for our time, for thinking out of the box. We create boxes that require a blade to liberate ourselves and the other things we place in them. These self-referencing iterations of irony transform the utility knife into the clown acrobat of industrial capitalism. It punctures the fiction like a hammer smashing a nested set of Russian dolls.
The fashionable "out of the box" thinking of the late 20th century put a utility knife into all of our hands and set aside all of the carefully crafted blades we had carried for thousands of years. A traditional knife is an extension of the hand, cutting and building the materials preindustrial humans consumed as food, wore as clothing, and fashioned as shelter. The utility blade can do nothing in a world of hunters, builders, and farmers.
The utility knife is invisible and useless in this traditional world, and yet the tribal post-industrial assault on the boxes needed a sacred tool. "Out of the box" thinking required a ceremonial weapon.
Men in planes screaming about God performed this initiation ceremony of the box-cutter. On a day in September it became the post-industrial murder weapon. Cutting itself out of this final box, the utility knife slashed its way out of the 20th century, never to return.
Online packagers seem careful to use soft tape for their boxes so consumers won't have to reach for the 21st century's murder weapon to see the lovely things they have purchased.
In a world where shoes are bombs and shampoos can bring down jetliners, you may still find a utility knife in your own drawer, in your own kitchen. See if I'm right. I'm betting that it is no longer invisible.