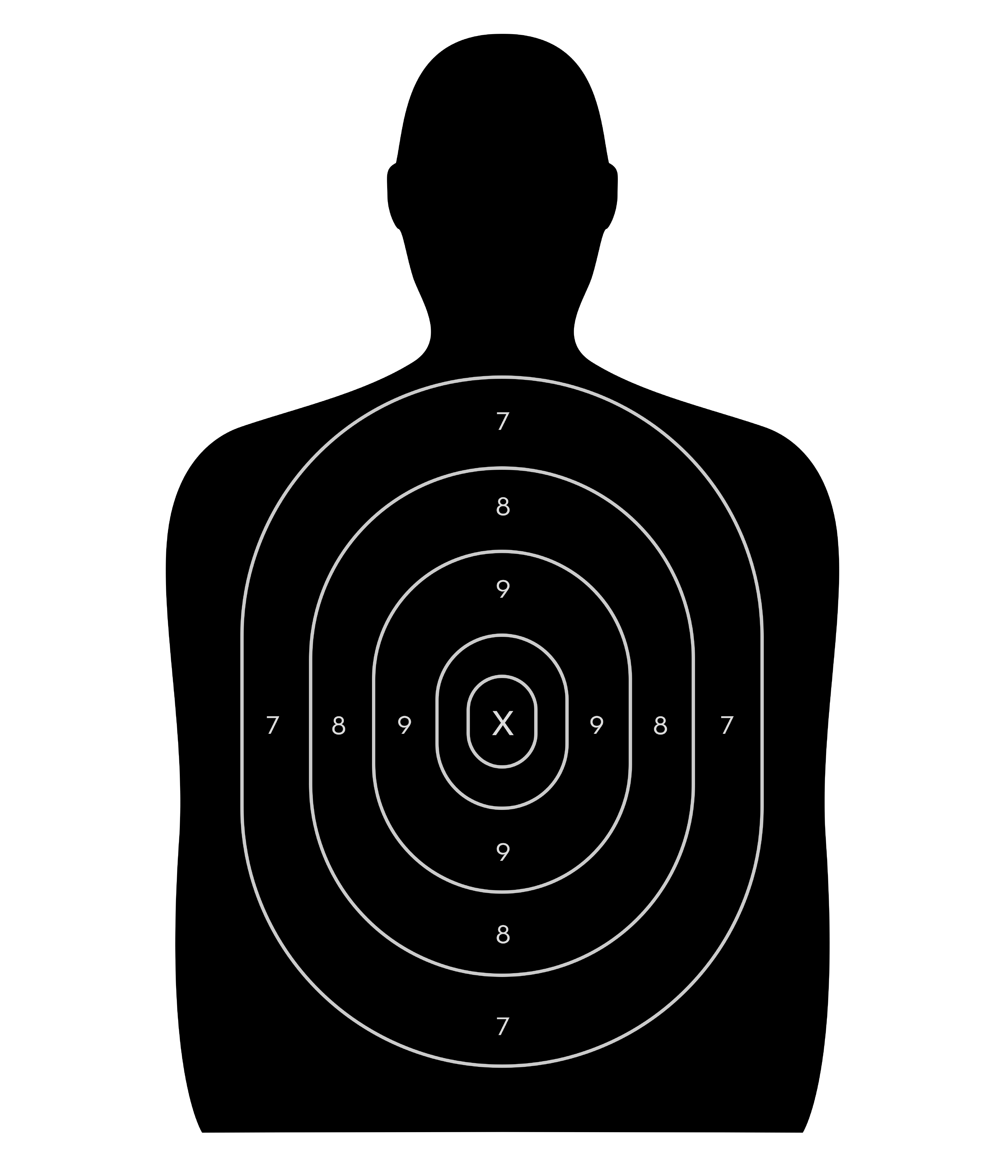 Shooting Range Target (Various designers)
From the curators: Shooting targets are incredibly varied and yet instantly recognizable forms. From the colorful bullseye target to the photorealistic human figure in hostile stance, the signal is to take aim, whether we are holding a weapon or not. The ISSF (International Shooting Sport Federation) has clear design guidelines for competitive sports targets which, when not electronic, must consist of a black aiming area and a non-reflective white surround, and be printed on paper that can register shot holes without "excessive tearing or distortion." The abstracted, monochrome human shooting target above is similar in design specification to those of the ISSF, and yet its anthropomorphic shape denotes the major difference–it is one of many designed to train law enforcement officers to shoot human marks. Contemporary target design has become increasingly varied, and now includes "scenario targets" that invite the shooter to respond to variables like hostages or multiple attackers. In January 2015, one Florida police department faced public censure for using mug shots of criminals for shooting range sniper practice. In all cases, graphic design serves the purpose of making the mark clearly legible, and indicating the lethal precision of the bullet path.
The entry point to my essay on design and violence, as it relates to the shooting range target, turned out to be an astonishing article in the Style section of the New York Times on Sunday, January 18, 2015, in which a young man named Thomas S. Gilbert, Jr., entered his parents' apartment and shot his father in the head after asking his mother to run out and get him a sandwich and a soda. Later in the article, we discover that the subject had always been troubled, and spent long hours at shooting ranges, honing his skill with a pistol. He was probably shooting at a target not unlike the one presented here.
The most obvious question that arose as I read this story is: would I, as a designer, want to have anything to do with designing the target? Of course, here we're in the realm of unintended consequences, but nevertheless, I would hate to feel complicit to any degree in this extraordinary story. The question of a designer's responsibility to a largely unknown public has been with us for a very long time, and I've always felt that the injunction "first, do no harm" was a logical starting place for those in our profession.
In this case, harm turns out to be helping someone shoot more efficiently without understanding the context or consequences. My instinct is to avoid the assignment, or at least suggest to the client that every target should include the words "All Lives are Sacred." The likelihood of this scenario occurring—both the commission and my hypothetical response to it—is extremely small, but the question of whether our own values are at stake when providing a professional service will not go away.
I'm struck by the design of the target and how well composed it appears, almost within the modernist tradition. It reminds me very much of the work of Hans Arp, especially this work. Transforming a person into an abstraction makes the subject not-human, so that the idea of shooting someone becomes more acceptable. This totally abstracted Hechler & Koch training target exudes a playful and almost childlike atmosphere. What fun.