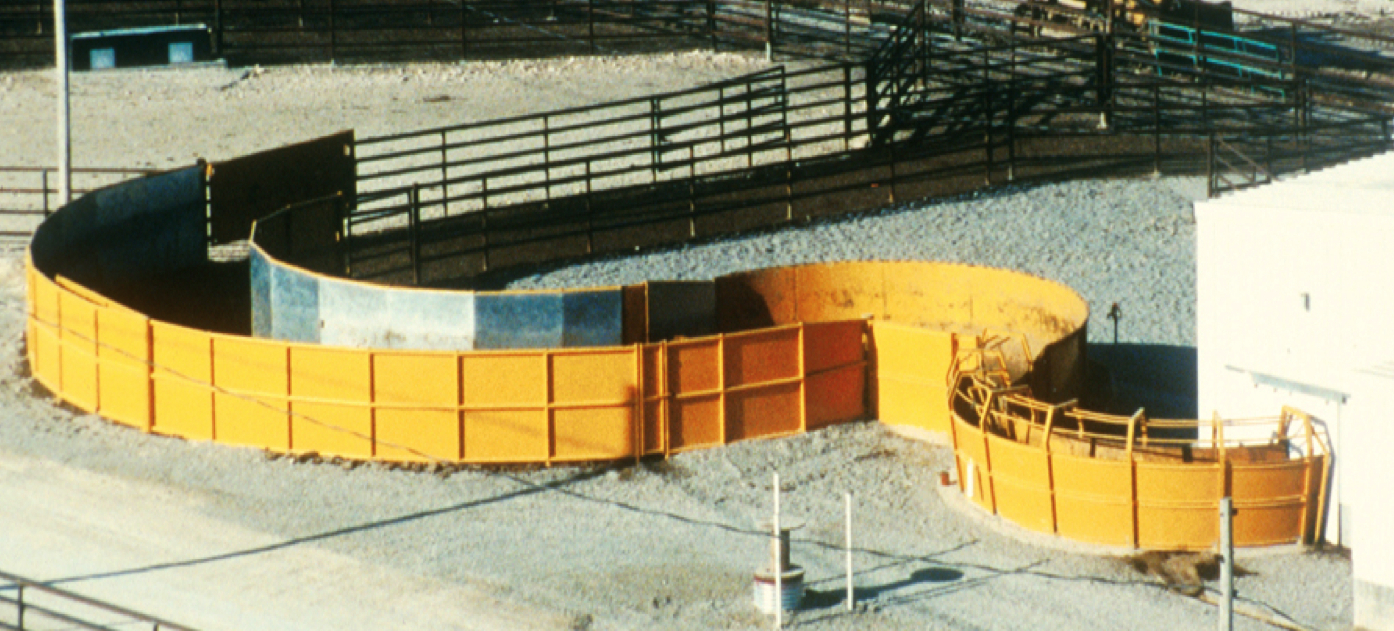 Serpentine Ramp (Temple Grandin)
From the curators: Animal rights activist and scientist Temple Grandin created the serpentine ramp to ensure the humane treatment of cattle. The first ramps that Grandin designed, in 1974, were used during vaccinations of the herd and then, within the same year, for slaughter plants. Grandin designed the ramp so that it prevents cattle from being spooked by the workers or the abattoir up ahead. Semicircular turns take advantage of the movement cattle naturally make in groups. Walking nose to tail, the cows march their way through to the kill floor without the use of prods or noise, and without panicking and injuring themselves. Grandin observed cattle in pasture, in her vaccinating chutes, and in her designs for slaughter houses. By taking blood samples from cattle she was able to show that using her design meant that cortisol levels (a stress hormone) were comparable in all three locations. She believes that design is never a substitute for livestock managers who support low-stress handling, and she advocates for video auditing to prevent employees from abusing animals. In her own words, "People forget that nature is very harsh, especially when predators attack. The big cats kill their prey first, but the canids (wolves and hyena) may rip the guts out of a live animal. We owe the animals we use for food a life worth living and a painless death."
Stunned is the word that springs to mind as I contemplate the slaughter chute with its snake-like reticulation and its ox-blood paint. If it works, if all goes well—as well as things can go when a living being is lured toward a violent death—then the cow will end up stunned, courtesy of a pneumatic device pressed against her forehead. Not knocked unconscious but stunned, fully sensate but disoriented, her brain scrambling to make sense of things before she is hoisted up by a chain. It's a stunning sight: every pound of her immense weight hanging by one ankle, as she dangles and twirls like a leaf snagged on a fencepost.
It's also stunning to realize that, in the U.S. alone, some 33 million cows—about 10 times the number of visitors who file through The Museum of Modern Art each year—will experience this space firsthand, or a similar but less welcoming version of it. Perhaps one designed with less rigor, maybe thrown together with pieces of corrugated sheeting, much as a child might nail together some planks to make a tree house. These 33 million cows—each an individual with her own thoughts and worries—will stumble through this chute or that each year, unless people begin to relate at a far faster rate to who's on their plate.
Who? It is now thought that cows convey messages to each other via subtle facial expressions, and as reported in The Sunday Times, studies show that "[c]ows have a secret mental life in which they bear grudges, nurture friendships and become excited over intellectual challenges." They have a secret death, too, because while most of us have been to a mall or a museum, almost no one but migrant workers and meat inspectors has ever visited a slaughterhouse.
Is it stunning to learn the perspective of People for the Ethical Treatment of Animals (PETA) on Temple Grandin's designs—not just the serpentine chute but also, before that, her "Stairway to Heaven," her kosher slaughter pen, and all her efforts to make slaughter a slightly less upsetting process for animals such as cows, who are so shortsighted that they shy away from a paper cup? Surely, PETA must condemn an object that contrives to lure hapless animals to a bloody end. But no, puritanism has no place in war, and the human race, which fancies itself as compassionate, decent, and thoughtful, is engaged in an unjust war against the animal nations. No matter how bright, sensitive, and interested in life cows may be, they are seen as raw materials for hamburgers and handbags, steaks and satchels, reduced to the sum of their flesh, blood, and skin. In war, real choices, not lofty philosophical positions, are what count. Ask me which I would prefer: my mother frogmarched by guards into a concentration camp gas oven, or having her led gently in without allowing her to realize fully what lies ahead, and the answer is simple. If wishes were horses, my mother and the cow would both be out in a flower-filled meadow―one grazing happily, the other gathering mushrooms for soup.
But slaughter is the current reality, and design makes a difference. The right design can mean that a cow doesn't get kicked in the face by the man on the rail because she didn't hesitate at a blind corner and turn back in a panic, setting off ripples of fear in other cows, who then tremble and turn back, too, clogging up the line and slowing down the process of converting cows into cuts of meat. And it can mean, too, that she will step calmly forward, toward the man with the chain, unwittingly drawn into the realm of violence and into an experience that she could never have imagined—her own death. What is especially stunning to me, though, is that so many people do not yet know how very easy it is to reject violence, to decide to walk past the meat case and, instead, eat for life.