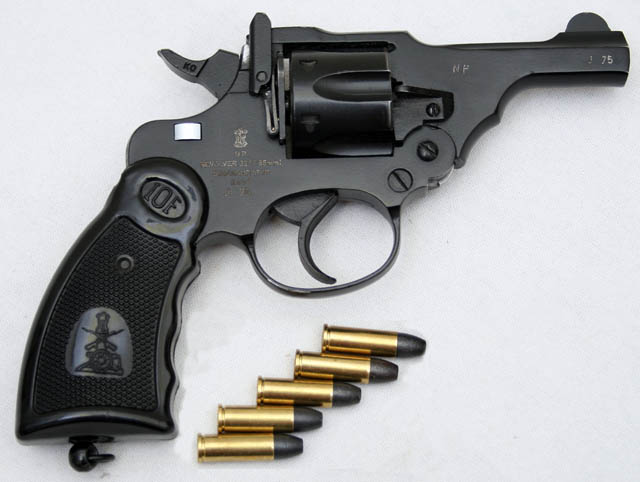 Nirbheek Pistol (Ordnance Factories Board)
From the curators: On December 16, 2012, a brutal incident of sexual assault occurred in Delhi, India. A young woman, traveling home on a bus after watching a movie with a friend, was beaten, gang raped, and thrown naked into the street. The young woman, who later became known to the public as Nirbhaya (or "fearless"), died two weeks later as a result of her injuries; her male companion was also severely beaten but survived. The vicious attack drew widespread condemnation and quickly became the center of public attention and news coverage around the world. In response to this charged climate, the Indian Ordnance Factory—a sub-branch of the Indian government's Ministry of Defense—developed a lightweight revolver called Nirbheek (a synonym for Nirbhaya). The pistol was marketed specifically for women, and its makers claimed the design would guard against sexual assaults. Since its release in January 2014, however, numerous objections have been raised in response to the design—not least over the inference that women must protect themselves from the status quo rather than agitating for protection under the law, changes in policy, and more progressive cultural attitudes. Such atrocities are endemic globally, and it is estimated that the majority of such attacks remain unreported or unprosecuted. (The trial that eventually brought Nirbhaya's rapists to justice was a rare case in India at the time.) Despite the controversial design intervention, almost two years after Nirbhaya's death the legacy of her ordeal remains uncertain.
From the branches of a mango tree, in its spreading shade on a hot May morning in a north Indian village, the bodies of two teenaged women hang. They were abducted, raped, and hanged by their necks until they died. The men arrested for their rape and murder, including two policemen, are from their own village, from a locally more dominant caste than theirs, although they all belong to a set of intermediate castes that, in the alphabet soup of Indian bureaucratese, is termed OBC—Other Backward Classes.
Meanwhile, routinely, Dalit women are raped, often killed, in villages—largely by OBC men, higher than Dalits in the caste hierarchy, economically more powerful, though "backward" themselves. "Dalit" literally means "oppressed," but it's a political identity militantly taken on by the former "untouchable" castes.
Rape is a way of teaching Dalits their place—since they seem to be in danger of forgetting.
Women—whatever their class, whatever their caste—seem to be in danger.
Of forgetting their place. Of facing sexual violence.
From men whose houses they clean, men they meet at parties, boyfriends, men who offer to help tourists, organized "rioters" during well-planned inter-community violence, husbands, relatives. From strangers in gangs. (A man doesn't have to be physically stronger than a woman if he is many and she is one.) India reports, on average, over 22,000 rapes a year. This figure doesn't include rapes by policemen of women and transgender people—hijras—in their custody; nor rapes by Indian armed forces with legal impunity in the large parts of India under Extraordinary Laws, where democratic rights are suspended.
Almost as beautiful as that shade giving generous tree on a summer morning in Katra Shahadatganj is the delicate gun designed especially for women. Small, lightweight, fitting easily into a lady's purse, with a polished handle. It nests in a maroon velvet case because, as the manager of the factory that makes the gun said to a journalist, "Indian women love their jewelry." The gun is named after the young paramedic who was raped and brutalized in Delhi in December 2012, whose courageous, but eventually fruitless, struggle for life brought thousands out on the streets in protest.
"Nirbhaya"—Unafraid Woman—this was the pseudonym given to her by a newspaper, since she could not be named under rape laws. The gun's name, Nirbheek, means "unafraid."
A sleek weapon appropriately feminized, named Unafraid, for use by the woman Afraid of rape from strangers. For would you pull that gun on your boyfriend, on a policeman, on your uncle as he creeps into your bed at night?
Its cost is higher than the annual income of most Indian households. Could you afford this gleaming sinister ornament if you were that young paramedic whose father is a loader at Delhi airport, or if you were one of the teenagers hanged to death in Katra Shahadatganj?
(Talking of gleaming sinister power: the U.S. Ambassador-at-Large for Global Women's Issues said the U.S. was "horrified" at recent incidents of violence against women in India, Pakistan, and Nigeria. She has written to the Indian Prime Minister, asking him to take immediate action to combat violence against women. Presumably in our perfectly equitable world, in which one in five women in the U.S. have experienced rape, a Nigerian official can write to Obama asking him to take immediate action to ensure justice in the Steubenville and Torrington rapes, the violent victim-blaming reactions to which have horrified the rest of the world.)
Cheaper than the gun, not beautiful like the mango tree, but its design smart as a whip, is an app—the Vith U App. At the touch of a button on her phone, a woman can send alerts to designated receivers: I'm in danger. Please follow my location.
Endorsing the app on television, the intoxicating eyes of a leading Hindi film star seek out your deepest fears:
"I'm an actress, celebrity. Encircled by security, but still afraid. The criminal may not be a stranger, it could be anyone. In hotels, in elevators, in washrooms, you cannot take your safety for granted."
Design to enhance fear. The sharp awareness of that delicate bulk in your handbag; the sense of that smart program embedded in your smart phone.
To feel afraid always. So you can feel safe.
How about design to make you unafraid? Spaces, institutions, minds—unraveled and made over. Design that recognizes the intricate intimacy between life and risk, for to live is always to risk something valuable. Design to galvanize that thoughtless step into the unknown. Design that animates your careless laugh as you map the world with your stride.