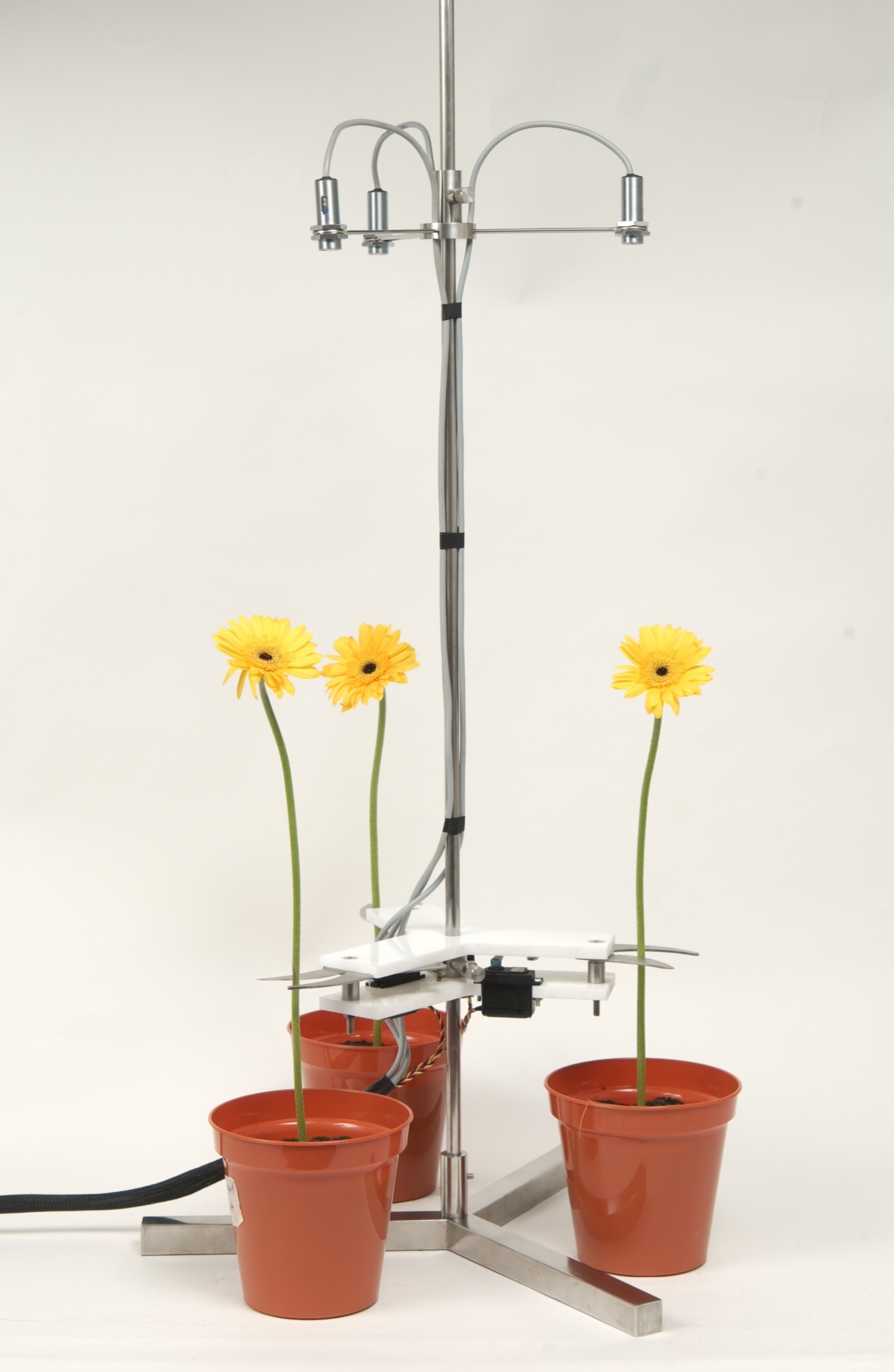 Natural Deselection (Tim Simpson)
From the curators: The term "natural selection" was first introduced and given popular currency by British naturalist and geologist Charles Darwin (1809–1882) in his On the Origin of Species (1859). It describes a key mechanism of the evolutionary process whereby organisms that carry the biological traits to succeed in the environment in which their population exists are necessarily favored in terms of reproductive and genetic continuance. Designer Tim Simpson's experiment—part of his thesis show at the Royal College of Art in 2006—plays with this nomenclature to draw attention to those that don't make the cut. His design pits three flowering plants against each other in a race to the top. The plant that grows to a predetermined height first trips a sensor that triggers shears poised at the base of the competitor plants' stalks. The last plant standing possesses the superior biological design to survive in this particular environment. Simpson's darkly subversive work bluntly demonstrates how evolutionary science—a field of inquiry that radically enlightened the world in many ways over the last 150 years—can be manipulated to create artificially designed hells. 
Life causes death. Death causes life. These are fixed rules of nature, applying to all organisms.
The slice of bread eaten this morning came at the cost of at least 50 lives, each the product of a broken or nonexistent home. The 50 baby wheat plants required for our bread each had a father both unknown and distant, and a mother left alone to nourish the growth and development of her offspring. The infant mortality associated with our sustenance does not end when the bread enters our mouth, but continues until it exits our bodies. The gluteny goodness of our breakfast is broken down with the help of countless numbers of microbes residing in our gut, giving their lives in the service of our digestion. Life causes death. Death causes life.
Where is the violence in our morning routine? Did it begin when we, as humans, first domesticated wild grasses, altering their genetic makeup to meet our needs? Was it when we introduced forced breeding programs in which we plant row upon row of wheat babies, killing and discarding unwanted youth, while selecting a small group to breed and reproduce? Did violence begin even further back, when our heroic predecessors ripped apart wild and native grasslands with their plows, converting intact and diverse ecosystems into plantations of singularity? Perhaps instead, the ends justify the means, as this vegetal genocide (phytocide?) allows those with bounties of land and water to feed those without. Or is violence unable to occur against plants, as they are not like us, and it is us who decides that which is violent? Would our view of the morality of these actions differ if plants were capable of expressing behavioral complexity? What if potentially violent actions were conducted by plants, not people? Enter Tim Simpson and his Natural Deselection project.
Three gerbera plants are grown in pots. When the height of one reaches a sensor, garden clippers snap shut, dealing lethal blows to its slower-growing neighbors. As a one-off botanical intervention, we have expensive gardening. But let us consider what happens next, when the victor is rewarded with the opportunity to mate with other survivors. In Simpson's world, there is no safe haven for the young, and the victors' offspring are themselves thrust into this arena of death. Over time, these botanical gladiators evolve, with selection favoring the fast and the tall. The victors trade away allocation towards leaves, flowers, and roots in exchange for taller and thinner stems. Outside of the arena, they would perish, unable to do more than grow tall; inside they are rewarded with food, sex, and survival.
Where is the violence in Simpson's world? On the surface, Simpson's arena is barely different from plant breeding programs where humans select and reward those that express desired traits, killing those that do not. However, though the processes are the same, the intent is not. We must kill to survive, and in doing so, we alter the evolutionary outcomes of those around and within us. We rationalize this by viewing lives of different organisms to be of different values; we soften what we do by using words such as harvest and seeds, not kill and babies. But, in the end, we kill to survive. I see little violence in these acts, just necessity.
In contrast, Simpson's arena of death follows in the human tradition of killing for sport—dog fights in garden pots. The violence lies not in the actions of the plant that causes the death of another, but instead it comes from creating the circumstances that causes such mortality. The plants have no means to prevent their babies from being collected, no means to alter where they are planted, nor any perception that their basic life functions will cause the death of others. They have no power to control their circumstances, and thus no ability to exert violence upon others. Instead, violence toward the plants is a conscious act only of the outside agent, Tim Simpson.
But these are just plants—items typically perceived as food, furniture, and fibers. It is easy to forget, or choose not to know, that they are living and breathing organisms, capable of profoundly complicated physiological and behavioral processes. Despite their essential value to our lives, we devalue theirs. Plants have been around for a very long time, and will likely persist well after humans have gone extinct. Though plants will forever carry the evolutionary legacy of their treatment during the brief Anthropocene era, there may be some pleasure in having at least outlived their captors.