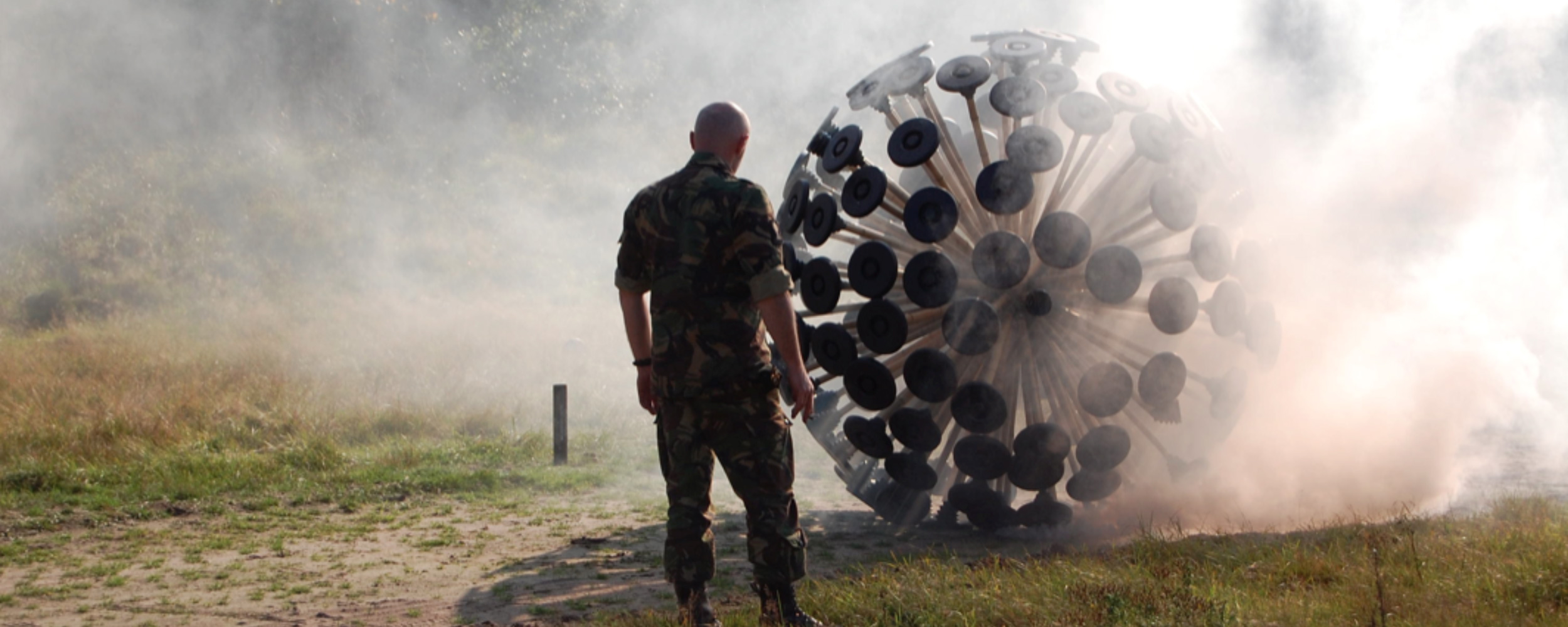 Mine Kafon (Massoud Hassani)
From the curators: As a child in Qasaba, a village between Kabul and Jalalabad in war-torn Afghanistan, Hassani made toys out of whatever materials he could find. Among his favorites were rolling objects powered by the wind, which he raced with other children. Often their toys would be blown into minefields, where they could not be retrieved. Many friends of Hassani's were injured or killed by landmines, and while in design school in Eindhoven, in the Netherlands, Hassani remembered them by making those toys all over again—only much bigger, heavier, stronger, and designed to be intentionally released onto minefields. Easy to transport and assemble on-site, Mine Kafon (kafon means "explosion" in Dari) is designed to roll over land, with an interior GPS chip recording the safe path through the minefield. If it detonates a mine, the object is partly destroyed, but its bamboo and biodegradable plastic parts could be easily salvaged and reassembled into another Mine Kafon, ready for deployment. Once an industrial scale of production is achieved, a Mine Kafon could cost as little as 40 dollars to produce, whereas current demining methods and materials can cost as much as a thousand dollars per mine. Hassani has been testing Mine Kafon with the Dutch army.
Elegant and simple. A beautiful object. At first look, it seemed a mistaken proffer—more a retro-modernistic ceiling light or a dandelion gone to seed than an object related to violence. Yet despite its deceptive design, the Mine Kafon is neither light nor flower. As its name implies it is related to mines. Landmines. Infernal, indiscriminate weapons of war created to explode on contact and mutilate human beings. Created to sow terror and destruction.
Also simple—but with no elegance or beauty—some landmines have been described as having a deliberate, toy-like design to attract and blow up children, which may or may not be true. But how poetic that an object designed to destroy these explosive devices actually is inspired by a toy, one from Massoud Hassani's childhood. How elegant that he transformed his memories of youthful days playing alongside his brother, with simple, handmade toys that were carried by the wind, into an object that can harness nature and blow over landmines, destroying them with no loss of life or limb.
Song Kosal was six years old and working in a rice paddy in Cambodia with her mother. Deep in the water of the paddy, it was impossible to see the bottom and she stepped on a landmine, which shattered her leg up to her knee, leading to amputation. It sounds a tragic story that could only have a tragic ending, but Kosal is made of more than bone, blood, and tissue; she has an indomitable spirit.
Not many years later, nongovernmental organizations came together in 1992 to create the International Campaign to Ban Landmines, which was instrumental in pressing governments to do what they should have done anyway and negotiate the 1997 Mine Ban Treaty. Kosal, along with other landmine survivors, became a powerful advocate of the total prohibition of the use, production, trade, and stockpiling of antipersonnel landmines. She raised her voice for more resources dedicated to helping survivors and their families, so that some day we would all walk in a world free of landmines.
Often responses to violence are simple—if we chose to open our minds to them.
Mine Kafon | Callum Cooper from Focus Forward Films on Vimeo