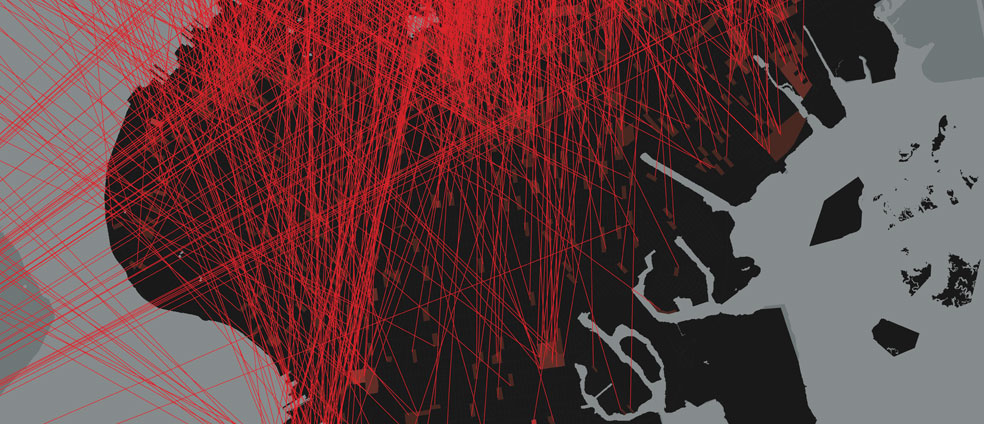 Million Dollar Blocks (Spatial Information Design Lab)
From the curators: Of the more than two million people in jails and prisons in the United States, a disproportionate number come from a few neighborhoods in the country's biggest cities. In some areas, the concentration is so dense that states are spending in excess of a million dollars a year to incarcerate the residents of single city blocks. Using rarely accessible data from the criminal justice system, the Spatial Information Design Lab and the Justice Mapping Center have created maps of these "million dollar blocks" and of the city-prison-city-prison migration flow in five of the nation's cities. Shown here is the map of Brooklyn, NY.
Information graphics have been given a bad name by USA Today. Many people think of them as ways of tarting up the trend of the day into a bit of eye candy. Nothing could be further from the truth. Our ability to understand cause and effect in the world depends on grasping complicated relationships among variables—how people, money, actions, power, things, and qualities are distributed in space, how they vary in time, and how they affect one another. The human brain did not evolve to do such complex calculations. But we are primates, with almost a third of our brain devoted to vision and visual cognition. Translating complicated relationships into a visual format is the best way we have of co-opting our primate neural circuitry to meet the demands of understanding our world. And it is a challenge where the creativity of artists, graphic designers, and other visual thinkers is essential. We have made do with standard graphical formats—pie charts, line graphs, organizational charts, and so on—for more than a century. We need ways to figure out how to use the resources of the page or screen—shape, contour, color, shading, motion, texture, depth­—not just to channel data into brains, but to reveal subtle relationships as visual patterns.
Nowhere is this need more apparent than in the understanding of violence. Murder, rape, assault, and robbery all shot up in the 1960s, then came crashing down again in the 1990s, and no one really understands why. The American imprisonment boom had something to do with it, since people behind bars cannot commit crimes on the street. But it's apparent that long ago we reached diminishing or even reversing returns, and we throw far too many people in jail for far too long. Knowing the right amount of criminal punishment—enough to keep rapists off the streets, but not so much to ruin lives and communities and divert resources from more productive uses—is the kind of continuous, analog, multidimensional challenge that common sense is not equipped to handle. Million Dollar Blocks is an eye-opening way to get us to grasp the social and economic costs of over-imprisonment, in a way that no list of sentences or table of numbers could do.