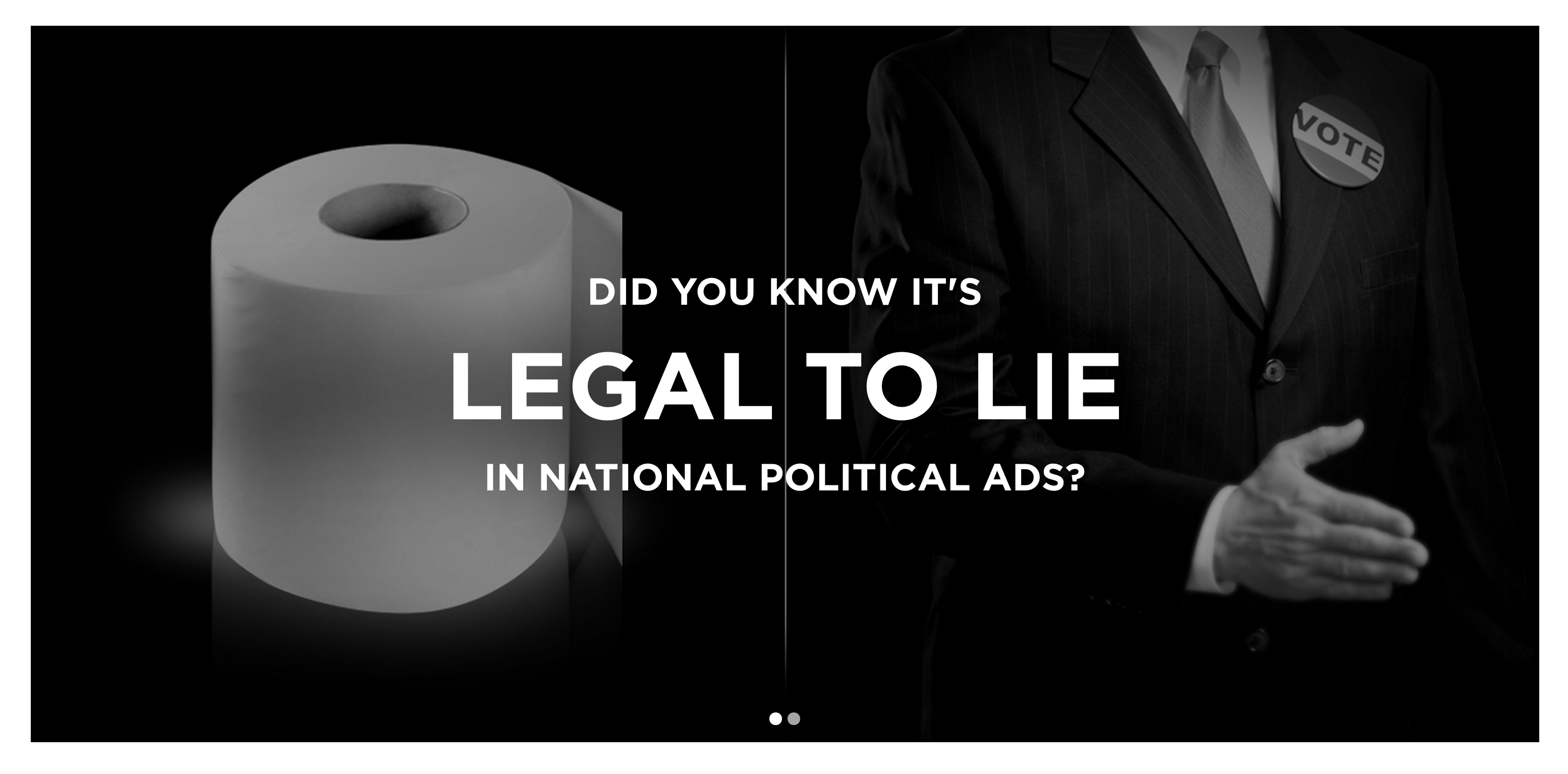 HonestAds.org (Harriett Levin Balkind)
From the curators: The connection between political systems and truth is—across the globe—shaky at best, and quite often simply nonexistent. Politicians and their strategists are masters of spin, stretching and contorting facts, ideas, and memories about matters of all kinds, from public policy to campaign promises to personal peccadilloes. While "white lies" are quotidian in all walks of life, political lies are pernicious, especially given a recent Nielsen study suggesting consumer trust in advertising is actually on the rise. Not only do political lies undermine the public trust in government—and in the relevance and agency of the democratic process itself—they also have a literal cost: around 75% of campaign money in the U.S. is spent on political advertising. Those with the deepest pockets can shout the loudest. The ensuing cacophony often includes false statements, smear tactics, and lies that stick long enough to cause significant damage at the ballot box. Enter HonestAds.org, a nonpartisan platform designed by brand strategy consultant Harriett Balkind. HonestAds.org intends to ignite a conversation about the prevalence of disinformation across the political spectrum, and to galvanize voters into demanding more transparent and truthful publicity from politicians. Balkind has spent her career working in strategic marketing communications; her rationale is that if truth-in-advertising laws mean you can't lie in order to sell toilet paper, then you shouldn't be able to lie to voters. 
Most ads lie. But there are Big Lies and Little Lies. A Big Lie is a claim so subjective or inherently unprovable—like, for instance, "This beer will make you a babe-magnet"—that, no matter how ludicrous, is not legally actionable.
On the other hand, Little Lies are objective claims that can be proven true or not—like, "This beer will make you lose weight"—and they could land you in court.
But there's one kind of advertising where even Little Lies can be told with impunity, and that's in a candidate's political advertising. Under the First Amendment, candidates can tell the most deceptive whoppers—i.e., "My opponent dumped rat poison into the beer you're drinking."—and, while they may or may not receive public opprobrium, it's perfectly legal.
"Laws protecting consumers from false advertising of products are enforced pretty vigorously," Factcheck.org writes. But political candidates "can legally lie about almost anything they want. In fact, the Federal Communications Act even requires broadcasters who run candidate ads to show them uncensored, even if the broadcasters believe their content to be offensive or false."
Political groups, as opposed to individual candidates, don't carry such a get-out-of-court-free card. But that may be changing. The Supreme Court recently ruled unanimously that the anti-abortion group Susan B. Anthony List has standing to challenge a state law in Ohio prohibiting false statements about political candidates (a law Justice Anthony Scalia mocked as coming from the "Ministry of Truth").
The usual ways to counter lying political ads help only around the edges. You can sue for defamation, for instance, but by the time a suit winds its way through the legal system, the lying candidate may have already won election—and re-election.
Political fact-checking sites and newspaper blogs, like Factcheck.org and The Washington Post's "Fact Checker," are proliferating and have been the prime way to call out the lies. The sites have mixed results. On occasion, if a lying ad generates enough bad publicity, it could be pulled; just as often, the fact-checked findings are quoted in the lied-about party's ads—where they may be used to further distort reality.
But a new group, HonestAds.org, is trying a completely different tack: it targets the political consultants, ad agencies, directors, actors, and writers who make the truth-torturing ads in the first place.
"HonestAds is a group of pissed off, tuned in citizens who refuse to be lied to by politicians any longer," its website reads. "We're not out to change laws. We're out to change the way politicians make ads and, in turn, change our political culture for the better."
HonestAds founder Harriett Balkind, who has worked in brand strategy and communications, says she hopes to "appeal to the advertising and media community in such a way that they will get on board with this. There are lots of reasons they should want to." For one, "It's becoming more difficult to attract young talent and one reason is because of their desire for 'truth, justice, and authenticity,'" she says, referring to findings from a McCann Worldgroup study.
HonestAds' debut video makes that point. In Candid Camera–like fashion, they got a real actress to do the voiceover for a fake candidate; a fake political consultant instructs her to tweak the copy until it becomes outright false. The actress, clearly disgusted, tells him, "I know the studio time is very expensive…but I'm not OK with not telling the truth."
That is, she refused to lie even though it would have cost her a paying gig.
If—and it's a big if—HonestAds can gain momentum, it could trigger a refreshing rebellion among the more conscious descendants of Mad Men.