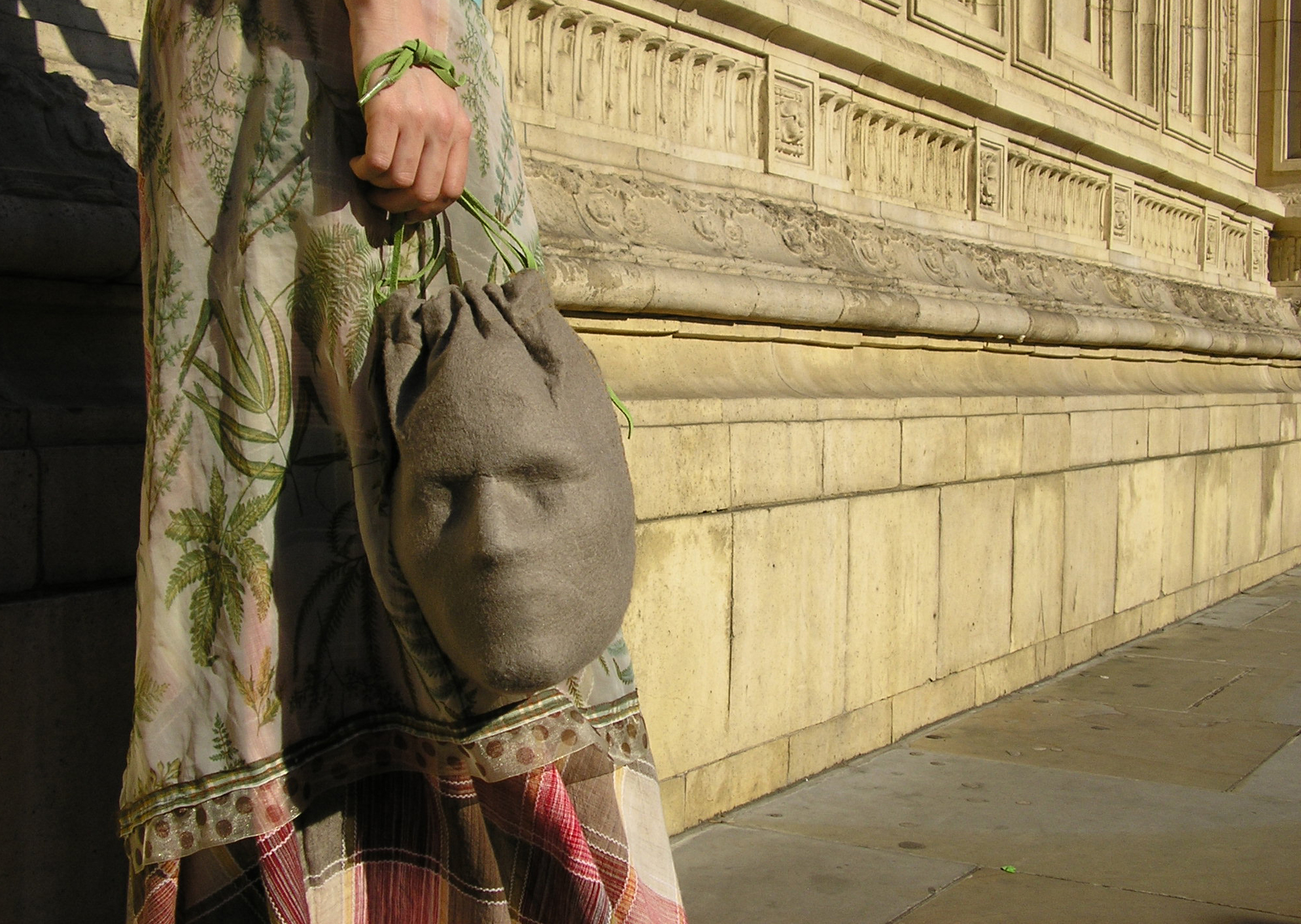 From the curators: The Head Hand Bag translates the violence of decapitation into an object of practical use. Designer Yael Mer's main focus is turning two-dimensional sheet materials into shaped forms. Here, flat felt is molded around a "deliberately masculine" foam template to create a shadowy facial mask of depressions and impressions. The bag is part of a series inspired by the biblical story of Judith and Holofernes, a favorite subject of 17th-century Baroque painters such as Caravaggio and Artemisia Gentileschi. In a story that is now presumed to be a parable rather than history, brave Judith approaches the Assyrian general Holofernes in his tent after gaining his trust, and decapitates him in his drunken stupor in order to save her people, the Israelites. The bag isn't unisex; as Mer contends, even if the wearer doesn't know the backstory, "there is still something very clear, powerful, and primitive about the meaning of holding a man's head in this way." Mer studied at the Royal College of Art in London, graduating in 2006. She is part of Raw-Edges Design Studio, a collaboration with designer Shay Alkalay. 
Yael Mer's drawstring Head Hand Bags (2008) are the MUST "It-Bag" for this or any other fashion season. While a Louis Vuitton doctor bag, an oversize Goyard tote, or the ever-prohibitive Hermès Birkin are all equally capable of toting a human head from the boardroom to the beach to the speakeasy and straight to Perdition afterward (the discotheque under the speakeasy), only Mer's Head Hand Bag also contains the Judith and Holofernes subtext that insouciant, in-the-know Renaissance artists like Donatello liked to employ as an allegory of the commune rising up against the tyranny of the ruling class.
It's a handbag that asks today's rebel fashionista: What's the point of going through all the trouble of seducing and decapitating your oppressor if you're just going to conceal your victory in a Coach weekender? Let everyone know what's really going in your overhead rack on the Hamptons Jitney. Flaunt that trophy, Girl—and hang it from the tallest wooden stake outside your bedroom as a warning to unwanted invaders.
Even decades before that cross-dressing silver fox with the homespun toga and trendsetting lumberjack-beard brought the first stone tablets of Fashion Law down from Mount Bergdorf, ladies have endured numberless tortures at the hands of sartorial sadists: forehead-flattening, foot-binding, whalebone corsets, chemical peels, the Hervé Léger bandage dress (ad nauseam and an extra 15 pounds.)
Head Hand Bags are Yael Mer's bloodlust-y howl toward a brave new psycho-sexual-cum-socioeconomic battlefield (which, like the ever-recurring themes in fashion itself, is pretty much exactly the same psycho-sexual-cum-socioeconomic battlefield that it has always been, re-cut for today's nonstop lifestyle, without references to outré standby-silhouettes like the cast-iron chastity belt or the monochromatic Gloria Steinem pantsuit.)
Don't let your inner witch burn with unfulfilled handbag desire, ladies. This is a killer investment piece (particularly if you've taken out a healthy life-insurance policy on your prospective victim, wink-wink).
Whether you're a seasoned snuff-drunk murderess or you're just beginning to assemble your new look for crime, Cry, Have It! And let's swipe Head Hand Bags of war!