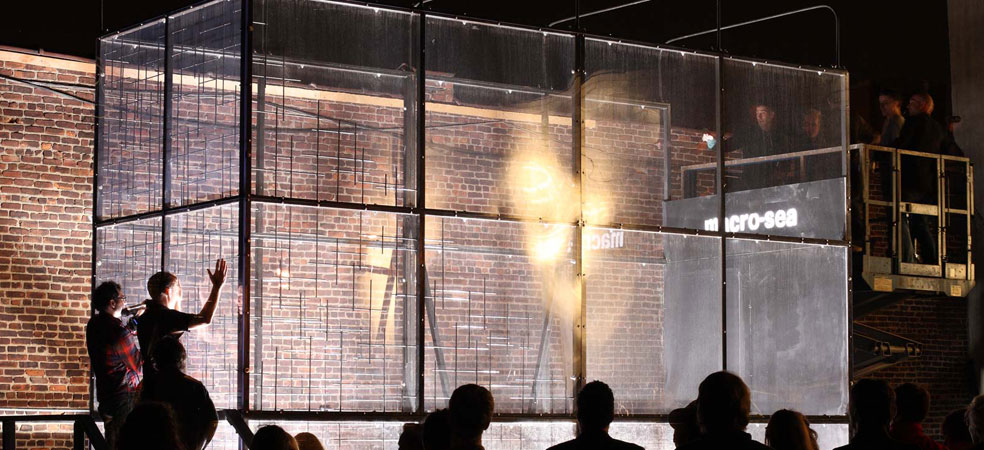 From the curators: Environmentally responsible design does not necessarily signify sanctimony and abnegation. Some—Macro Sea and yours truly, for instance—argue that a sense of responsibility and economy should simply become a normal part of life, and thus be subjected to high quality standards and normal human behaviors—including the need to blow off some steam. Macro Sea, a New York City–based developer "whose mission is to create unexpected value in underutilized places," designed this bulletproof-glass recycling tower installation, called Glassphemy, as a way to reinvigorate the recycling process. Participants standing on the higher platform are encouraged to grab locally sourced bottles and hurl them into the tower below, or at the wall of onlookers on the lower platform, in a liberating burst of eco-aggression. The shattered glass is then pulverized on site by a bicycle-powered tumbler.
The images are clear, though only partially lit and half-hidden in shadow: they show adults, sometimes couples, sometimes alone, throwing bottles. They are surrounded by shattered glass inside a structure of some sort, a kind of arena; other people are cheering them on. The audience is lively, pressing their faces up so as not to miss even a second of what's happening inside, watching the wreckage, enthusiasts of this mad energy, this apparently open invitation to destroy things. There are more people waiting in line, holding yet more bottles, waiting impatiently but thrilled. It is not just two minutes of hate here, but an entire evening: a binge of breaking with the whole town involved.
But it's not vandalism, despite the piles of sharp edges and shards. It's a festival, a setting aside of the rules to wreak carnivalesque destruction, and it arrives with the unsettling suggestion that we need outlets like this—architecturally framed free-zones—ritual sites of violence and energy expenditure falling far beyond mere exercise, some riotous and shared occasion that lets us find equilibrium again. There is a metabolic need, the project implies, to assault the world itself—or at least its representatives—as if other energies long buried will always seek unrestrained release.
Or not, of course.
Perhaps it's all just a joke. Perhaps it's just another long Saturday of boredom in the city somewhere and you've got some bottles to break. You would have thrown them out anyway, or put flowers in them, or lined them up on your windowsill like a college student. In a sense, it's no wonder everyone in the photos is so excited: laughing, waiting in line, getting to know one another and catching up. You can flail your arms like a baby and throw things, watch old bottles burst open in flowers of glass, and it's all because the day didn't go your way or you had nothing better to do after work (and neither did your best friend). You can hurl out your frustrations with a smile.
It's the furthest possible thing from a riot or revolution, then; it's probably the safest place to be in the city. Charge admission and it's a new commercial sport, no different from bowling. Like darts, your grandparents will play it. Just wear a pair of gloves.
But the confusion—Is it a dangerous outburst? Is it an only slightly odd evening out with the kids?—wraps around itself neatly in the end and a kind of secret is revealed. It doesn't matter where the energy comes from if you can make something from it, from this debris, if you can forge shapes from the chaos. You break things down to build anew later—in this case, melting shining piles of ruins down again into something pliant and beaten, rolled in ovens and massaged again into newborn beings. Bottles become bottles become jewelry become art. The rage—or was it celebration?—was just an intermediary moment in this cycle of exchange.