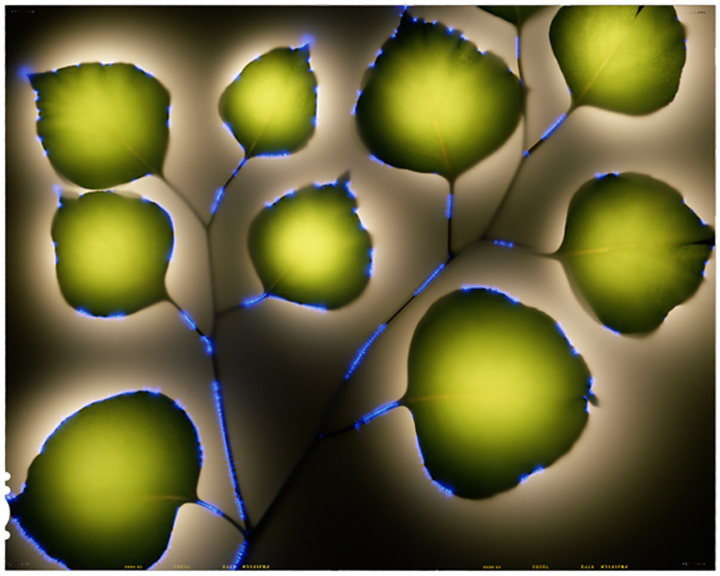 Energetic Photograms (Robert Buelteman)
From the curators: Since 1999, artist Robert Buelteman has created images by passing high voltage electric current through various specimens of flora native to different regions of North America. His process needs no camera, lenses, or post-production computer wizardry to achieve the final, hypnotic result. In the 1999–2000 series Through the Green Fuse (its title taken from Dylan Thomas's 1933 poem of the same name) and Sangre de Cristo (2006), Buelteman's process creates an aura or halo around plant leaves and petals arranged against photographic plates. His camera-less approach is not new—both Anna Akins's exquisite cyanotypes from the mid-19th century and, as Geoffrey Batchen notes below, Kirilian photography indicate long precedent. The connection between the act of photography and the unsettling, shocking qualities we associate with death and dying is also well established. Camera Lucida (1980), Roland Barthes' famous meditation on the nature of photography and the death of his mother, poetically confirms that each photograph is resounding evidence of that "that has been." Just like Buelteman's plant life.
Can a plant scream? These ones have been sliced into paper-thin sections and then electrocuted with 40,000 volts, leaving behind a colorized trace, a photogram. The violence seems obvious, but why regard these photographs as an example of design? Perhaps because these particular photographs are hand-crafted objects in every aspect, objects that have been made, not taken. In any case, it's not the first time that The Museum of Modern Art has declared a photographer to be a designer. In June 1936 the Museum allowed Edward Steichen to present three galleries full of delphinium flowers, gathered by the photographer from his estates in Connecticut and displayed in vases in conjunction with an ongoing exhibition of Modern Exposition Architecture. During a period of eight days, Steichen showed various groups of blooms—some garden hybrids of pure blue self-colors and fog and mist shades, then another selection of the same, and finally some unusually tall elatum strains, amounting in total to about 1,000 delphinium stalks. Steichen saw his blooms as creative examples of genetic engineering, ruthlessly cross-breeding his plants (and therefore destroying many in the process) and using a drug called colchicine to increase their chromosome count and turn diploids into tetraploids. These stalks were designed, not just grown. But any exhibition of cut blooms can't help but also be a meditation on mortality and the ephemeral nature of life. Sacrificed in the interests of both science and art, Steichen's delphiniums were killed by his always meticulous adoration and by our desire to look.
Buelteman's blooms have suffered the same fate. Having already been vivisected, we see them radiating their means of execution, as if surrounded by an aura of fire. Such images cannot help but recall the electrocution of human beings, a distinctively American spectacle. In 1997, flames burst from the head of Pedro Medina while he was being electrocuted in Florida. Apparently this was not enough to have it regarded as a "cruel and unusual punishment," with the electrocution of criminals being undertaken in Virginia as recently as 2013. The electric chair that makes this possible was designed by employees of Thomas Edison in 1888, in part to demonstrate the dangers of adopting alternating current rather than the direct current favored by Edison. Many animals were killed in public exhibitions to underline this commercially advantageous point, most notoriously Topsy the elephant in 1903, who was filmed while being electrocuted at Luna Park, near Coney Island. The New York Daily News published a photograph of the electrocution of Ruth Snyder in 1928; more recently, photographs of electrocuted criminals have also been distributed on the Internet. These photographs by Buelteman therefore join a long-established traffic in images of death by electricity, images that horrify and fascinate in about equal measure.
The horror is accentuated in these examples by their colorization, an additional treatment by the artist that has an ambiguous purpose. Color is traditionally associated with beauty and life, even with the natural. But the color here is unreal, almost electric in its extremity of tone (the same, by the way, was said of Steichen's artificially induced delphinium hues). If pain has a color, then this is what it would look like. The Kirlian photography adopted by Buelteman (a procedure known since the 1880s but associated by name with the experiments of Russian electrical engineer Semyon Kirlian and his wife Valentina in 1939) means his photographs are of electricity, or at least of its effects on his chosen botanical specimens. They flare with an inner light, as if emitting an energy field, a field the Kirlians imagined could offer an insight into the physical and emotional state of their subjects. This coronal discharge has a more scientific explanation, of course, but still, the Kirlians' diagnostic speculations have an undoubted appeal. They promise to make visible what is otherwise beyond sight, to allow photography to venture beyond its obstinate dedication to the recording of surfaces and appearances and become the perfect medium. But all this is achieved only at the cost of an intervention in which an illusion of inner life masks the spasmodic death of that same subject. Buelteman's photographs allow us to enjoy electrocution without having to feel complicit with its consequences. As luxury goods made for a market deeply invested in such enjoyments, they represent yet another American instance of designer violence.