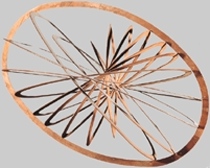 From 1918 through 1921, Rodchenko made three series of Spatial Constructions, each comprised of six works. Regrettably, most of them have long been known only through photographs made at the time and through Rodchenko's own sketches on a page of his notebook. The sole surviving work is Spatial Construction no. 12 of about 1920.

In taking up sculpture, Rodchenko quite literally extended his two-dimensional experiments into three dimensions. His first series of constructions, which he also called "white sculptures," replaced the solid mass and continuous surface of traditional sculpture with an interlocking structure of flat elements, painted white.

The surviving work belongs to the second series, in which Rodchenko imposed a simple logic upon his method of construction. Made of light plywood, each work was restricted to a single geometric shape, cut in concentric bands of regular width and painted silver to reflect the light. When flat, each sculpture was a unitary form: an oval, a circle, a triangle, a square, a hexagon, and an octagon. Suspended from the ceiling instead of placed on a traditional pedestal, the sculpture fanned out into space, articulating a complex volume whose shadow was still more complex and variable.

Rodchenko exhibited this second series, along with works by Karel Ioganson, Georgii and Vladimir Stenberg, and Konstantin Medunetskii, in an exhibition organized by OBMOKhU (the Society of Young Artists) in Moscow in May 1921. The exhibition was a dramatic realization of Constructivist principles.

Before abandoning sculpture, in 1921, Rodchenko made a third and final series of constructions, in which he explored the possibilities of combining and recombining a strictly limited set of elements--pieces of unpainted wood of uniform size and shape.