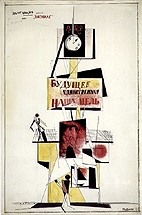 The Bolsheviks swiftly established a People's Commissariat of Enlightenment to administer culture, known as Narkompros, and they granted the avant-garde considerable power in Izo, its Visual Arts Section.

Rodchenko's rise to prominence in the new bureaucracy was rapid and comprehensive. In 1919 and 1920 he served as the head of the Museum Bureau, which by 1922 had acquired some 2,000 works of modern and contemporary art by 415 artists, and had organized thirty provincial museums, to which it distributed more than half of the works. Collection displays at the Museum of Painterly Culture, the Moscow centerpiece of the Museum Bureau, systematically traced the formal development of recent art, anticipating the program of The Museum of Modern Art, founded in New York in 1929.

In March 1920, Izo Narkompros established INKhUK (the Institute of Artistic Culture), a think tank devoted to establishing objective principles of the new art. The intense debates at INKhUK led Rodchenko, with Stepanova and others in March 1921, to form the First Working Group of Constructivists, whose platform defined the work of art as an object that refers to nothing but itself--in Rodchenko's words, "the inventing or perfecting of something, rather than a reflection or portrayal."

Finally, in late 1920 Rodchenko was appointed to an important teaching post at VKhUTEMAS (the Higher State Artistic-Technical Workshops), the principal state art school, whose mission was to train the new breed of artist-technicians who would shape the visual and material environment of the new society. The school, whose programs resembled those of the Bauhaus in Weimar, Germany, remained Rodchenko's base of operations and main source of income until it was closed under Stalin in 1930.