Posts by Izzy Lee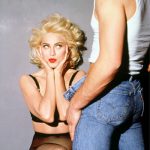 Working Girl
(1988)
Madonna doesn't need much of an introduction.
"Sometimes I sing and dance around the house in my underwear. Doesn't make me Madonna." – Joan Cusack in Mike Nichols's
If you are interested in reproducing images from The Museum of Modern Art web site, please visit the Image Permissions page (www.moma.org/permissions). For additional information about using content from MoMA.org, please visit About this Site (www.moma.org/site).
© Copyright 2016 The Museum of Modern Art