Posts by Elisabeth Thomas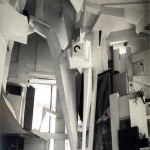 Merzbau, a room-sized, living sculptural construction by artist Kurt Schwitters. But how do you experience something that doesn't exist?
It was a gray, humid day in Hannover, Germany, and I was on a mission: to experience the
If you are interested in reproducing images from The Museum of Modern Art web site, please visit the Image Permissions page (www.moma.org/permissions). For additional information about using content from MoMA.org, please visit About this Site (www.moma.org/site).
© Copyright 2016 The Museum of Modern Art