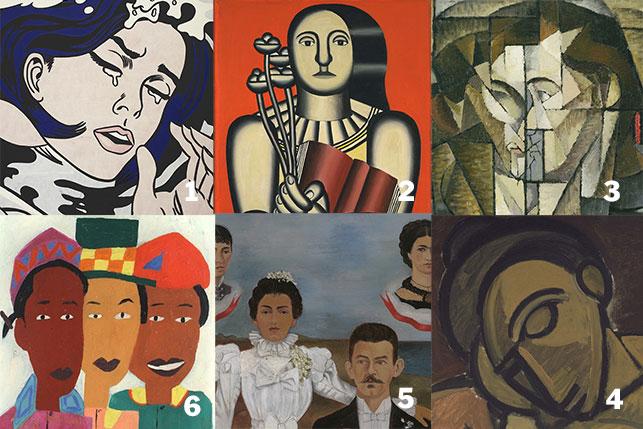 Welcome to the final installment of the Do You Know Your MoMA? quiz!
How well do you know your MoMA? If you think you can identify the artist and title of these works from MoMA's collection—all currently on view in the Museum—please submit your answers in the comments. We'll provide the answers next week in an update to this post. Good luck!
UPDATE
Here are the quiz answers:
1. Roy Lichtenstein. Drowning Girl. 1963
2. Fernand Léger. Woman with a Book. 1923
3. Diego Rivera. Young Man in a Gray Sweater (Jacques Lipchitz). 1914
4. Pablo Picasso. Repose. 1908
5. Frida Kahlo. My Grandparents, My Parents, and I (Family Tree) 1936
6. William H. Johnson. Three Girls. 1941
ANSWERS TO THE JULY 15 CHALLENGE:
Do you have what it takes to claim this month's title?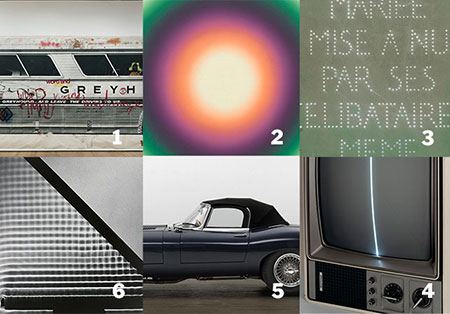 1. Mason Williams, Various Artists, Photograph by Max Yavno. Bus (Copy signed by artists from the Word and Image exhibition, 1968). 1967–68
2. Wojciech Fangor. Number 17. 1963
3. Marcel Duchamp. The Bride Stripped Bare by Her Bachelors, Even (The Green Box) (La mariée mise à nu par ses célibataires, même [Boîte verte]). 1934
4. Nam June Paik. Zen for TV. 1963
5. Sir William Lyons, Malcolm Sayer, William M. Heynes. E-Type Roadster 1961
6. Berenice Abbott. Photogram: Wave Pattern, MIT. 1958–61