How well do you know your MoMA? If you think you can identify the artist and title of these works from MoMA's collection—all currently on view in the Museum—please submit your answers by leaving a comment on this post. We'll provide the answers next month (on Friday, August 19).
ANSWERS TO THE JUNE 17 CHALLENGE:
Do you have what it takes to claim this month's title?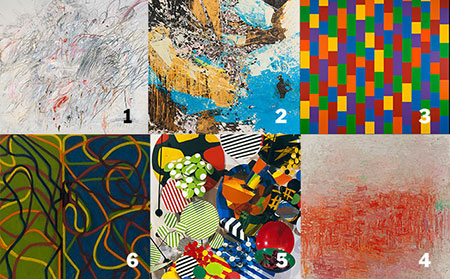 1. Cy Twombly. Leda and the Swan. 1962
2. Mark Bradford. Let's Walk to the Middle of the Ocean. 2015
3. Sol LeWitt. Wall Drawing #1144, Broken Bands of Color in Four Directions. 2004
4. Philip Guston. Painting. 1954
5. Judy Pfaff. Blue Vase with Nasturtiums 1987
6. Brice Marden. The Propitious Garden of Plane Image, Third Version. 2000–06