Two weekends ago I had the pleasure of facilitating "It's amazing we don't have more fights," a workshop version of my ongoing project The Book of Everyday Instruction. The Book of Everyday Instruction is an eight-chapter project (continuing through the end of 2017) investigating one-on-one social interaction. Each chapter focuses on a different central question. For chapter four, "It's amazing we don't have more fights," I want to know how we shape stories simply through the relationship of two bodies in space.
Turning my research into a workshop occupies an interesting place between performance and exhibition for me. Although I have a performance background, I am less and less interested in the format of artist vs. audience, and more interested in participation. I am always most curious about what we get out of living through an experience. A workshop offers the perfect format of controlled spatial and temporal environment, interaction, and built-in feedback that allows for quick responses and discoveries.
Thinking of the workshop from a performance perspective, I divide both time and material into three phases. The first phase is initial reception: both social gestures (Was each participant greeted?), and the way the room is set up (Is it clear where to sit? Do available materials provide an introduction to what's to come (e.g. table settings in restaurants)? etc.). If a room is functioning well, some of the intended lessons from the workshop are evident even before the class begins. Participants were greeted with three items: a small zine (Appendix B: Pedagogical) from a series of texts that I've been producing for chapter four, a set of measuring ribbons in bright colors, and a blank measuring tape. Each table was set up to seat only two attendees.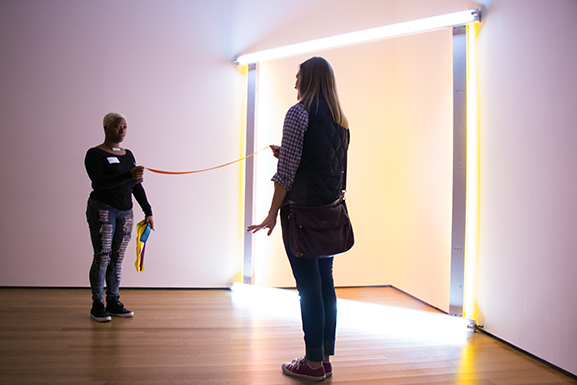 The second phase is focused on the particular spatial intimacies of museum galleries. After some light movement work, participants traveled upstairs to the Marcel Broodthaers exhibition to examine what it's like to be 18 inches, 4 feet, 12 feet, and 25 feet away from artworks (these distances were based on some initial research into the sociological field of proxemics, which is the study of human spatial needs and how these needs shape design). This exercise was repeated with the same distance set between pairs of workshop participants. Finally, we moved downstairs to the collection galleries to attempt this interaction with strangers. Returning to the classroom, each student reflected on their experiences with a brief writing exercise, turning a prompt into a short narrative written on blank measuring tapes as their output for the workshop.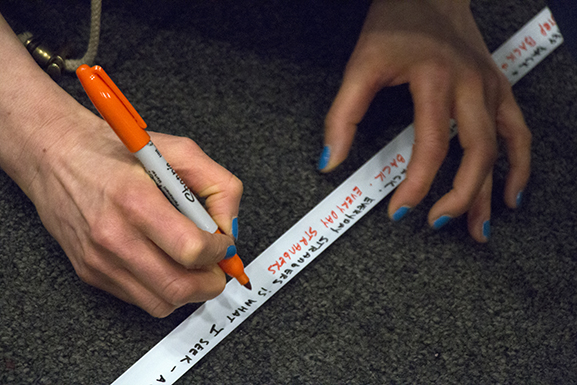 The final phase is a bit more abstract. With projects like mine, which seek to reinvigorate the ways that we see everyday behavior, the goal is ultimately that people start living a little differently. I think the same is true of good pedagogy: it not only shapes what a student receives in the classroom, but also how that student will go about interacting with life both in and out of school moving forward.
Based on immediate student response, participants seemed both jolted and moved; one student reported that the engaged intimacy of the workshop caused her to cry (in a good way) and some participants stayed after to chat about what the day's work had ignited in their own lives and creative work.
For the question of living differently, only time will tell. My goal is to provide questions and brief solutions; how we answer and employ them are up to us.