Five for Friday, written by a variety of MoMA staff members, is our attempt to spotlight some of the compelling, charming, and downright curious works in the Museum's rich collection.
To call David Bowie an art enthusiast would be something of an understatement; at times it seemed that his very existence was an art project. His chameleonic public persona was deeply inspired by dance and performance art (and his subsequent influence on those areas has been equally profound); he was an avowed lover of German Expressionist painting and film, and was a painter himself throughout his life; one of his best songs is called "Andy Warhol"; he had quite the art collection himself. And, I'm happy to say, he could occasionally be spotted among his fellow New Yorkers in the galleries at MoMA.
Unsurprisingly, Bowie also sought out the brightest talents in design and photography to help create his album covers and keep the David Bowie publicity machine chugging along, and we are proud to have several examples in the MoMA design collection. (If you can make it to the Museum, two of the works below are currently on view in the exhibition Making Music Modern: Design for Ear and Eye, which closes on Monday, January 18.)
<a class="noborder" href="http://www.moma.org/collection/works/189050">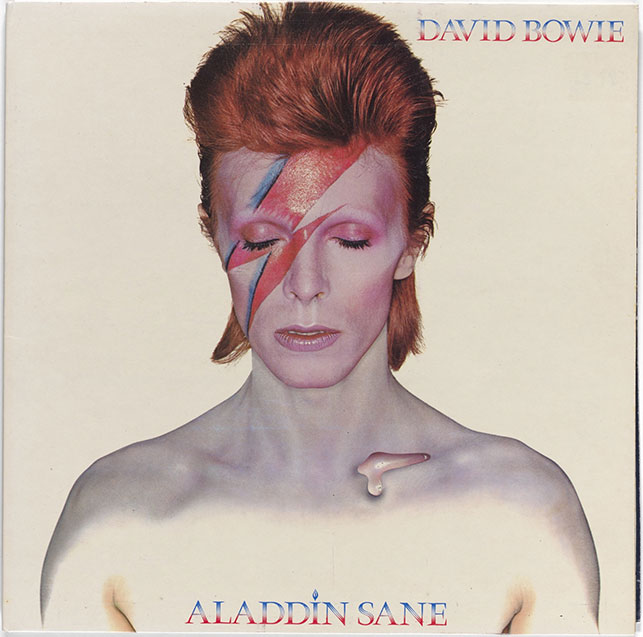 </a>
1. Brian Duffy. Album cover for David Bowie, Aladdin Sane. 1973
You'll be seeing that lightning bolt quite a bit for the next few months. Brian Duffy worked with Bowie on some of his most iconic photo shoots, and on this one they captured what may be the quintessential image of the musician's career. French make-up artist Pierre La Roche was responsible for the lightning bolt seen 'round the world.

<a class="noborder" href="http://www.moma.org/collection/works/156050">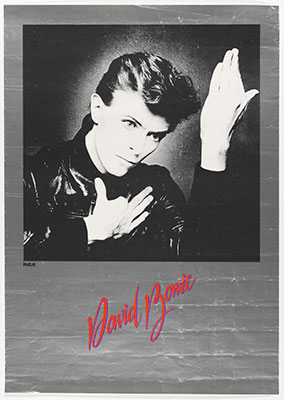 </a>
2. Unknown designer. Promotional poster for David Bowie, Heroes. 1977
Masayoshi Sukita took the cover photo for Bowie's "Heroes" album, the musical pinnacle of his "Berlin period." Bowie's pose is an homage to the 1917 Erich Heckel painting Roquairol. (Iggy Pop also throws a Roquairol pose on the cover of his 1977 album The Idiot, on which Bowie served as producer, cowriter, keyboardist, and frequent backup vocalist.)

<a class="noborder" href="https://moma.org/wp/inside_out/wp-content/uploads/2016/01/Bowie-posters.jpg">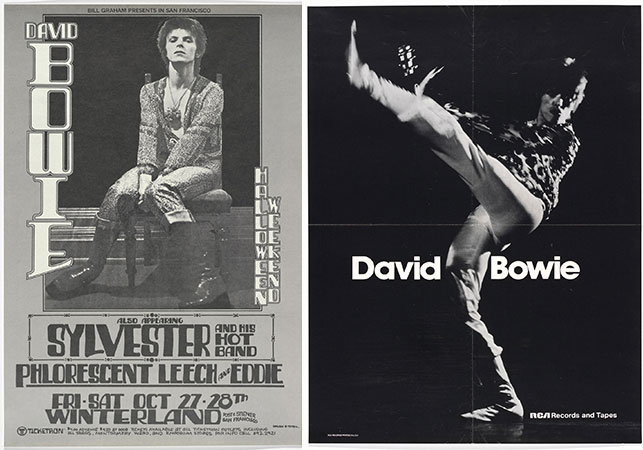 </a>
3. 1972 Ziggy Stardust promotions. From left: Randy Tuten. David Bowie & the Spiders from Mars, Winterland Concert. 1972; Unknown designer. David Bowie, Ziggy Stardust. 1972
Having taken England by storm, Ziggy Stardust & the Spiders from Mars set their sights on the U.S. Randy Tuten, who designed the Winterland Ballroom concert poster, was one of the most prolific poster artists of the psychedelic era, and served as the first in-house designer for the legendary promoter Bill Graham.

<a class="noborder" href="http://www.moma.org/collection/works/156049">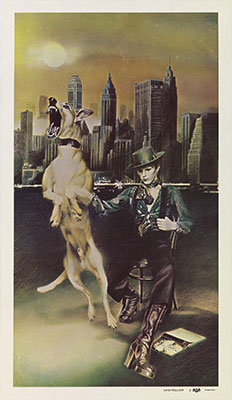 </a>
4. Guy Peellaert. Promotional poster for David Bowie, Diamond Dogs. 1974
Belgian artist Guy Peellaert designed a number of well-known album covers and movie posters, many (including this one) featuring his own paintings. In addition to this promotional item, Peellaert painted the Diamond Dogs album cover.

<a class="noborder" href="http://www.moma.org/collection/works/156051">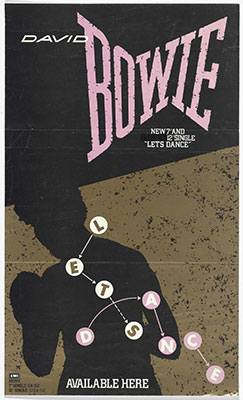 </a>
5. Mick Haggerty. Promotional poster for David Bowie, "Let's Dance" single. 1983
Mick Haggarty used a silhouetted version of his cover for Bowie's 1983 Let's Dance album to promote the title-track single. Haggarty would continue to work with Bowie throughout the 1980s, designing the covers for Tonight (1984) and Never Let Me Down (1987).