MoMA has been called a temple of modernism, even a sacred destination for art lovers, but that religious language is usually just figurative. With the exhibitions Henri Matisse: The Cut-Outs and Robert Gober: The Heart is Not a Metaphor open simultaneously, however, visitors can witness the unlikely confluence of two chapels on 53rd Street (not even counting Saint Thomas, next door).
In 1948, Matisse began work on a four-year project that he would come to consider "the culmination of a lifetime of work":  the design for the Chapel of the Rosary in Vence, in the South of France. The effort began when a former nurse named Monique Bourgeois, who had become the Dominican nun Sister Jacques-Marie, showed Matisse her sketch of a stained-glass window for a new chapel. Intrigued by the possibilities, Matisse ended up designing not only the window, but virtually every aspect of the chapel, from ink drawings on ceramic tiles, to the colorful chasubles or priests' vestments, to the tabernacle and altarcloth.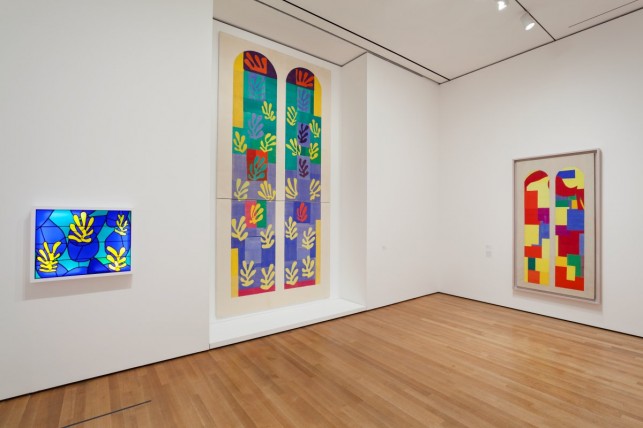 Picasso, a supporter of the Communist Party, criticized Matisse's engagement with the Church. "Why don't you do a covered market instead?" asked his friend and rival. And though the project primarily served Matisse's ambitions to realize a truly environmental work, his language in describing these efforts touches on the transcendent. "This is not a work that I chose, but rather a work for which I was chosen by fate," Matisse wrote in 1951, the year of the Chapel's dedication. "The spiritual expression of their color to me is indisputable," he said of the luminously-hued stained-glass windows. And while the ceramic tiles that depict Saint Dominic and the Virgin and Child feature fluid lines, those that narrate the Stations of the Cross are, in Matisse's words, "animated by a different spirit. It is tempestuous." Finding himself "gripped by the pathos of so profound a tragedy," Matisse felt that he must "upset the order of his composition," and described these difficult scenes with thick, rough lines.
It is another tragedy, that of 9/11, on which Gober ruminates in his untitled installation from 2003–05, though the figure of Christ remains equally present in this more contemporary evocation of a church. A headless Jesus is crucified at the environment's altar, with streams of water spouting continuously from his nipples. At the entrance to this gallery-cum-chapel, we are greeted not by a colorful chasuble, but by a priest's black shirt with white collar, neatly folded atop a piece of plywood which itself rests on a plaster garbage can. Rows of pew-like slabs on the floor (made of bronze but resembling Styrofoam) create the architecture of a nave and boast offerings in the form of packaged diapers or bowls of fruit.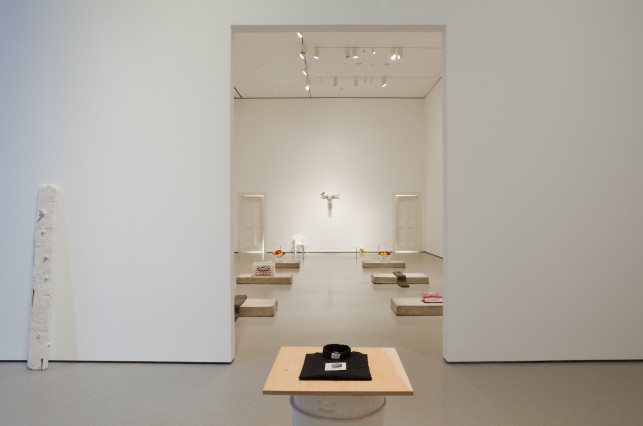 Though Matisse's designs are for a real chapel, while Gober evokes the architecture of a church for a secular end, there are intriguing parallels between the two projects.nmIf Matisse's ink-drawn ceramic tiles are brightened by shafts of colored light, in Gober's chapel we get black-and-white facsimiles of the New York Times from September 12, 2001, heightened by pastel drawings of embracing figures. Matisse's luminous stained glass finds a counterpart in the box of bug lights sitting at Gober's altar; because the latter crafts the objects in his installations, what appear to be standard issue light bulbs were in fact specially made by a glass blower, recalling the craftsmanship that produced Matisse's windows for Vence.
"I want to make a sacred space," Gober said of his intentions for the installation. And Matisse felt that his own creation "touches the spirit and even the senses." If touching the senses amounts to something sacred, maybe there's not so much difference after all between a museum and a church.