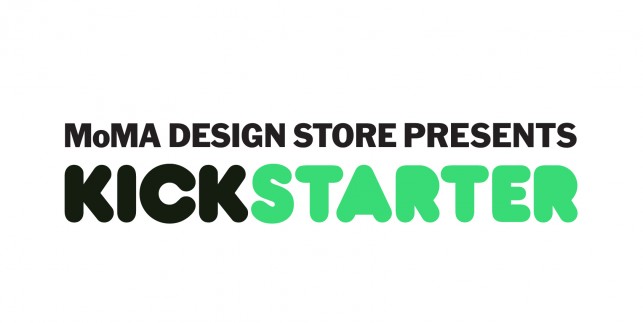 In honor of NYCxDESIGN—New York City's official citywide celebration of design—MoMA Design Store is pleased to present a suite of products brought to life by Kickstarter.
Since Kickstarter launched five years ago, thousands of people on all seven continents (even Antarctica!) have used the platform to share their ideas, shape the world around us, and design the future.
By involving the public in the creative process, Kickstarter uses the power of community to help designers take great ideas from concept to reality. The collection includes 24 new products made by 20 international designers; from captivating timepieces to quirky wall hooks, illuminated sculptures to robots for kids, all of these designs were created by people like you, supported by people like you, and now exist for people like you to enjoy.
These extraordinary objects embody the qualities of Good Design ascribed by the Museum in their innovation of function, use of novel materials, and technological advancement.
The MoMA Design Store and Kickstarter honor these individuals and their designs as examples of how everyone is capable of making incredible things.
The Impossible Project was founded on the conviction that analog things have value in a digital world. In 2008, the company purchased the world's last remaining Polaroid film factory in The Netherlands with the goal of recasting an outdated production process for a new age, and their newest design, the Impossible Instant Lab, successfully bridges the old and new in a tangible way.
Juxtaposing classic analog developing techniques with contemporary digital technology, the Instant Lab transforms any digital image from your iPhone or iPod Touch into a real analog instant photo right before your eyes.
Designed to reduce energy waste and increase the longevity of devices, the Powerslayer Phone Charger Kit automatically stops charging once it detects that your device is completely powered up. Backed by 597 project supporters on Kickstarter[/caption]
Even after they have fully charged, electronic devices continue to draw power; in fact, mobile phones and tablets can draw at least half as much power after they're fully charged as they do while charging. In addition to jacking up electricity bills, the extra draw can actually decrease your phone battery's ability to hold power and can ultimately decrease the life of your device. Designed to reduce energy waste and increase the longevity of devices, Powerslayer automatically stops charging once it detects that your device is completely powered up.
Perfect for traveling parents and grandparents, or relatives who live across the world, Toymail Mailmen™ allow grown-ups to stay connected with the kids they love through fun, Wi-Fi-enabled characters. This new breed of smart toy connects wirelessly to your home network to receive messages sent anytime, from anywhere in the world. Using the free app, adults can send children little messages and reminders throughout the day that can be delivered in their own voice or in the mailman's silly voice.
Years before the first photographic print, there was the camera lucida. Originally patented in 1807, this clever optical device by physicist Sir William Hyde Wollaston utilized a prism to project an image onto a piece of paper so it could be traced, a method that dramatically altered the way artists, naturalists, scientists, and architects created drawings from life. Created by two art professors, the NeoLucida is the first portable camera lucida drawing aid to be manufactured in decades. Bringing the favored tool of the Old Masters to a new generation of artists and art lovers, the NeoLucida uses an optical trick to superimpose the scene in front of you onto a sheet of paper so that you can trace your subject with ease.
Chinese is one of the oldest written languages, and with more than 20,000 unique characters, it's also one of the most difficult to master. After struggling to teach her own children how to read Chinese, ShaoLan Hsueh teamed up with renowned illustrator Noma Bar to create Chineasy, a groundbreaking and fun approach to learning the language that transforms key Chinese characters into whimsical pictograms for easy recall and comprehension.
Capturing the warmth and nostalgia of viewing treasured memories through an old-fashioned slide carousel, Projecteo is a pocket-sized slide projector that transforms your Instagram pictures into personalized slideshows that can be shared with family and friends.
This special edition of Projecteo from the MoMA Design Store includes a photo wheel with iconic artwork from MoMA's collection, views of the Museum, and stunning shots from the MoMA Design Store's Instagram account. (Follow us at @MoMAstore!)
Join us on May 19 from 6:00 to 9:00 p.m. to celebrate this exciting launch at the MoMA Design Store, Soho! See these incredible products and many more in person and meet the designers who created them. Plus, enjoy innovative finger foods by Emilie Baltz, drinks by Finback Brewery and Brooklyn Oenology, music by DJ Jasmine Solano, and enter to win great prizes. Don't forget to RSVP by e-mailing [email protected]!