Five for Friday, written by a variety of MoMA staff members, is our attempt to spotlight some of the compelling, charming, and downright curious works in the Museum's rich collection.
With Easter just days away and spring in the air (finally), bunnies—whether as anthropomorphized egg-and-candy-delivery agents or symbols of both metaphorical and literal fecundity—are everywhere. And that's great, because rabbits are almost criminally adorable. As I am neither farmer nor gardener nor allergy sufferer, I would happily visit, say, a Japanese island completely overrun by rabbits.
Not surprisingly, several artists represented in MoMA's collection have also been taken in by the rabbit's charms. (Just last year, MoMA curator Sarah Suzuki wrote an article about Dieter Roth's especially novel approach to bunny art.) So in the spirit of the season, and in celebration of the various members of family Leporidae, let's take a look at a few more…
RABBITS IN MoMA'S COLLECTION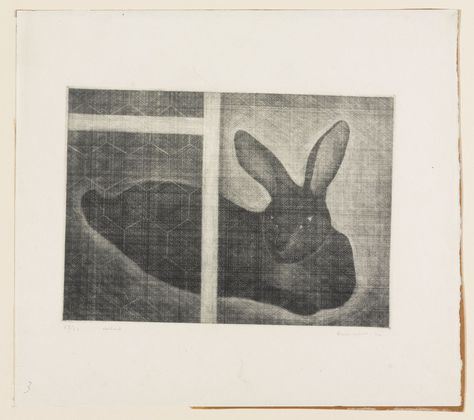 1. Yozo Hamaguchi. Rabbit. 1951
Though he was best known for his mezzotint prints, Japanese artist Yozo Hamaguchi (1909–2000) knew his way around the drypoint technique as well. Perhaps his choice of serene subject matter explains why Hamaguchi lived to be 91.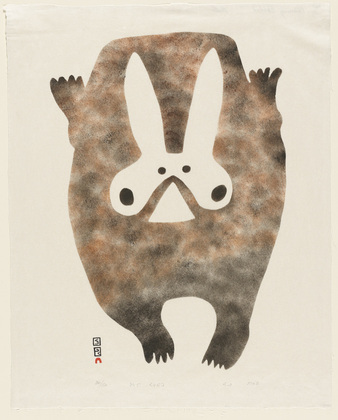 2. Pudlo Pudlat. Running Rabbit. 1963
Pudlo Pudlat (1916–1992), who in 1990 became the first Inuit artist to have a solo show at the National Gallery of Canada, left behind some 4,000 drawings at the time of his death. He also produced a large number of stone cut prints, including the strangely humorous (and succinctly titled) Running Rabbit.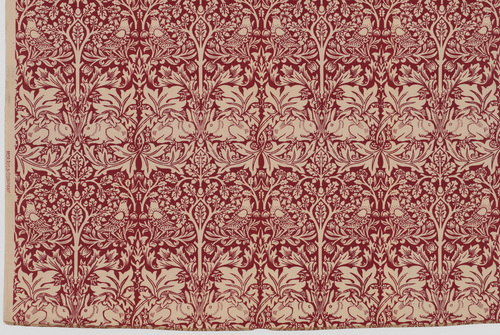 3. William Morris. Rabbit Pattern Printed Fabric (no. 23583). c. 1938
Founded in 1861, Morris & Co. was one of London's most popular decorative arts and textile companies at the turn of the 20th century. Their impact was on the wane when this rabbit-themed pattern was produced—the company closed just two years later, in 1940—but that doesn't mean I don't want a couch made from this fabric.

4. Yoshitomo Nara. Untitled (Drumming bunnies) (recto). 1992–2000
Tokyo Pop icon Yoshitomo Nara is famous for having a strong kawaii (cute) streak in his art, but this drawing of five bunnies pounding on a drum is, well…next level.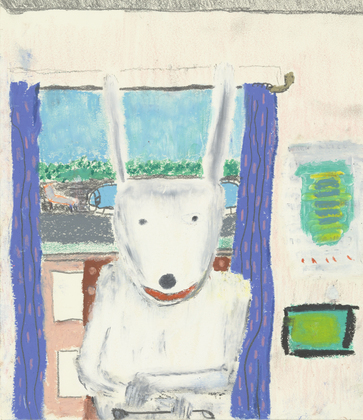 5. John Lurie. When Alice Got Off of Her Cell Phone and Came in From the Pool the Bunny Was Going to Give Her a Spanking. 2003
Best. Title. Ever.