Five for Friday, written by a variety of MoMA staff members, is our attempt to spotlight some of the compelling, charming, and downright curious works in the Museum's rich collection.
With the recent death of Lou Reed and the U.K. release of Morrissey's Autobiography, I've had, well, proto-punk, punk, and post-punk on the brain quite a bit lately. Luckily, MoMA's Department of Architecture and Design has a treasure trove of punk and post-punk posters, album sleeves, and flyers from the 1970s and 1980s that would make anyone want to pierce their nose with a safety pin and go live in a squat in Brixton or the Bowery. Granted, these days you would have to purchase a $1.5 million condo to squat in, but you get the idea. (I should also point out that a small selection of these posters is currently on view in the exhibition Designing Modern Women 1890–1990</a>.)</p>

So crank up Pink Flag, break out your dog-eared copy of Please Kill Me, and check out selections from MoMA's great rock 'n' roll swindle…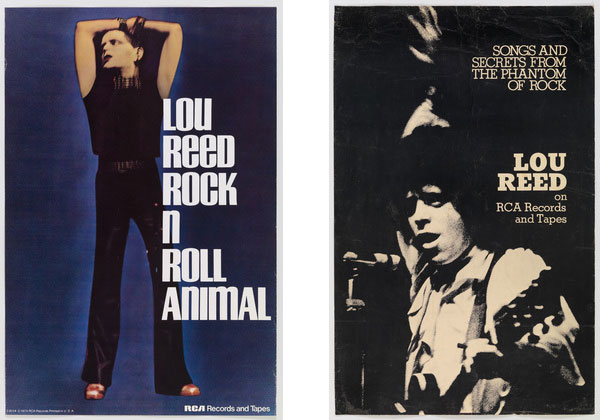 1. From left: Unknown designer. Lou Reed, Rock N Roll Animal . 1974; Unknown designer. Lou Reed, First Solo LP. 1972
It seems only appropriate to begin with the late Lou Reed, as he played a vital role in defining the look and sound of what came to be known as punk. (Besides, I've already established a pattern of sneaking Lou Reed worship onto this site.) The lithograph on the left reproduces the well-known photo from the cover of Reed's 1974 live album Rock n Roll Animal, an image credited on the album sleeve to simply "Dalrymple." But the lithograph on the right, promoting his 1972 solo debut and proclaiming Lou "the phantom of rock," is a real treat. The grainy single-color, shadow-heavy image is a perfect reflection of the hazy transitional period between Reed's tenure with the Velvet Underground and his "glam" period.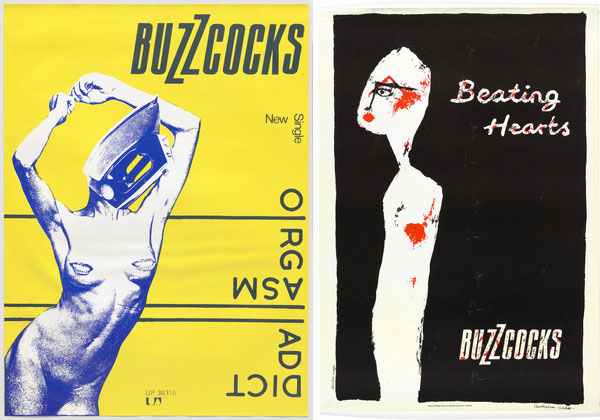 2. From left: Malcolm Garrett, collage by Linder (Linder Sterling). Buzzcocks, Orgasm Addict. Poster for single distributed by United Artist Records, London. 1977; Linder (Linder Sterling). Buzzcocks, Beating Hearts</a>. Poster for Beating Hearts tour. c. 1979</strong>
The multimedia artist Linder Sterling is a pivotal figure in the Manchester scene that produced Buzzcocks, Joy Division, The Smiths, and many others (including her own band, Ludus), so it's no surprise that she figures prominently in the aforementioned Morrissey autobiography. Recalling their first meeting in 1976, Morrissey describes her as "nine parts sea-creature…with all of the conversational atmospherics of someone steeped in machine-gun artistry. Linder is an alcohol-free mangle of Jean Genet, Yoko Ono, Norma Winstone and Margaret Atwood." Her cover art for Buzzcocks' "Orgasm Addict" 7′ (reproduced in the poster on the left) remains among the most iconic images in rock. </p>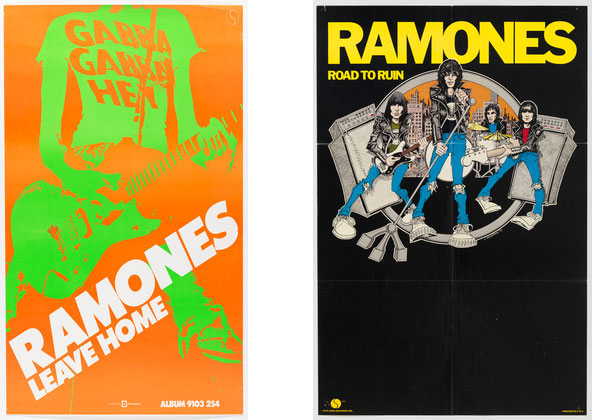 3. From left: Exquisite Design. Ramones, Leave Home. 1977; John Holmstrom and Spencer Drate. Ramones, Road to Ruin</a>. 1978</strong>
Exquisite Design's "Gabba Gabba Hey" promo poster for the Ramones' 1977 Leave Home album is almost shockingly ahead of its time; it practically screams 1993! Holmstrom and Drate's cartoon Ramones perfectly capture the band's increasingly tongue-in-cheek image (they played themselves in Allan Arkush's teen-movie spoof Rock 'n' Roll High School just one year later). And you have to love that big, bold sans-serif "RAMONES" font. It reminds me of another iconic logo.</p>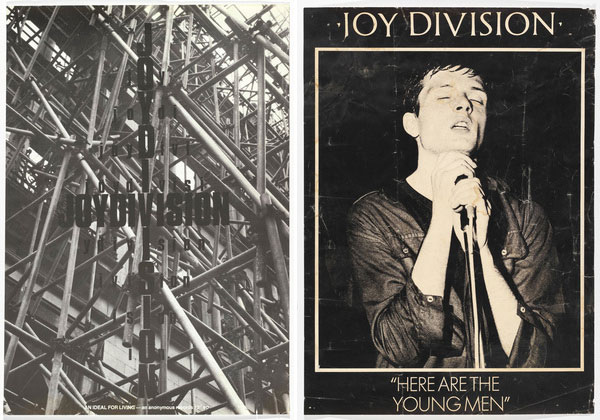 4. From left: Unknown designer. Joy Division, An Ideal for Living. 1978; Unknown designer. Joy Division, Here Are the Young Men</a>. 1982</strong>
The poster on the left, which reproduces the cover of the 12″ release of Joy Division's debut EP, is reminiscent of the work of Bernd and Hilla Becher, and a nod to both the band's sound and their working-class Manchester surroundings. While the official release of the Here Are the Young Men concert video featured a typically austere Factory Records design (by Malcom Whitehead and label head Tony Wilson), several unofficial vinyl releases of live Joy Division performances went with this eye-catching performance shot of Ian Curtis. </p>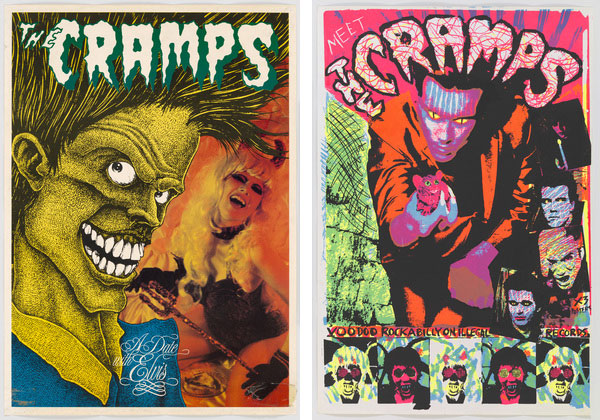 5. From left: Unknown designer. The Cramps, A Date with Elvis. Poster for album distributed by Big Beat Records, London. 1986; X3 Studios. The Cramps, Illegal Records</a>. 1979</strong>
In stark contrast with your typical Joy Division design, the promo poster for The Cramps' A Date with Elvis is a great example of "more is more": Why use just the album cover, when you can add the central image from another album (the 1984 compilation Bad Music for Bad People) for some extra-ghoulish oomph? But that seems downright tame compared to a brain-sizzling, borderline-psychedelic poster that advises you to "Meet The Cramps: Voodoo Rockabilly on Illegal Records."</p>