Five for Friday, written by a variety of MoMA staff members, is our attempt to spotlight some of the compelling, charming, and downright curious works in the Museum's rich collection.
There are tons of great things about summer in the city, first among them being how the place mellows out. The hustle and bustle slows down, the streets are emptier and, of course, it's just summer. You don't see as many kids playing in open fire hydrants these days—to me, a true sign of summer in the city—but you can still hang out on a stoop, or in the park, or walk lazily down the street enjoying an ice cream cone, or check out one of the zillion concerts and events in the city, most of them free. The list goes on and on.
So throw your hands in the air and wave 'em like you just don't care!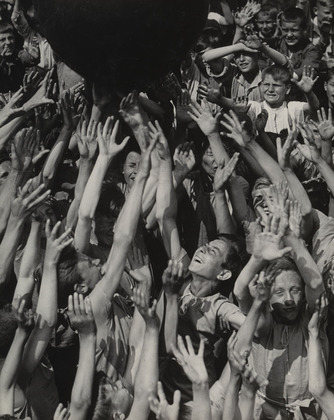 1. Martin Munkácsi. Vacation Fun. 1929
But (and that's a big but)…when there's a truly punishing heat wave, as there is right now, or it's oppressively overcast and humid, or a surprise thunderstorm ruins your shoes, it can be a real bummer. Riding a crowded subway car can be…fragrant. That ice cream cone you enjoyed walking down the street with last week now rapidly melts into a sticky puddle in your hand. People are grouchy and often limping down the street carrying newly purchased air conditioners. You get the idea.
Clearly, it's a great time to plan a getaway, or, in a more grand gesture, build a new summer home in the country for you and your family.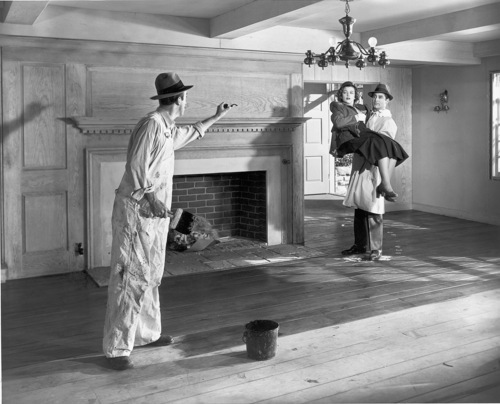 2. Mr. Blandings Builds His Dream House. 1948. USA. Directed by H. C. Potter
A dream house—that was Pittsburgh department store magnate Edgar J. Kaufmann's idea when he commissioned Frank Lloyd Wright in 1935 to build a little something for him out in the sticks. Wright knew Kaufmann and his wife loved the waterfall on their property, so he made it part of the design. But, being Frank Lloyd Wright, he wasn't just going to give the house a nice view of it. He placed the house right on it.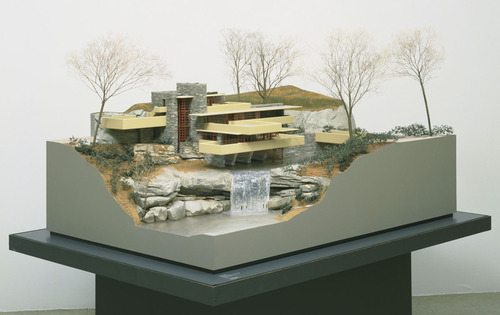 3. Frank Lloyd Wright. Fallingwater, Edgar J. Kaufmann House, Mill Run, Pennsylvania. 1934–37
My architect dad told me that architects and owners both love building country houses because they've always been the ideal turf for making inventive design and status statements. Makes sense. And Wright certainly knocked it out of the park in that regard; Fallingwater is arguably his most famous work. Visit, if you can. You won't regret it.
Speaking of waterfalls, I recently planned a last-minute getaway, and for some reason I got hooked on the idea of going to a house that had a waterfall on the property. Yes, there are such (affordable) places upstate. Also in Vermont! Perhaps because I am a Pisces (go ahead, roll your eyes, all you astrology disbelievers), I rarely plan a vacation without swimming as part of the plan. When I spot a swimmable body of water, two seconds later you hear a big splash.
As such, I love assignments like this: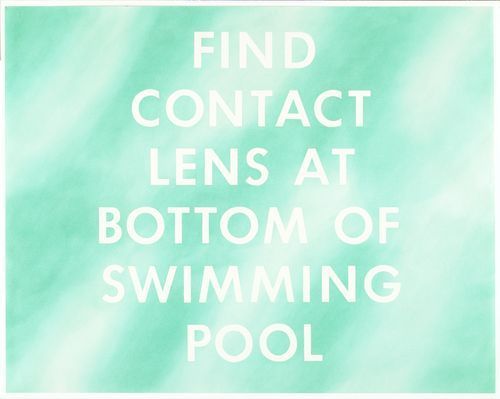 4. Edward Ruscha. Find Contact Lens at Bottom of Swimming Pool. 1976
Though I must say, I'm picky about swimming pools lately, preferring chlorine-free natural pools over the old-school, chemically saturated ones. There are tons of great pools here in the city (thank you, Works Progress Administration [WPA]!), but most of them, as awesome as they are, are filled with 98% Clorox, 2% water.
Rounding out my Five for Friday selection is something—after a couple giggle fits—about which I consulted with curator Christian Rattemeyer.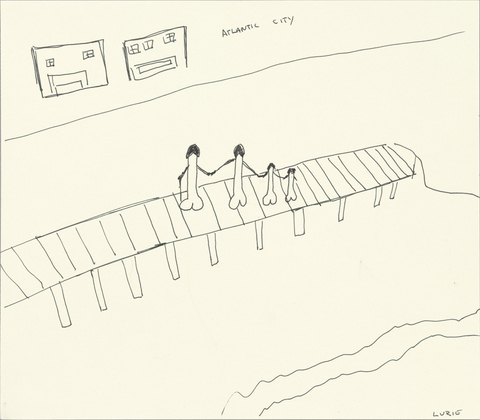 5. John Lurie. Penis Family Vacation. 2003
"Why is this crazy drawing considered art?" I asked him. No offense, Mr. Lurie. Christian wisely answered, "John Lurie is an escape artist. As a musician with the Lounge Lizards he made us forget time and space, and twisted our senses of what was familiar, old, new, or even real. As a graphic artist, he shows us what can happen when you leave the city: you might be surprised by a bear, or chance upon the Penis family on vacation. But I hope these are good things, and that they contain, in Lurie's imagination and in our discoveries, a joyous sense of optimism and good, simple fun. Go ahead, get lost."
Thanks, Christian. I very much appreciate the sentiment of getting lost, and look forward to doing just that next month. I predict I will be spending most of my time under the waterfall at the escape-from-New-York cabin I found. After schlepping around the city this summer…well, I just can't wait.